Bacon Lettuce Tomato Salad with Avocado
We may earn money or products from the companies mentioned in this post.
Bacon Lettuce Tomato Salad with Avocado
Looking for a super delicious salad that's quick to make and good for you too? Bacon Lettuce Tomato Salad with Avocado is calling your name. Smoky bacon, fresh tomatoes, crisp baby greens and creamy avocado are the ingredients that turn this simple salad into a super salad. Top with your favorite bottled buttermilk ranch salad dressing or you can even make from "scratch" buttermilk dressing. Either way, this recipe is impossible to pass up.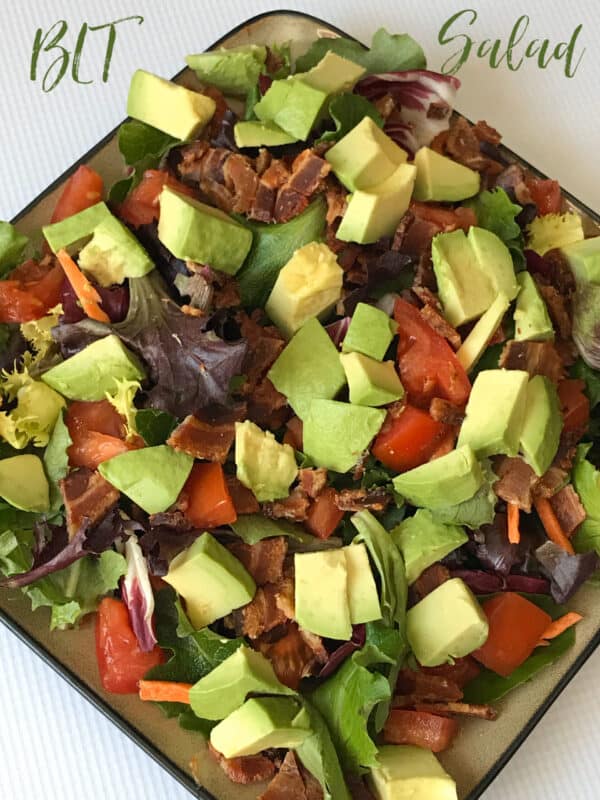 Another Pinterest Recipe
You can find some of the best recipes on Pinterest! I can spend hours on Pinterest drooling over all of the yummy food. BLT Salad with Avocado is one such recipe. This particular recipe is from Skinny Taste. BLT Salad is super easy to prepare and is big on flavor. For maximum flavor though, use fresh tomatoes, whenever possible. If tomatoes aren't in season where you live, like here in Wisconsin, use store bought. We like to purchase "tomatoes-on-the-vine." Bring them home from the grocery store, let them hang out for a few days, laying in the sun on the window sill, upside down or stem side down.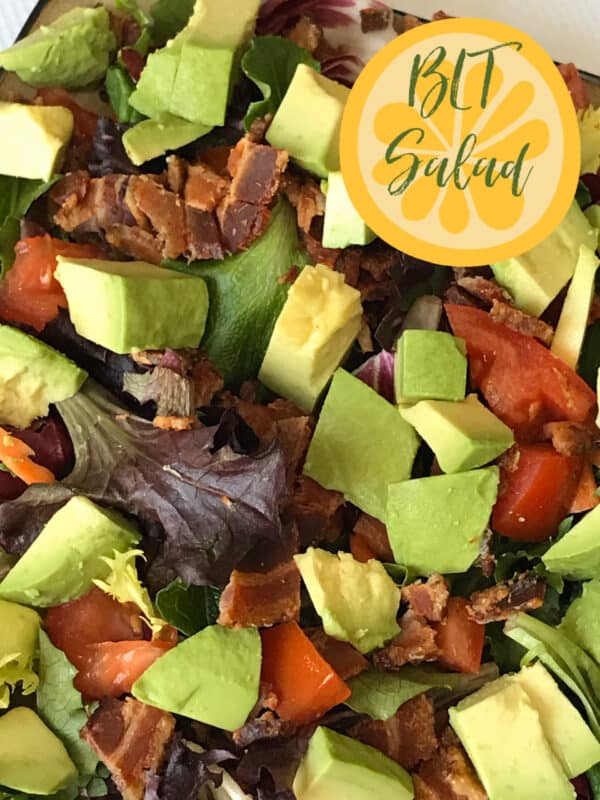 Fresh is Always Best
Fresh is always best, but not always possible. Winters can be long here in Wisconsin and "fresh" produce is few and far between. Of course we have access to grocery store fresh fruit and that's great in all but still not the same as just picked. Store bought fruit lacks that robust fresh flavor that only fresh fruit can deliver. The same goes for vegetables, fresh is always best but once again not always possible.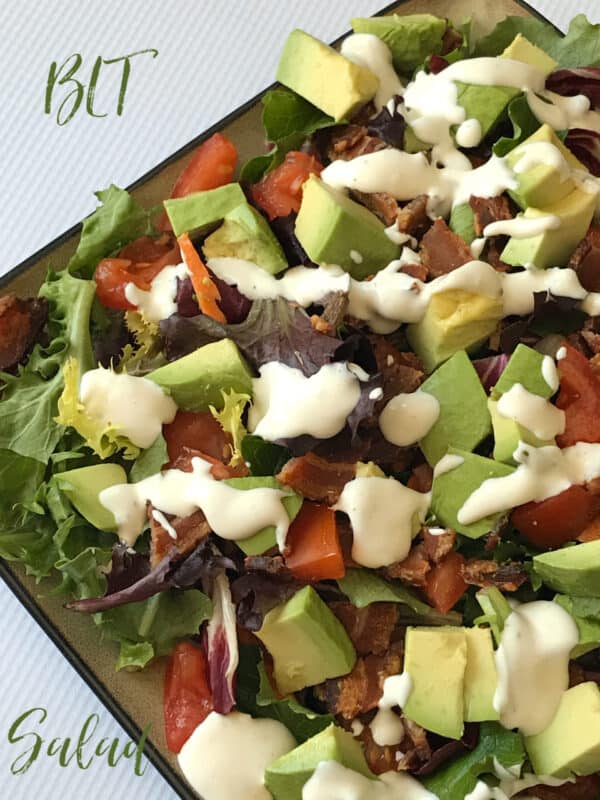 That's probably why as soon as farm stands and farmer's markets are open for business here in Wisconsin anyway, area residents come out in droves looking for anything "fresh." Rhubarb, asparagus, spring peas, spring onions and fiddlehead ferns are the first to appear, along with tulips, daffodils and chives. Fresh tomatoes arrive in late July and then it will be time to make this salad again and again and again.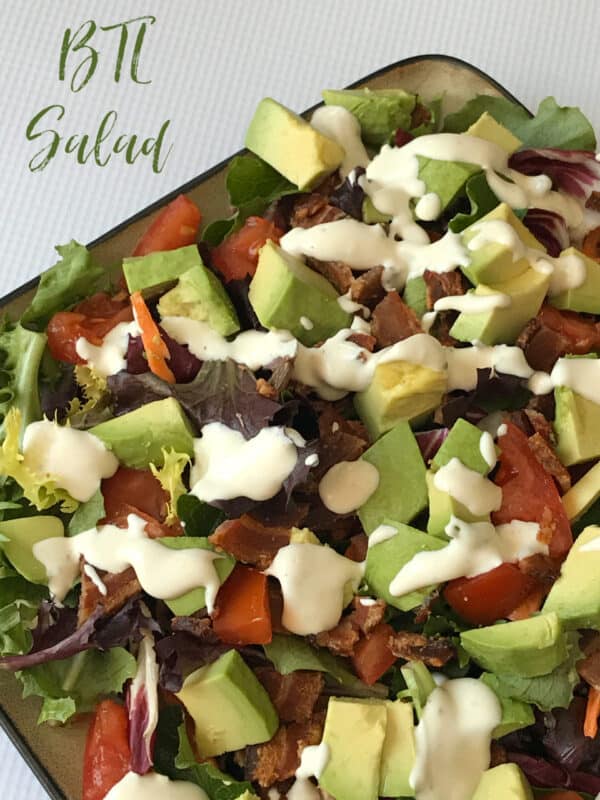 The Dressing
The original recipe called for using light mayonnaise and the tomatoes to make the dressing. For some reason, that sounded odd to me so we went with our favorite buttermilk ranch salad dressing by Mazaretti However, I'm positive the salad would be delicious with the mayonnaise dressing. It's not that I dislike mayonnaise, in fact, I'm a huge fan of both Hellman's mayonnaise and Miracle Whip salad dressing. Both serve a purpose in a multitude of different recipes. But, having a love/hate relationship with mayonnaise, in which I love mayo but it hates me, buttermilk ranch dressing seemed the safest route for me.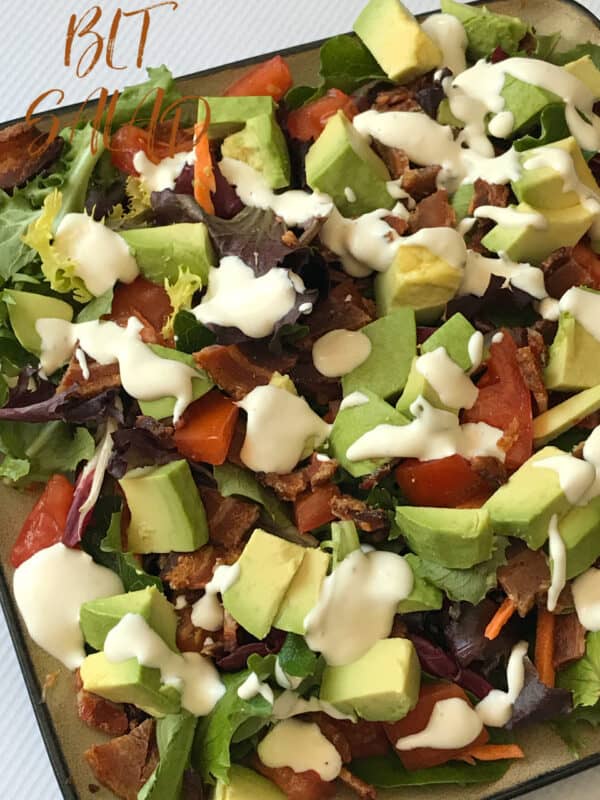 Got Bacon??
Got Bacon?? We have many recipes that revolve around much loved bacon. I don't think I know anyone who doesn't like bacon! Here is a sprinkling of our favorite recipes featuring bacon; Blueberry Bacon Avocado Salad, BBQ Bacon Wrapped Onion Bombs and Spinach Salad with Warm Bacon Dressing.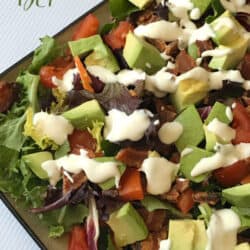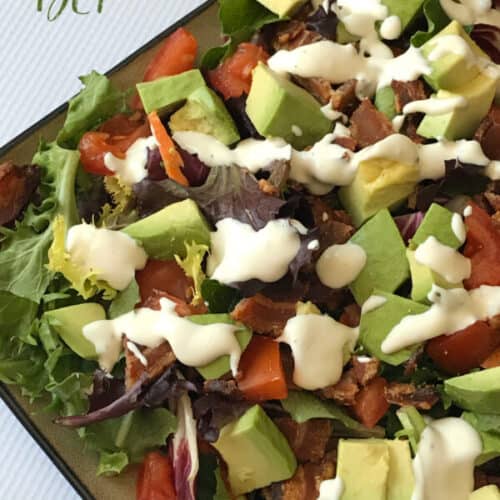 Bacon Lettuce Tomato Salad with Avocado
A delicious salad perfect to serve anytime.
Ingredients
6

cups

baby greens salad mix

4

tomatoes, chopped

2

medium

avocados, chopped

12

slices

bacon, fried until crisp and diced

Buttermilk Ranch salad dressing, of your choice
Instructions
To serve, divide the salad greens onto 4 plates. Top each with chopped tomatoes, diced avocado, and chopped bacon. Top with your favorite buttermilk ranch salad recipe.
FYI: Baby Greens Salad Mix is made up of baby spinach, shredded carrots, baby lettuce blend, and baby greens blend.