Bacon and Cheese Quiche
We may earn money or products from the companies mentioned in this post.
Bacon and Cheese Quiche
Quiche [KEESH] This dish originated in northeastern France in the region of Alsace-Lorraine. It consists of a pastry shell filled with a savory custard made of eggs, cream, and seasonings. Various other ingredients can be added such as onions, mushrooms, ham, shellfish and/or herbs. The most notable of those savory pies is the quiche Lorraine. Quiche Lorraine has crisp smokey bacon bits and Gruyère cheese added to the custard filling.
Special Pan 
A Quiche is classically baked in a quiche pan, which has fluted, straight sides and ranges in diameter from 8 to 12 inches. Individual-size pans are 4 inches in diameter and about 1-1/2 inches deep. Metal quiche pans have removable bottoms, glass and porcelain "dishes" have solid bottoms. Quiche can be served as a lunch or dinner entree, as a first course or even as an hors d' oeuvre.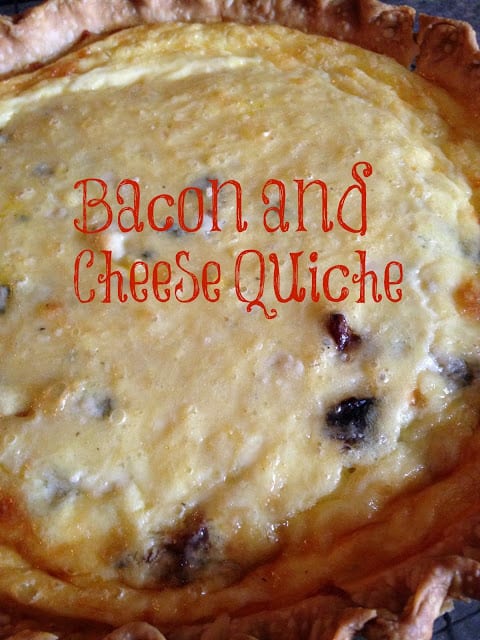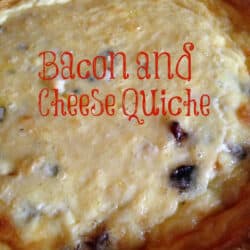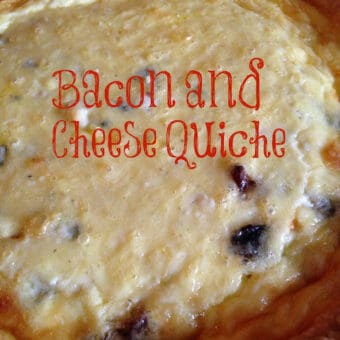 Bacon and Egg Quiche
Ingredients
1

9-inch

refrigerated pie crust

1

cup

half and half

5

eggs, slightly beaten

1/4

teaspoon

salt

1/4

teaspoon

pepper

1/4

teaspoon

garlic powder

1/4

teaspoon

onion powder

8

slices

thick bacon, crispy and crumbled

1

cup

shredded Gouda cheese

1/3

cup

crumbled Gorgonzola cheese
Instructions
Preheat oven to 375º

Unroll crust and place in ungreased 9-inch pie plate. (glass recommended)

Press crust firmly against sides and bottom of pie plate.

Fold extra crust in and press together to form a fluted crust.

Bake crust for 5 to 8 minutes. Remove from oven. Set aside.

Lower heat to 350°

Make filling:

In medium bowl, whisk together eggs, half and half, and seasonings.

Set aside. Place crumbled bacon in baked pie shell.

Sprinkle cheese over bacon. Pour egg mixture over cheese and bacon.

To avoid excess browning of crust, cover edge of crust with a strip of foil and

remove foil during last 10 minutes of baking.

Bake for 40 to 50 minutes. Remove from oven.

Let stand 5 minutes before serving.
Dinner Before Breakfast
In my house we never have quiche for breakfast. I mean never but we do serve quiche often for lunch with fresh fruit or for an early dinner on a Saturday or Sunday, usually during the winter months. So I guess you could say we like to eat quiche for dinner before breakfast. Making a quiche as an appetizer is on my "to make" list, along with some kind of appetizer cheesecake. Smoked salmon appetizer quiche and/or cheesecake would be super.
Made with Anything
Fans of quiche? There are several here that you might want to try; Asparagus and Bacon Quiche is one of my favorites. Perfect when fresh asparagus is in season. Ham, Mushroom and Cheese Quiche, is a super recipe that my Canadian friend gave me. It's really super. And last but not lest is another favorite made with Venison Sausage and Wild Rice Quiche this quiche is made with classic Wisconsin up north flavors.
Gouda Cheese
For this recipe, use a good quality Gouda cheese. Another option would be to use a smokey Gouda or a flavored Gouda that are so popular. Gouda cheese is a super mild cheese that melts beautifully. It pairs well with fruit such as pears and figs, perfect for fondue and goes well with white wine. Gouda cheese originally came here with the Dutch immigrants. Here in Wisconsin we have access to a award-winning Gouda from Marieke Gouda