Asian Inspired Sesame Pork Ribs
We may earn money or products from the companies mentioned in this post.
Asian Inspired Sesame Pork Ribs
Still looking for that special recipe to serve at half time during the Super Bowl? Will look no further…you can never go wrong with pork ribs and
these delicious ribs are made in the slow cooker which is an added plus in my book. These ribs are topped with an Asian Inspired sweet and spicy sauce, then allowed to cook all day leaving you plenty of time to make a pan of frosted walnut brownies before all of your football friends come over to watch the game.
Serve with Rice and Asian Beer
Serve these Asian Inspired Sesame Pork Ribs with white rice, brown rice or wild rice. If you plan on serving these ribs at your Super Bowl party, you can serve rice or nice crusty rolls. You'll want to soak up all that sweet and spicy sauce! Serve Asian Pork Ribs with Tsingtao Beer. Tsingtao Brewery is China's second largest brewery. It has long been the top Chinese brewery along with Harbin Brewery Group.
Tsingtao Beer
Founded in 1903 by the Anglo-German Brewery, which was established by German and British residents of Qingdao, Shandong Province. Tsingtao Brewery now sells Tsingtao Beer in 90 countries and regions around the world, including the US, Japan and parts of Europe. In 1993, Tsingtao Brewery became the first mainland Chinese company to be listed on an overseas exchange.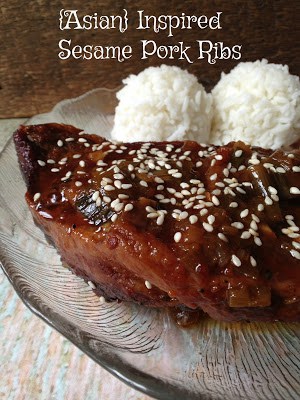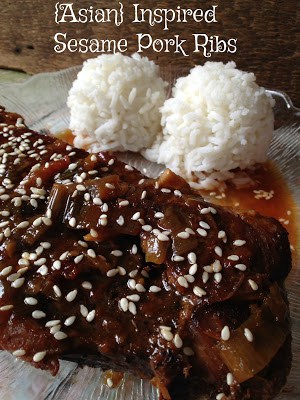 Asian-Style Chili Paste
In addition to using fresh and dried chilies, East Asian cooks rely on a variety of prepared chili pastes and sauces. Chili paste is an easy way to add spicy heat to their dishes. Asian chili paste is made primarily from ground chilies, oil or vinegar and salt. They may also contain other flavors such as garlic, ginger, sugar, sesame, black beans or soybeans. If garlic is added the paste will be called; "chili-garlic paste," if beans are predominate it's called "hot bean paste."
Unlike most of the thin, smooth, chili-based hot sauces made in the United States, Asisan chili-pastes tend to be coarse and on the thick side. The sauce contains bits of ground chilies and sometimes whole seeds. Pastes from Southeast Asian countries like Indonesia and Vietnam are typically bottled fresh, while Chinese and Korean pastes are fermented first. Many Asian chili pastes can be hotter than you'd expect. Proceed with caution!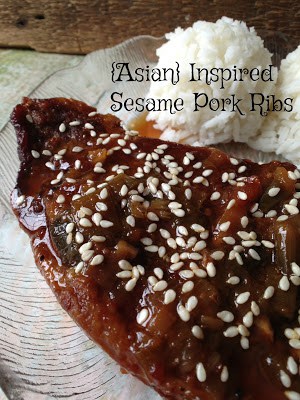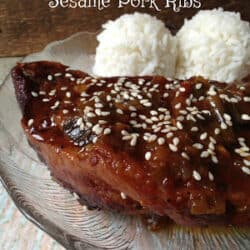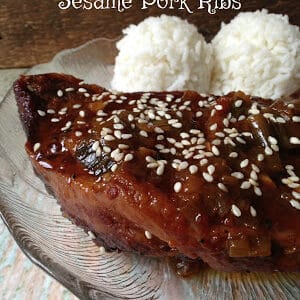 Sesame Pork Ribs
A two part, two step recipe. Worth every effort.
Ingredients
3/4

cup

packed brown sugar

1/2

cup

soy sauce

1/2

cup

ketchup

1/4

cup

honey

2

tablespoons

apple cider vinegar

3

cloves

garlic, minced

1

teaspoon

chili paste

1

teaspoon

salt

1

teaspoon

ground ginger

1

large

leek, washed and sliced

1

juice from 1 lemon

2

teaspoons

lemon zest

5

pounds

bone-in country-style ribs

2

tablespoons

sesame seeds
Instructions
In a large bowl, whisk together the first nine ingredients. Set aside.

Place ribs on large baking sheet. Roast in a 425º oven for 1 hour and 15 minutes.

Place sliced leeks in the bottom of a 5-quart slow cooker; top with ribs and sauce.

Cover and cook on low for 6-8 hours or until meat is tender.

Place the ribs on a serving platter; sprinkle with sesame seeds
Nutrition
Serving:
1
g
,
Calories:
681
kcal
,
Carbohydrates:
50
g
,
Protein:
51
g
,
Fat:
31
g
,
Saturated Fat:
6
g
,
Cholesterol:
182
mg
,
Sodium:
1816
mg
,
Potassium:
999
mg
,
Fiber:
1
g
,
Sugar:
44
g
,
Vitamin A:
370
IU
,
Vitamin C:
13
mg
,
Calcium:
126
mg
,
Iron:
4
mg
Recipes On Tap:
Information on Chili Paste found at: Asian Chili Paste, What you need to Know.