Apple Prune Muffins
We may earn money or products from the companies mentioned in this post.
Apple Prune Muffins
Apple Prune Muffins are super moist and have a nice lemony flavor from the lemon zest and juice. The shredded apples along with the chopped prunes make the muffins nice and moist. Chopped pecans add the extra crunch we love in a muffin. Apple prune muffins are packed full of healthy flavor. What else can I say, they're delicious!
Word About Prunes
A prune is simply a dried plum, the word coming from the Latin prunum for "plum." The French, however, call a fresh plum prune, while their word for prune is pruneau. To further complicate matters, after this dried fruit had been known as a prune for centuries. In 2001, Food and Drug Administration approved to call prunes "dried plums." Which, of course, they always have been and always will be.
Land of Confusion
Ahh, what a lot of confusion, over this small tasty fruit. So whatever or whichever name you decide to call the dried plum/prune, start adding them to your baked goods. Prunes can be added to quick breads, muffins, cakes, cookies and yeast breads. Prune purée is also popular and can be used as a fat substitute. In Europeon countries prunes/dried plums are still very popular, often used in both sweet and savory dishes. Dried plums/prunes are not only good for you, they're inexpensive too. After all, dried plums/prunes aren't for old people like me anymore:)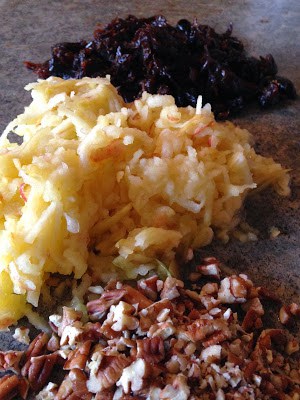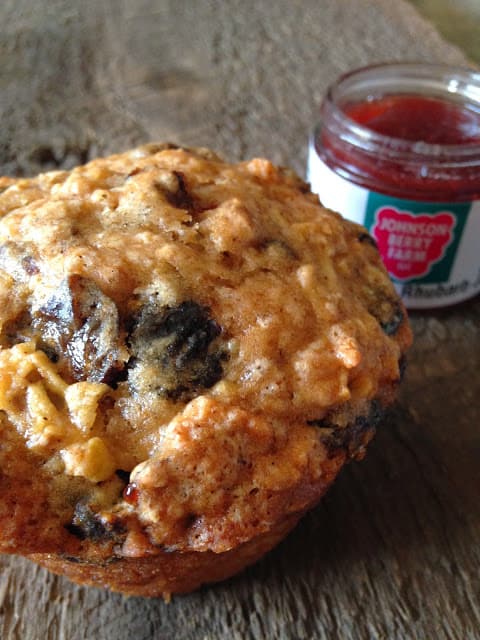 Johnson Berry Farm
We served these delicious apple prune muffins with strawberry rhubarb jam that my son and daughter-in-law brought back from their trip to Johnson Berry Farm.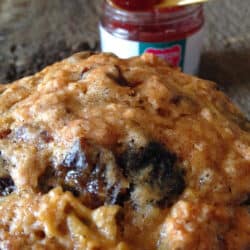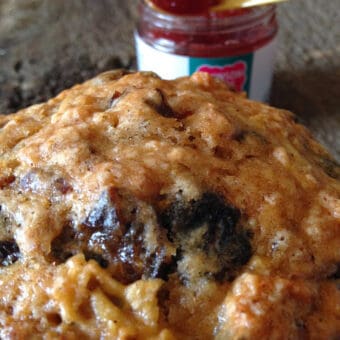 Apple Prune Muffins
Delicious and Good for you too.
Ingredients
2

cups

all-purpose flour

1/2

cup

sugar

1/2

cup

firmly packed brown sugar

1 1/2

teaspoons

baking powder

1

teaspoon

ground cinnamon

1/2

teaspoon

ground allspice

1/4

teaspoon

baking soda

1/4

teaspoon

salt

2

large egg whites

1

cup

shredded apple

1/3

cup

apple juice

3

tablespoons

vegetable oil

2

teaspoons

grated lemon zest

1

tablespoon

lemon juice

1/2

cup

chopped pitted prunes

1/2

cup

chopped pecans
Equipment
jumbo six cup size muffin pan
Instructions
Preheat the oven to 350º

In a large bowl, stir together the flour, granulated sugar, brown sugar, baking powder, cinnamon, allspice, baking soda, and salt.

In a medium-size bowl, combine the egg whites, shredded apple, apple juice, oil, lemon zest and lemon juice. Add to the flour mixture all at once and stir just until combined. Fold in prunes and pecans. Spoon into lightly greased jumbo muffin tin (6)

Bake for 35 to 45 minutes or until toothpick inserted in the center comes out clean.

Cool the muffins in the pan on a wire rack for 5 minutes.

Run a knife around muffins, carefully remove muffins from pan.

Cool completely on wire rack.
Nutrition
Serving:
1
g
,
Calories:
469
kcal
,
Carbohydrates:
83
g
,
Protein:
7
g
,
Fat:
14
g
,
Saturated Fat:
6
g
,
Sodium:
167
mg
,
Potassium:
366
mg
,
Fiber:
4
g
,
Sugar:
44
g
,
Vitamin A:
125
IU
,
Vitamin C:
2.8
mg
,
Calcium:
81
mg
,
Iron:
2.5
mg
Read more about Prunes here~