Apple Pie Bars Ina Garten
We may earn money or products from the companies mentioned in this post.
Apple Pie Bars
All my bags are packed, I'm ready to go, I'm standin' here outside your door, I hate to wake you up to say goodbye."  Those are a few of the words to the popular song by John Denver, Leavin' On A Jet Plane ✈️. I mean, who doesn't know the words, at least a few words, to that song! This coming Saturday I will be on my very first international flight. With passport in hand, I'll be heading to Canada. Toronto Ontario to be more specific. Cindy and her hubby Rob will pick me up at the airport and we'll be off for Wiarton Ontario where they live. Apple Pie Bars is an Ina Garten recipe.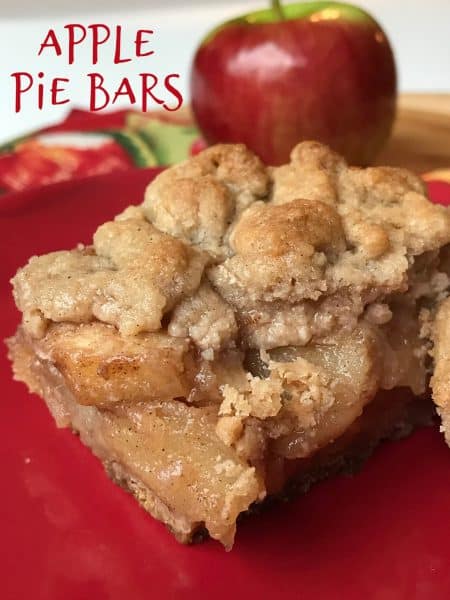 Fast Friends
Cindy and I "met" through blogging way back in 2012. In fact, Cindy was the first person to ever leave a comment on my blog. Cindy no longer blogs like she once did at South of Wiarton but nonetheless we've keep in contact. Over the years we have become fast friends having much in common. I thought it was time for me to take of faith and go for a visit. After all like I told my hubby, "You don't know, if you don't go!" Ironically, this trip will be funded totally with money I've made blogging.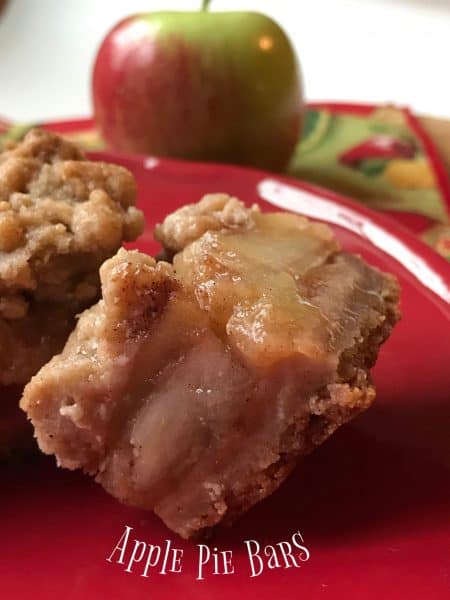 Ina Garten
This recipe for Apple Pie Bars is from the celebrity chef Ina Garten from the Food Network. There was a time when I watched the Food Network all the time, especially when the channel was relatively new. Back then food related travel shows were equally as popular on the Food Network as cooking shows. Martha Stewart had her show that I really liked and learned some very useful "good things"
This is the first recipe I've ever made from Ina Garten and it's a keeper. Super easy and beyond delicious! When my hubby was on vacation a few weeks ago, we stopped at Everflow Apple Orchard located near Bonduel. I made applesauce and we ate our fair share of fresh apples but the hubby wanted an apple dessert. I decided on this particular apple dessert because it only makes an 8 x 8-inch square baking pan. The perfect size for us. We simply can't and shouldn't eat a 9 x 13-inch baking dish! Plus apple desserts tend to get juicier the longer they hang around, turning a once crunchy crust into a soggy one.
Images
Another issue I want to address before I leave on a jet plane, is the issue I'm having with my images or lack thereof. Ever since I updated WordPress my images or some of them anyway, don't seem to want to show up. At first I thought it was only happening on my phone, nope it was doing the same thing on my computer. Was my computer taking a nose dive?  Nope. After a few days at Best Buy, that wasn't the problem either. Since I have no idea what the problem is, I've decided to let it be until I get back. If you have any suggestions email me or leave a comment.
Apple Pie Bars
Delicious Apple Pie Bars, an Ina Garten Recipe
Ingredients
FOR THE CRUST

2

sticks

unsalted butter, softened to room temperature

1/3

cup

granulated sugar

1/4

cup

lightly packed light brown sugar

1

teaspoon

pure vanilla extract

2

cups

all-purpose flour

3/4

teaspoon

salt

1/3

cup

finely chopped walnuts

1

teaspoon

ground cinnamon

FOR THE FILLING

3

lbs

apples or about 4 medium apples,

,

gala, braeburn, golden delicious, pink lady, etc, peeled, cored and cut into 1/4 inch slices

1

tablespoon

fresh lemon juice

3

tablespoons

granulated sugar

1 1/2

teaspoons

ground cinnamon

1/4

teaspoon

freshly grated nutmeg

2

tablespoons

unsalted butter

1

teaspoon

cornstarch
Equipment
8 x 8-inch square baking pan
Instructions
Preheat the oven to 375 degrees. Prepare a non-stick 8×8 square baking pan by lining it with parchment paper cut 8 inches wide but long enough to hang over two edges of the pan. This will make removing the bars from the pan very easy!

For the crust, using a stand mixer fitted with the paddle attachment or a hand mixer, place butter, sugars and vanilla in the bowl and beat on medium speed for 2 minutes, or until lightened in color and creamy. Whisk together flour, salt, cinnamon and walnuts and slowly add to the butter-sugar mixture, with the mixer on low speed. Beat until just combined. Scatter two-thirds of the dough into prepared baking pan and press down lightly so that it covers the bottom and 1/2 inch up the sides. Reserve the remaining 1/3 dough for topping. Refrigerate pan for 20 minutes and then remove from fridge and bake for 18 to 20 minutes, until the crust is golden brown. Set aside to cool.

While crust is refrigerating and cooking prepare the filling. Melt the butter in a large, heavy pot and then add the apples, lemon juice, sugar, cinnamon and nutmeg. Cook on medium-low heat, stirring often, for about 15 minutes. The apples will be tender and most of the liquid will have evaporated. Add the cornstarch in the last minute of cooking and stir until thickened. Remove apples from heat and spread evenly over the baked crust, leaving a 1/2-inch border.

Smush pieces of the remaining dough with your fingers and scatter evenly on top of the apples (they will not be covered completely). Bake for 25 to 30 minutes, until the topping is browned. Cool, lift out of pan using parchment handles and cut into bars.
Apple Pie Bars are made with apples from Everflow Orchard.  Apple Fritter Bread is a super recipe to make with fresh picked apples. With apple pie bars and apple fritter bread recipes on hand, you won't need any other apple recipes!!
Recent Recipe: My First Trip to Canada