Apple Pancakes with Streusel Topping
We may earn money or products from the companies mentioned in this post.
Apple Pancakes with Streusel Topping
Apple Pancakes with Streusel Topping are Delicious! Not only are Apple Pancakes with Streusel Topping delicious, they're easy to prepare using a boxed pancake mix or you can use your favorite pancake recipe. Simply add one chopped apple to the pancake batter, ladle batter on hot griddle, cook pancakes until top is bubbly. Flip pancakes over and cook an additional 3 minutes or so.
Streusel Topping
Mix together streusel topping ingredients. Place hot pancakes on an oven-proof plate and top with streusel topping. Place under broiler and broil until topping is buttery, caramely, crunchy and simply delicious. Serve with additional sliced apples, maple syrup and pats of butter. To change things up a bit, you can also serve these pancakes with Fried Apples. For an added special treat, top pancakes with whipped topping.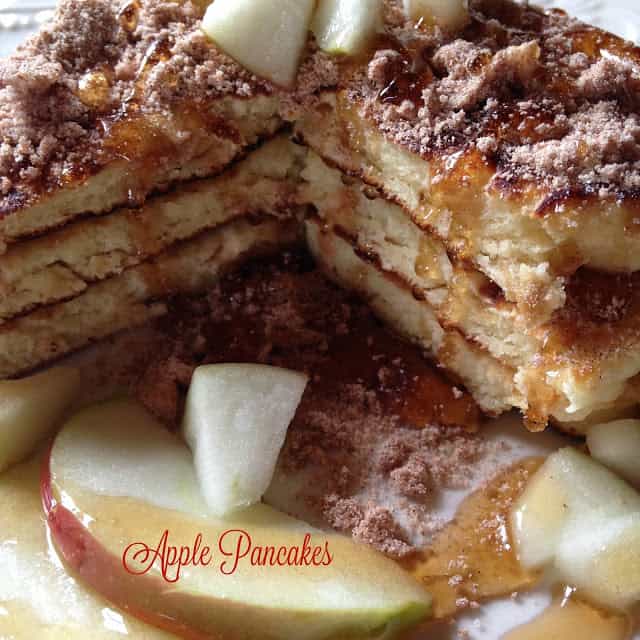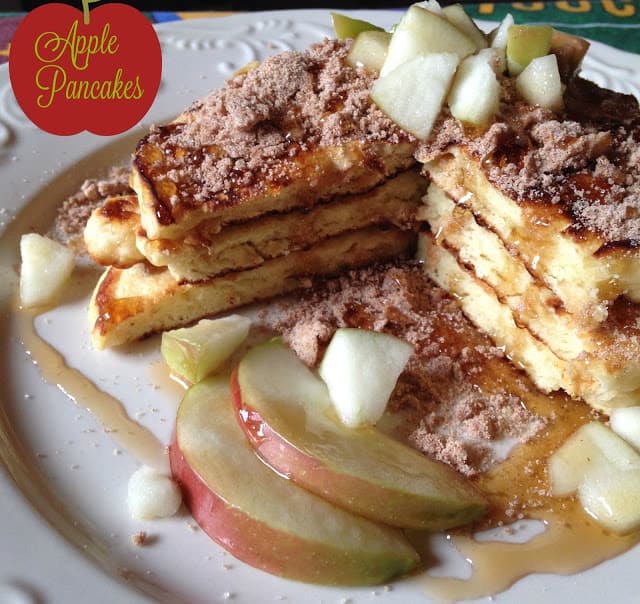 Wisconsin Apples
Wisconsin is a great apple producing state. The major growing areas are: Coulee County, the Bayfield area and west central Wisconsin. Of the 100+ varieties grown in Wisconsin, national favorites are the Jonathan, Golden Delicious and McIntosh. The McIntosh is an excellent apple for making applesauce because of its juicy pulp and rich tart taste. New varieties are always welcomed but you can never go wrong with the classics.
Fun For Kids
For a breath-taking springtime outing with the kids, take a drive through one of the apple-producing areas to see and smell the orchards in bloom. Then in the fall, return to enjoy the harvest at one of the pick-your-own apple farms. Another fun thing to do with kids is to attend one of the many fall festivals The Annual Apple Festival is held in Bayfield WI each October. To find out more take a look here: Travel Wisconsin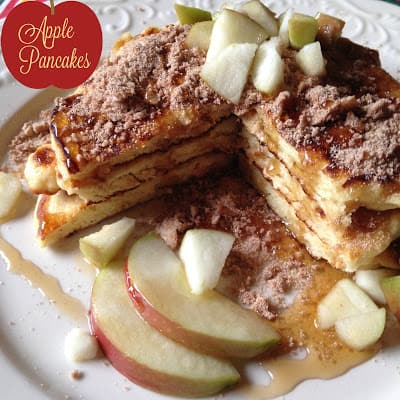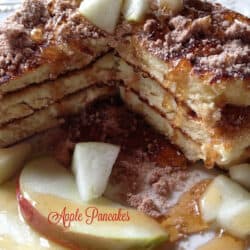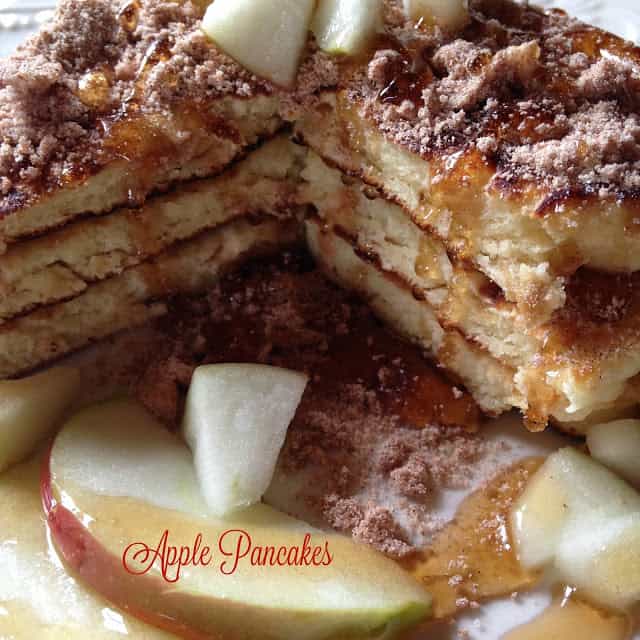 Apple Pancakes with Streusel Topping
A great way to enjoy fall apples.
Ingredients
1

box

of your favorite buttermilk pancake mix

eggs, water and oil called for on boxed pancake mix

1

small

apple, peeled and diced

1/3

cup

flour

1/2

cup

brown sugar

1/3

cup

rolled oats

pinch

of salt

1/4

teaspoon

ground cinnamon

1/4

cup

butter, room temperature
Instructions
Prepare streusel topping;

In a small bowl, mix together flour, brown sugar, oats, salt, and cinnamon.

Cut in butter until mixture resembles coarse crumbs. Set aside.

Prepare your favorite pancake recipe or use your favorite boxed pancake mix, prepared per directions on box.

Add diced apple to pancake batter. Stir well, let batter sit for 5 to 10 minutes.

Heat griddle to 350° F. Spray with a non-stick cooking spray. Ladle pancake batter onto hot griddle.

Turn pancakes over when surface bubbles appear, flip over and cook until golden brown.

To serve: Place hot pancakes on oven-proof plate, sprinkle with streusel topping.

Set oven to broil, place stack of pancakes on oven rack, 6 inches under broiler, broil for 1 to 3 minutes or until brown sugar and butter melt. Watch carefully!

Serve with maple syrup and extra chopped apples.
Recent Recipe: Chocolate Covered Stuffed Dates