Amish Onion Cake or Bread
We may earn money or products from the companies mentioned in this post.
Amish Onion Cake or Bread
This rich, moist savory cake has an onion-poppy seed topping but that's just the beginning. It's a dense cake made with white flour, eggs, butter, milk and sour cream. The perfect accompaniment to any breakfast, lunch or dinner. It's a wonderful change from regular bread served with a meal. You can serve this bread as a side with meat, stews, soup, chili or top slices with cheese. Amish Onion Cake/Bread makes a fantastic grilled cheese sandwich.
Taste of Home
We have wanted to try this cake/bread for a long time. I found this recipe in a Taste of Home Cookbook called: "The Market Fresh Cookbook." One of many in my vast collection of Taste of Home Cookbooks. I bought this cookbook over 6 years ago and thought it was high time to give this recipe a try. I'm so glad I did! This bread is wonderful. Rich, hearty, different and tasty. A nice change of pace from dinner rolls or corn bread often served with Thanksgiving dinner.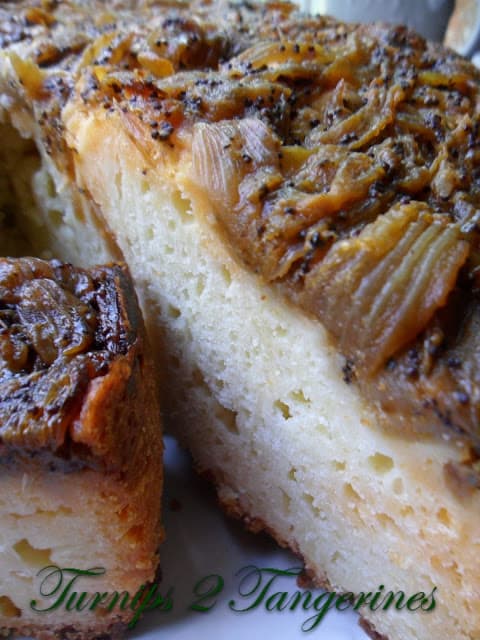 German Onion Bread
This recipe for Amish onion cake or bread is reminiscent of German Onion Cake or Zwiebelkuchen. A savory rustic pie of browned onions, Black Forest ham or bacon, caraway seeds, egg and sour cream. Onion cakes are popular in Germany's wine growing regions. Traditionally, Zwiebelkuchen is enjoyed with a glass of Federweisser or grape must.
There are a few varieties of Zwiebelkuchen. Some are flat and cut into squares with a thinner layer of the topping, others are thicker and can be prepared in a springform pan. Schwäbischer Zwiebelkuchen is typically round and deep, simmilar to a quiche. Whatever the shape may be, traditional Zwiebelkuchen always consists of yeast dough, topped with caramelized onions, savory bacon and a thick creamy base. My hubby isn't a fan of caraway seeds so I substituted poppy seeds.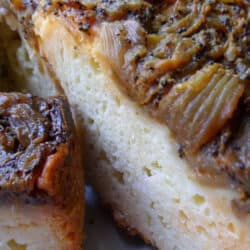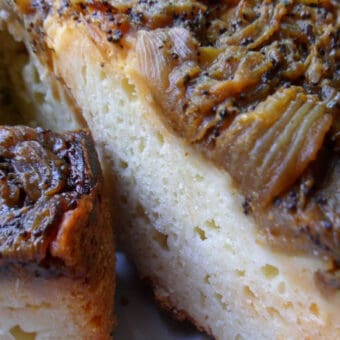 Amish Onion Cake/Bread
Amish Onion Cake/Bread is rich and delicious!
Ingredients
3 to 4

medium sweet onions, chopped

,

(Vidalia)

2

cups

cold butter, divided

1

tablespoon

poppy seeds

1 1/2

teaspoon

salt

1 1/2

teaspoon

paprika

1

teaspoon

coarsely ground pepper

4

cups

flour

1/2

cup

cornstarch

1

tablespoon

baking powder

1

tablespoon

sugar

1

tablespoon

brown sugar

5

eggs

3/4

cup

milk

3/4

cup

sour cream
Instructions
In a large skillet, cook onions in 1/2 cup butter over low heat for 10 minutes. Stir in the poppy seeds, salt, paprika and pepper; cook until golden brown, stirring occasionally. Remove from heat; set aside.

In a large bowl, combine flour, cornstarch, baking powder and sugars. Cut in 1-1/4 cups butter until mixture resembles coarse crumbs.

Melt the remaining butter. In a bowl, whisk the eggs, milk, sour cream and melted butter.

Make a well in the dry ingredients; stir in egg mixture just until moistened. Spread into a greased 10 inch springform pan. Spoon onion mixture over the dough. Place pan on baking sheet. Bake at 350 º for 35 to 45 minutes or until toothpick inserted near the center comes out clean. Serve warm. Yield: 10-12 servings.
For dessert serve warm slices of Apple Kuchen with a whipped cream cheese topping or  with my favorite, cinnamon ice cream. Recent Recipe: Tom and Jerry Holiday Drink  and 5 Recipes Using Gourmet Warehouse