Air Fryer Corn on the Cob
We may earn money or products from the companies mentioned in this post.
Air Fryer Corn on the Cob
Welcome back to Turnips 2 Tangerines! Today we are going to share a recipe for corn on the cob, made in the air fryer. It's super simple to make and is ready in under 10 minutes. Since I'm not a fan of corn on the cob, mainly due to dental issues, I prefer to eat my corn "off" the cob. I guess you could say that I'm not a huge fan of corn in general. I never buy frozen or canned corn and tend to omit it when a recipe calls for it. However, we do love fresh corn off the cob, opting to buy several dozen ears of fresh corn when in season. Try Air Fryer Corn on the Cob, and see how fast it becomes your new favorite way to serve fresh corn!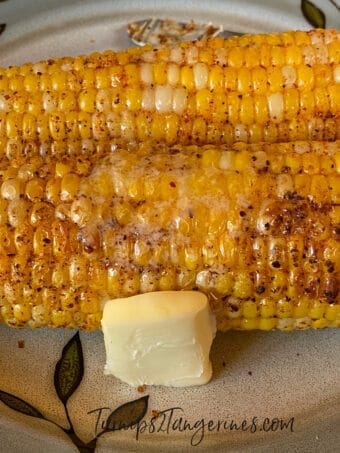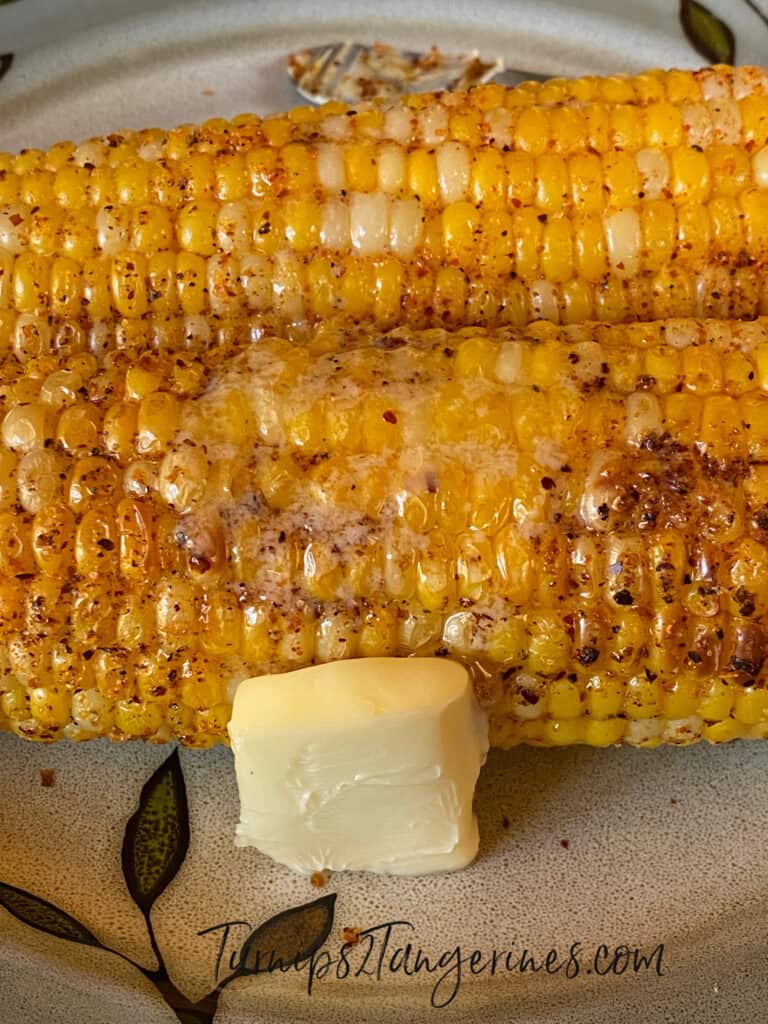 Month of August
When fresh corn is in season, usually during the month of August here in Wisconsin, we like to pick up several dozen ears of corn. My hubby usually has a few ears for dinner and the rest gets prepared for the freezer. One of our Thanksgiving traditions is to serve a huge bowl of hot buttered corn that we cut off the cob and froze in August. How do you prepare corn off the cob for the freezer? Begin by removing all the outer green leaves and silk from the ears of corn, this procedure is also known as "shucking corn." Stand the ear of corn upright on a dinner plate or 9-inch glass pie plate. Using a sharp knife and starting at the tip of the ear of corn, slide your knife down the length of the corn.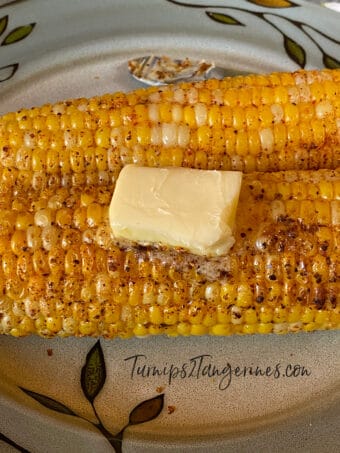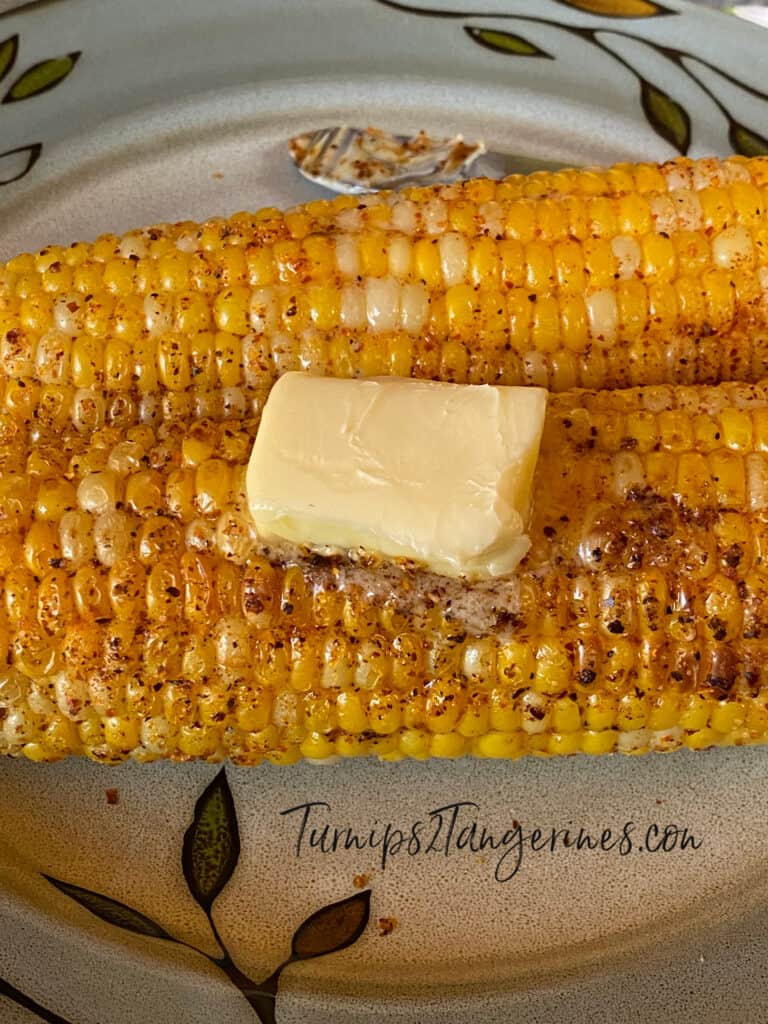 Rotate corn and repeat until all corn kernels have been removed. Continue this process until all corn kernels have been removed from ears of corn. Stopping several times in between to empty plate or glass pie plate, "milky" fluid and all, into ziplock freezer baggies. Feel free to measure out the corn into appropriate "cups" needed for recipes, and/or write amount and date on baggie and freeze. Corn prepared this way  can be kept in the freezer for up to one year, possibly longer.
Growing Up on Corn
When I was growing up, late August signaled the end of summer, the start of a new school year and corn on the cob. It wasn't uncommon to have corn on the cob for dinner. Besides maybe a hot dog, corn on the cob would be the only thing served. I can remember sitting on the back porch steps and shucking ears and ears of corn. Back then most moms boiled ears of corn in large enamel roasters usually reserved for roasting their Thanksgiving turkey or making caramel corn. The roaster sat over two gas burners on top of the stove and the ears of corn would bubble away until steaming hot.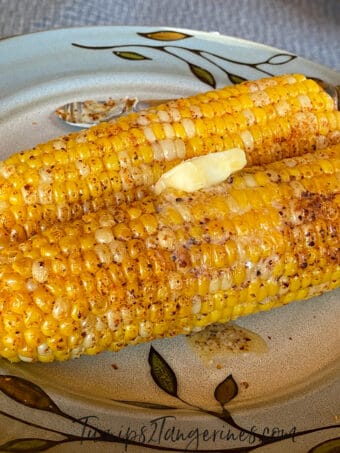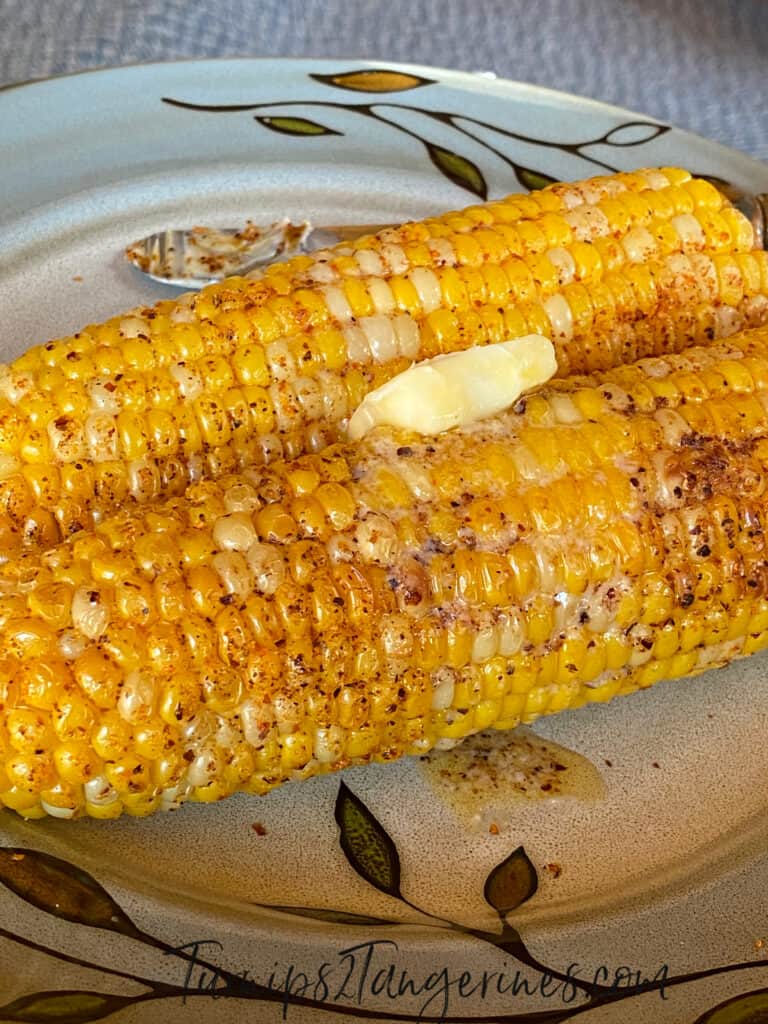 This really wasn't the most practical way to prepare corn because back then hardly anyone had central air. Needless to say, it was a 'hot mess.' The platter of steamy corn would be placed in the middle of the table and metal hot dog tongs would be used to grab an ear of corn. On each of our plates would be a stick of creamy butter, (butter must have been cheap back then), to "roll" our ear of corn in. A little sprinkle of salt from the salt shaker and supper was served!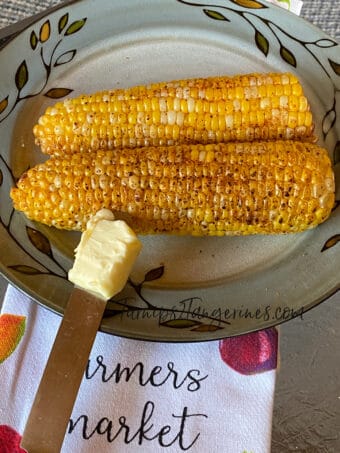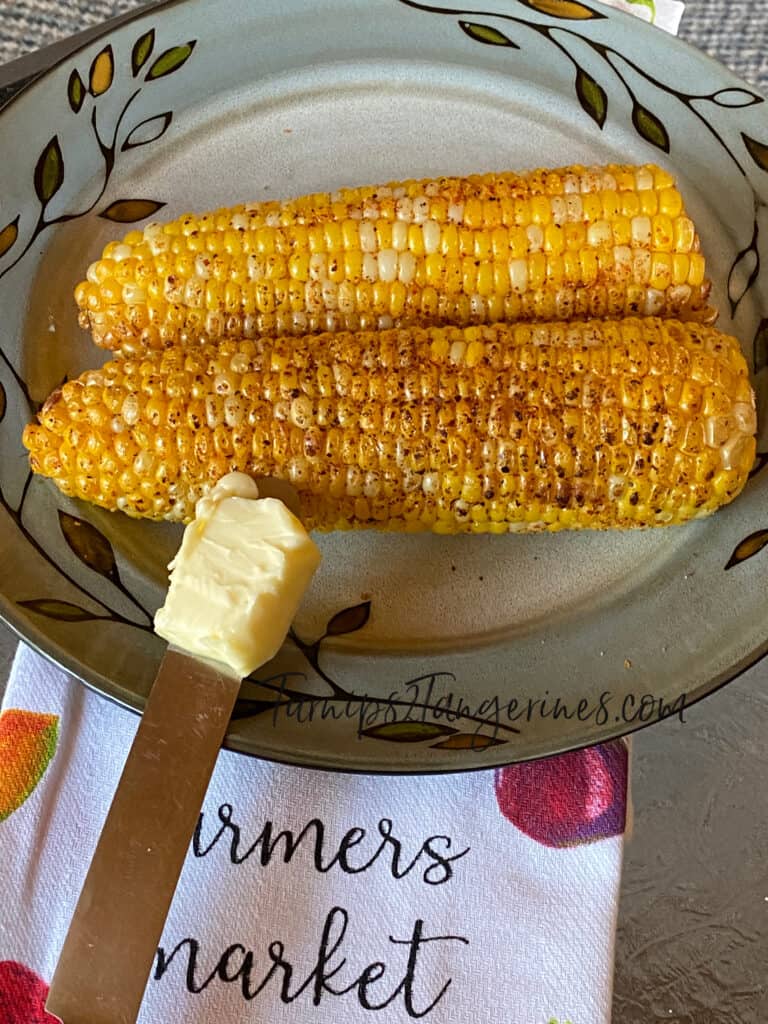 Stack of White Bread
I grew up in a good catholic home, during an era when people had large families. Having a family of six, eight, ten or twelve was the norm. Serving corn on the cob was a very economical way to feed a house full of hungry kids. If you're roughly over the age of let's say 50, give or take a few years, you might remember having just corn on the cob for dinner. Of course we can't forget about the ever present stack of white bread. A stack of white bread was served on a small plate at every dinner in my house growing up. The top slice of bread was never, ever eaten either. The top three or four slices of bread would be "flipped" over and then you'd eat the new or fresh slice now at the top.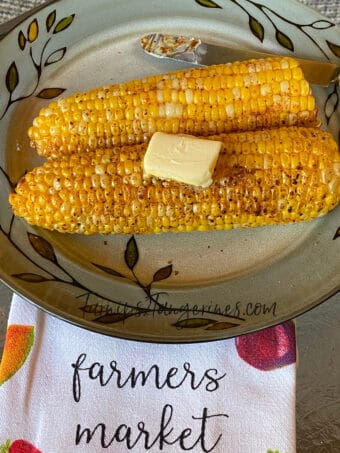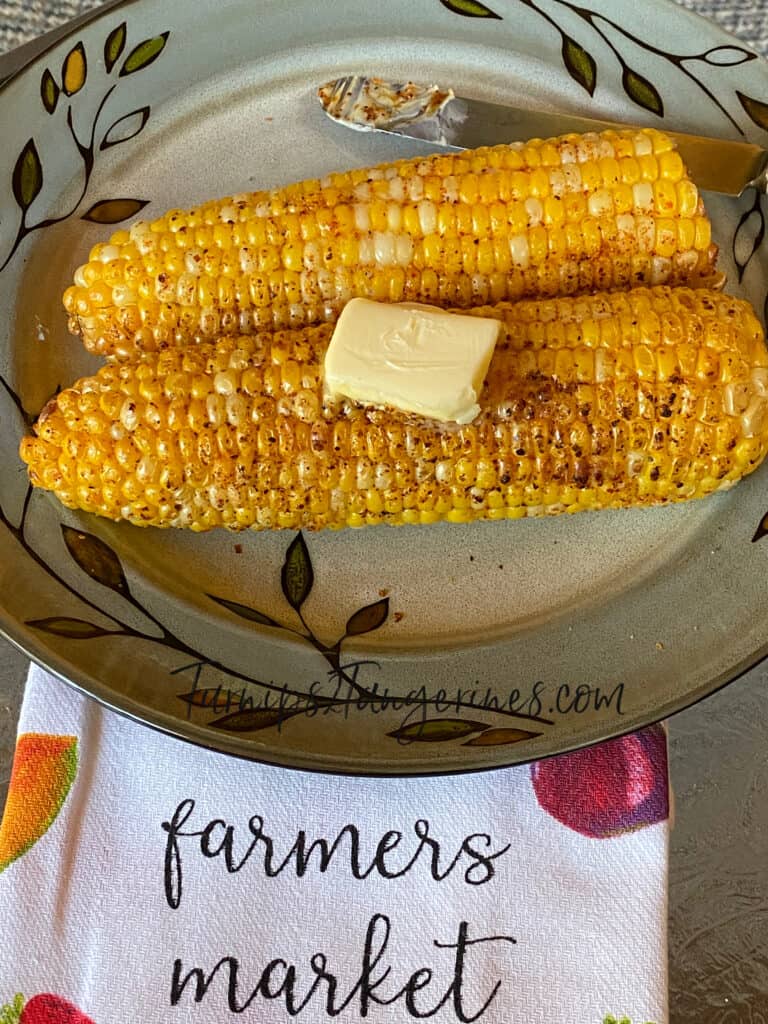 Where this tradition of serving bread came from I couldn't say. But, when I visited my friend Cindy in Canada a few years back, right before dinner was served we had to run to the grocery store to buy rolls. You see, Cindy didn't have any rolls to serve with dinner that night. Rob, her hubby, had eaten the last three rolls, the same three rolls Cindy had specifically saved for that nights dinner. Needless to say, Cindy wasn't a happy camper. Trying to smooth things over I said to Cindy, "Do we really need rolls?" She looked at me like I had suggested we commit a mortal sin! We had rolls with our dinner every night thereafter.
More Corn Recipes
UP NEXT: Tangy Texas Salsa with Cinnamon Chips
WHAT'S NEEDED:
There are only a few ingredients needed to make this recipe. The most important ingredient would of course be fresh sweet corn. Go to a farm stand where they sell corn on the cob or buy a dozen at the farmers market. If at all humanly possible, don't buy that crap they sell in the grocery store produce section. God only knows how long it's been sitting there! And those cute little ears of corn, sitting on a green foam tray and wrapped in plastic? Those are the ears of corn they couldn't sell the first time around. Start with fresh corn on the cob and you'll be on your way to enjoying the best corn ever.
fresh corn on the cob
olive oil
salt and pepper
butter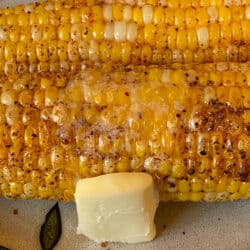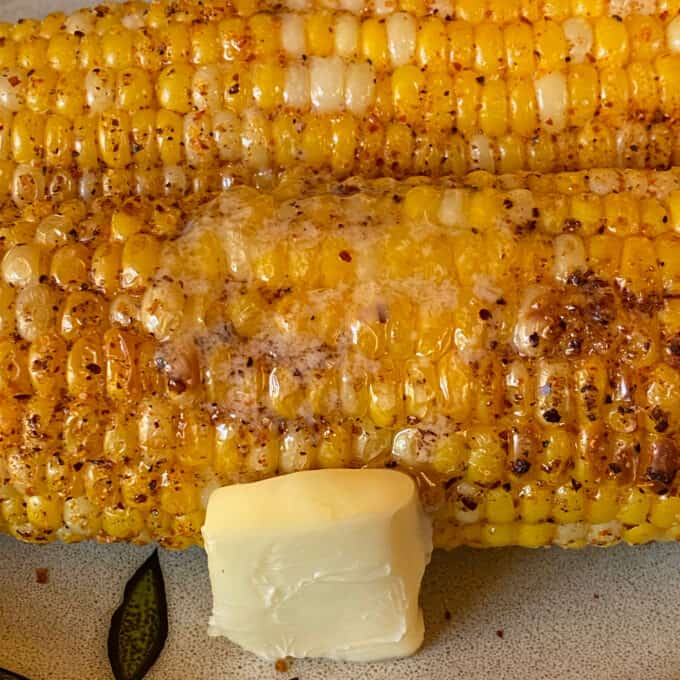 Air Fryer Corn on the Cob
Corn on the cob never tasted so good!
Ingredients
4

ears

fresh corn

2 to 3

teaspoons

Olive oil

salt and pepper, to taste

tajin seasoning, to taste

4

pats

of butter
Instructions
Preheat the air fryer at 400 degrees for 5 minutes.

Remove husk and the silks from each ear of corn. You may need to cut the corn to fit in your air fryer basket. If you need to do so, cut the corn. Drizzle oil over the corn. Try to cover the corn well with oil. Season with salt, pepper and tajin seasoning. Place corn in air fryer, top each ear of corn with a pat of butter.

Cook at 400 degrees for about 12 minutes. With tongs turn corn over. Cook for another 6 minutes depending how you like your corn done.
Notes
My air fryer holds two ears of corn, only.