Aggie's Favorite Bean Hash
We may earn money or products from the companies mentioned in this post.
Aggie's Favorite Bean Hash
Bean Hash has been in my family for as long as I can remember. When I was a kid, my mom Aggie made this recipe often. Aggie had a knack for stretching her food budget as far as possible. With six kids to feed, along with my dad and herself, that's a lot of meals. When I was a young mother and had to stretch my food budget as far as I could, I made Bean Hash for my own family. Back then I made bean hash as a main dish.
Served at Family Gatherings
Now I serve bean hash as a side dish for picnics, barbecues and family gatherings. It has always been a family favorite and one of the first things to disappear at family picnics. Even though this recipe has remained the same over the years, the name has changed somewhat. Bean Hash goes by many different names in my family such as: Bean Crash, Bobby's Beans, Bean Dish, and my personal favorite, A$$hole Casserole. 
Funny Names but Same Ingredients
The name asshole casserole is courteous of my son Bob. Of course, that's the name that has stuck over the years too. I still make bean hash the same way that Aggie did, using Van Camp's pork and beans and tomato soup. We have several 'bean' recipes here on Turnips 2 Tangerines. Perhaps you might like to check them out using our Recipes On Tap.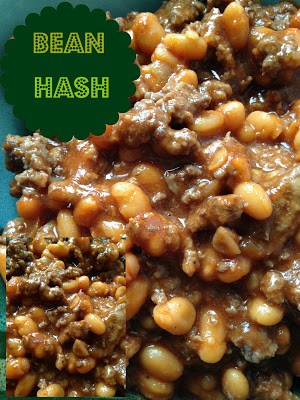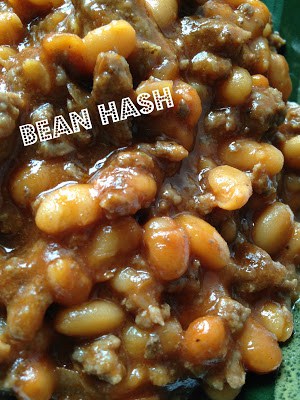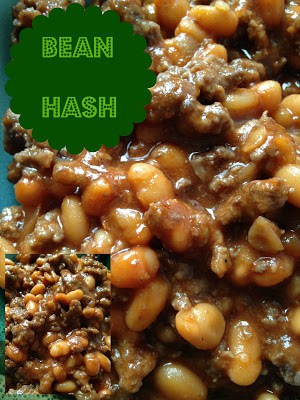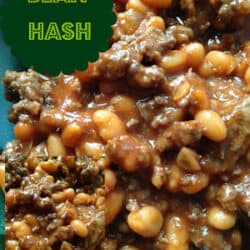 Aggie's Favorite Bean Hash
An old fashioned family favorite. No picnic would be complete without this dish.
Ingredients
2

pounds

ground beef

2

15 oz cans

pork 'n beans

,

Van Camp's

1

10 oz cans

tomato soup, undiluted

1/2

cup

ketchup

1/4

cup

brown sugar

1

small

onion, chopped

salt and pepper, to taste
Instructions
In a large skillet, brown ground beef with chopped onion, season with salt and pepper.

Brown until ground beef is no longer pink inside. Drain off any fat.

Stir pork n' beans, tomato soup, ketchup and brown sugar into ground beef mixture.

Stir until combined.

Simmer over medium low heat for 1 hour, stirring often.
Products used in this recipe;  Van Camp's Pork and Beans.