7 Things You Need To Try Cooking in Instant Pot
We may earn money or products from the companies mentioned in this post.
7 Things You Need to Try Cooking in Your Instant Pot
Let's have a chat about your Instant Pot. Hands up if you got an instant pot during a recent holiday? For first-timers, it may feel like some kind of eerie potential-to-explode tool that is relegated to the back of your kitchen for years due to fear. Or is only brought out to cook a pot of brown rice/dry beans (which is still a brilliant use).
But after using the instant pot for quite some time, I can assure you it lives on my countertop at the moment. It's my soup maker, rice cooker, last-minute dinner miracle worker, and freezer meal magician all in one. And I'm addicted to using it for a lot of Instant Pot recipes. 
For Starters – What is an Instant Pot?
An instant pot is an electric pressure cooker and a slow cooker, rice cooker, steamer, big saute pot, yogurt maker, and much more.
Why Use an Instant Pot?
The Instant Pot is a total game-changer, especially when you're busy. A Lot of the recipes involve dumping to cooking straightaway. And all that's needed is for you to set it up and walk away. It also cooks food 70% times faster than other methods of cooking, and it's all done in one pot.
If you're still not convinced. Instant Pots are the best option for freezer meals as no thawing is required and for meal prepping as well. So the Instant Pot is amazing, right? With that said, here are 7 things you need to try cooking in your Instant Pot.
#1 Soup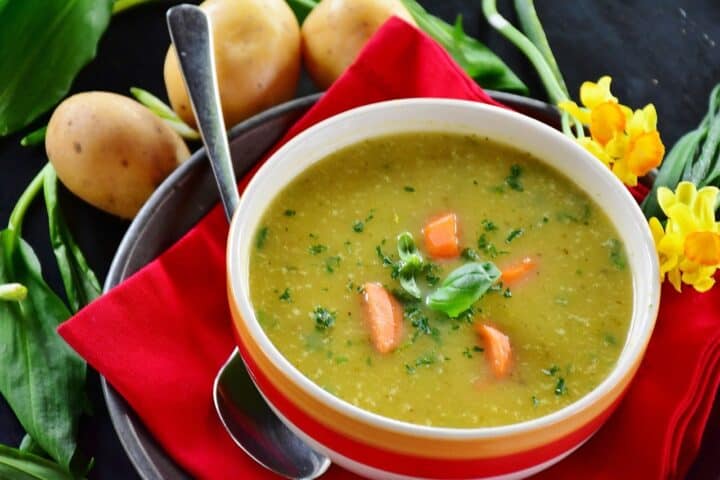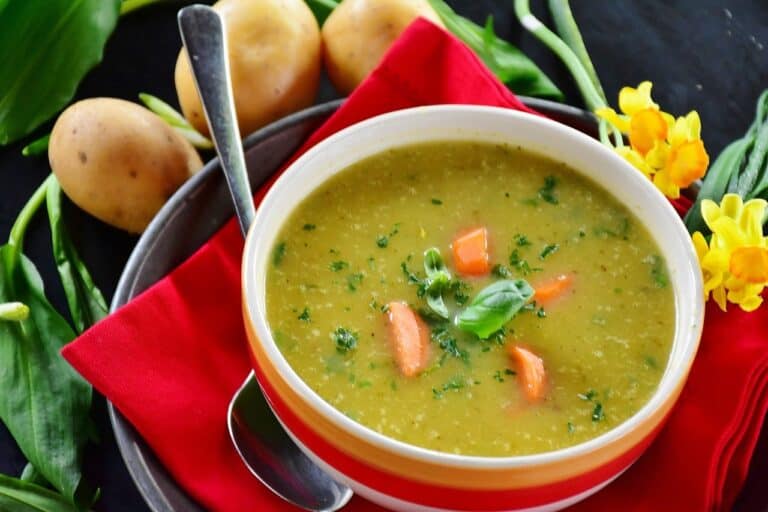 Source – No Attribution Required
Cooking soup with your Instant Pot is simple. For example, to make an instant pot lentil soup, you just need to use the saute setting, and add all the ingredients. Seal the pot and cook it on high pressure for 15 minutes and then release the pressure naturally.
Cooking soup with your instant pot only requires the initial effort of dicing your veggies. After that, you just have to sit back and watch it do its thing for a few minutes. Here's a sample recipe of how to make Instant Pot Lentil Soup.
Ingredients:
Chopped celery stalks, 

Minced garlic cloves

Chopped carrot (medium) 

2 teaspoons fresh thyme

Ground black pepper 

1 ½ cups green lentils 

4 cups vegetable or chicken broth 

14.5 oz can of diced tomatoes 

4 cups baby spinach 

Kosher salt 

Italian seasoning 

Grated parmesan cheese. 
Directions: 
Add the carrot, garlic, tomatoes, onion, celery and lentils. Add Italian seasoning, thyme and season with pepper and salt to your taste. Pour the broth and stir. Set your Instant Pot for 18 minutes, set to manual, high. Adjust the valve to quick release. 

After 18 minutes, remove the lid, stir in the spinach and serve with parmesan. 
#2 Pasta Dishes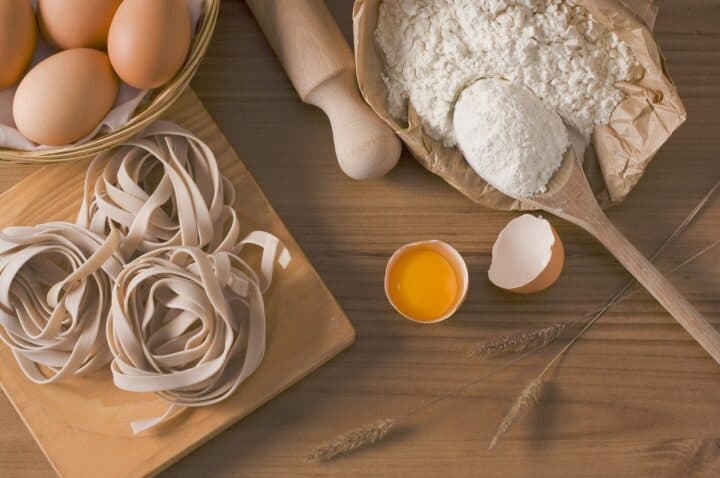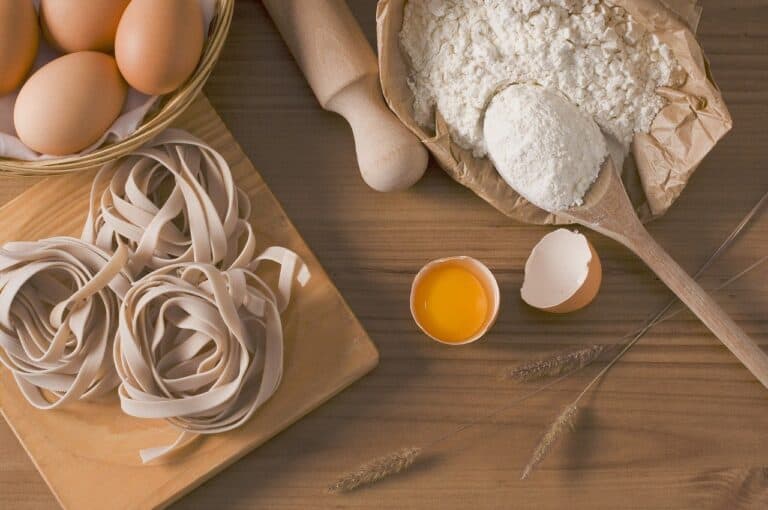 Image Source: No Attribution Required
If you have dry pasta (penne works great), canned tomato or tomato paste sauce, and a few veggies, you're all set. You don't even need fresh veggies – frozen ones will do just fine. For most pasta dishes, you'll require only 10 minutes hands-on-time using your Instant Pot.
Here's a sample recipe of Vegan Instant Pot Pasta.
Ingredients:
Tomato sauce 

Red onion 

Fresh basil

Rotini pasta

Italian seasoning 

Dark balsamic vinegar 

Pure maple syrup
Directions:
Saute the onions until they are brown and add water. 

Add the spices and stir for 30 seconds this will release the aroma of the spices. 

Add all remaining ingredients except the basil. Stir well to mix thoroughly 

Cook for 5 minutes on high pressure and naturally release pressure for another 5 minutes. Do a manual pressure release for any remaining pressure. Ensure you do not stand too close to the steam vent or the pot. 

Add the basil to the mixture and serve. You can garnish with parmesan cheese or sliced olives. 
#3 Oatmeal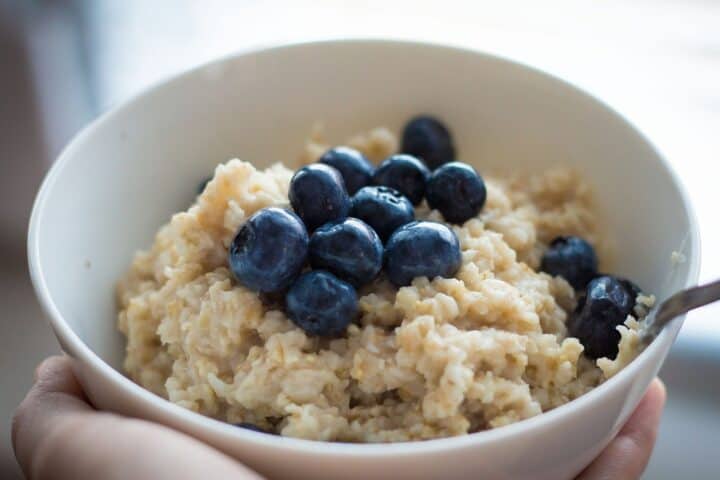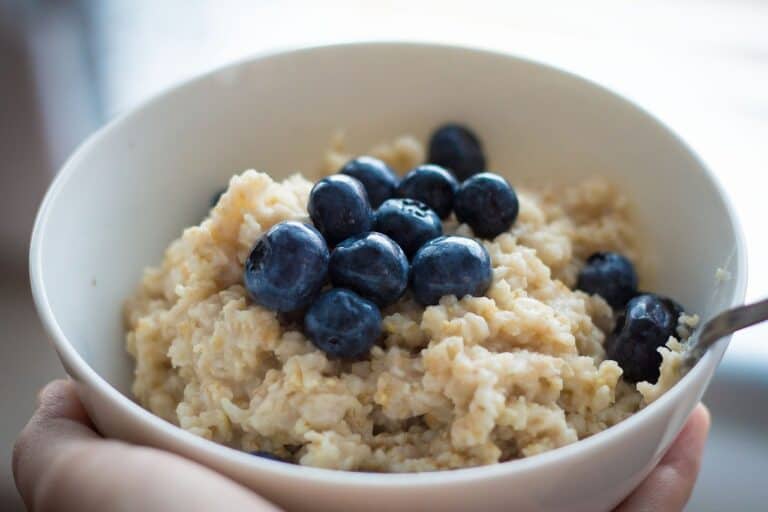 Source – No Attribution Required
Instant Pot oatmeal is a healthy breakfast recipe for entertaining guests or weekdays. The best pressure cooker to use for this recipe is the 6 quart. The process usually just takes 3 minutes. And the process is a no-brainer. You don't have to watch to see if your pot will boil over.
Or worrying about under/overcooking and no fear of the oatmeal getting burnt and sticking to your pot's bottom. Just throw in the oats into a pot with water or almond milk and cook.
Here's a sample recipe.
Ingredients:
½ cup old fashioned oats

2 tablespoons fresh or dried fruit 

1 cup Unsweetened almond milk 

1 to 2 tablespoons unsalted nuts eg almonds 

1 tablespoon Chia seeds 
Directions:
Add oats, nuts, almond milk and Chia seeds to a sauce pan and boil for about 5-7 minutes. Stir occasionally.

Serve in a bowl and garnish with more Chia seeds, nuts or dried fruits. 
#4 Rice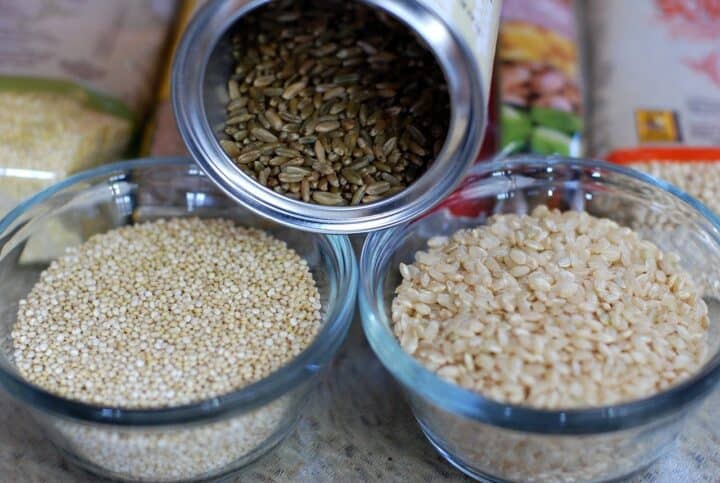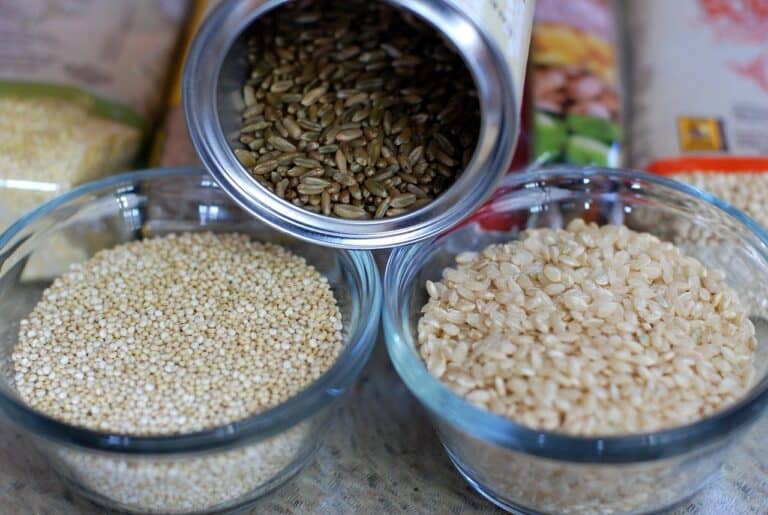 Source – No Attribution Required
You may want to put your rice cooker on the list of appliances you're to move to your basement. Instant Pot's are the best for the perfect cooked rice. You get to cook rice and all fixings in the same pot as well. Instant Pots and rice are a match made in heaven. Generally, most Instant Pot rice recipes cook for about 23 minutes and release for 10 minutes.
Here's a sample recipe of dirty vegan rice with mushrooms.
Ingredients:
½ cup minced bell pepper

8 ounce minced mushroom

2 cups long grain brown rice

1 cup minced onions

2 ½ cups vegetable broth

1 cup shredded carrot

1 ½ teaspoons Cajun seasoning

½ teaspoon minced garlic

¼ cup water for sautéing

Salt to taste
Directions:
Turn on the saute function and add water to the pot. Once it's hot, add onions and saute till it's translucent.

Add bell pepper, carrot mushrooms, garlic and cook till they are soft

Add rice and Cajun seasoning, saute for 1-2 minutes

Put off the instant pot to enable you switch modes

Add the broth, put the lid on, seal the vents and cook on pressure cook or manual

Allow to cook for 23 minutes, then release naturally for 10 minutes, then release the remaining pressure manually.

Fluff the rice, add salt to taste.
#5 Cakes
There's nothing more delicious and healthy than oil-free, gluten-free vegan cake. The process is also simple. You just have to choose the right pan and not the 8 to 9-inch cake pans, as those would not fit into the 6 quart Instant Pot.
For the best results use the Instant Pot in Pot method, so the cake doesn't burn as that'll happen if you steam it directly in the Instant Pot pan (the pan that comes with your Instant Pot).
Here's a sample recipe for Instant Pot apple cake.
Ingredients: 
2 Tablespoons sugar

1 teaspoon vanilla extract 

3 diced granny Smith apples 

2 tablespoons orange juice 

2 teaspoons cinnamon 

1 ½ cup all-purpose flour

1 teaspoon kosher salt 

2 large eggs

2 teaspoons baking powder 

2 tablespoons sugar

¾ cup granulated sugar 
Directions:
Place parchment paper in the cake pan and spray with oil 

For the crumb topping, in a bowl, mix cinnamon, flour and sugar and set aside. 

Mix ground flaxseed, almond milk and vanilla in another bowl and set aside. 

In a large bowl, add sugar, rolled oats, brown rice flour, baking powder, cinnamon, almond flour, sea salt, nutmeg. Add the almond mixture and mix well. 

Fold in the apple's pieces and mashed banana. Scoop the batter into the cake pan, sprinkle the crumb topping mixture on the cake batter. 

Cover the pan with foil or lid. 

Place the pan on the trivet and place the trivet in the inner pot. 

Seal the pot and set on manual high pressure for 50 minutes. After 50 minutes, naturally release pressure for 10 minutes and turn the knob to venting to release the remaining steam. 

Open the lid and remove the baking pan. 

Allow the cake to cool for 10 minutes and remove from the pan. 

Top with vegan vanilla ice cream 
#6 Eggs
Hard-boiled eggs make for instant breakfast or a touch of protein for lunch. And with an Instant Pot, it's super fast. Just 5 minutes on high pressure and then natural release again for the same time frame. Plunge in ice water and peel away.
Here's a sample recipe for vegan eggs.
Ingredients:
6 – 12 large eggs 

1 cup Water. 
Directions:
Add water to your Instant Pot. 

Put the trivet into the pot and put the eggs on the trivet. 

Adjust pressure to high under manual setting and set time for 4 to 7 minutes. 

When done, quick-release pressure and cool eggs in a bowl of ice water for a minute. 

Drain water and peel the eggs. 
#7 Yogurt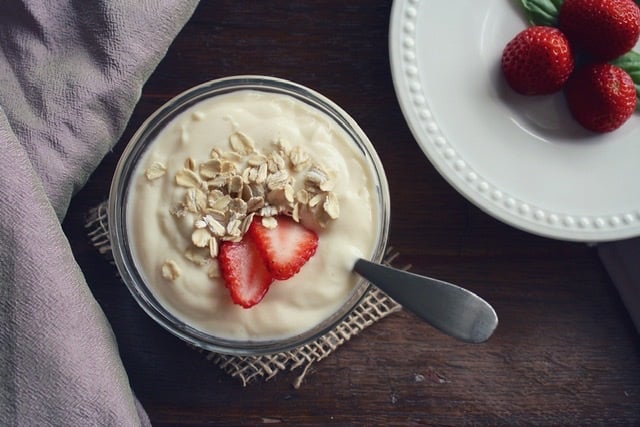 Source – No Attribution Required  
One of the most thrilling experiences of having an Instant Pot is when you find out you can make Yogurt. It's a bit time intensive, but uncomplicated. However, you'll want to ensure that you have a thermometer to check the temperature of the milk.
Here's a sample vegan Yogurt recipe to use with your Instant Pot.
Ingredients:
1 tablespoon maple syrup 

2 cans full-day coconut milk 

1 teaspoon probiotic powder

1 tablespoon agar flakes. 
Directions:
Add the agar flakes and coconut milk to your Instant Pot and bring to a boil with the saute function. 

Stir with the whisk while boiling. Once the temperature had 180°F on your thermometer turn off the pot and stir well for the agar flakes to dissolve. 

Stir in the maple syrup and let the mixture cook to about 110°F – 115°F.

After cooling the mixture, add the probiotic mixture and stir well. 

Press the yogurt button on the instant pot and set the amount of time you want the yogurt to ferment. 18 to 24 hours is okay if you want tart yogurt,but if you don't, 8-10 hours is okay. 

Place the lid over the instant pot to keep your yogurt clean. 

After the fermentation period, your yogurt will still be watery with a cream colored film on top. Pour the yogurt into a clean jar with a lid and store in the fridge. It will thicken when chilled. 
Conclusion
That's a wrap! 7 amazing vegan meals you can make with your Instant Pot stress-free. So which of these meals would you try first? For Dessert why not try a creamy piece of White Chocolate Coffee Toffee Fudge