5 Quick Foods For Kids That Are Fun To Eat
We may earn money or products from the companies mentioned in this post.
5 QUICK FOODS FOR KIDS

THAT ARE FUN TO EAT
Getting kids to be excited about food can be difficult, especially if they are picky eaters. But getting them to eat their food is also crucial. Food is the source of nutrition your body needs to stay healthy. It is critical to offer them things they enjoy while still providing nutrients for their growth. The goal of food is to maintain them healthy, not to mention keep them full! 5 Quick Foods For Kids That Are Fun To Eat will get them to the table.

It may be difficult, but it is essential to experiment with new meals and determine whether or not they like them. A proper meal is one that has protein, vegetables, and healthy types of carbohydrates. Kids love food that is fun and easy to eat. In this article, we'll explore five types of food for kids that are quick and easy to prepare, while still being fun to eat!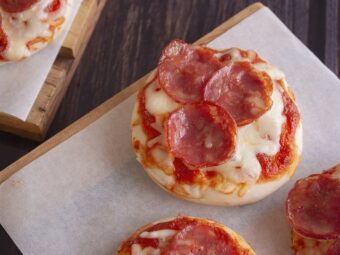 1. Mini Pizzas
Mini pizzas are a great option to pick for your kids! They love the fact that they can make their own pizza and make it in any way they like. For this, you can use homemade bread, sauce, and cheese. Cut out the center of the bread to make room for sauce and toppings. Cheese is a great starter, but they might want to add pepperoni or pineapples too. It's better to make your own sauce rather than buy it from the shop. This way, it is healthier and doesn't include any of those preservatives. By including a lot of vegetables, this supper is nutritious. When it comes to tiny pizzas, there are no limits, and children like the fact that they can personalize their meals.
2. Spaghetti Tacos
Spaghetti tacos are a creative twist on traditional spaghetti! It can be difficult to get children to eat their dinner, but this recipe makes spaghetti more fun. If you want the kids to be excited about eating it, you should cut out a square shape and use a cookie cutter for fun shapes. The best thing is that we can stuff these pasta squares with anything the kids' desire! You could put meat sauce or vegetables inside. Kids usually love to choose what they put in their tacos because it's fun and exciting. And for this reason, it is always better to prepare this dish at home rather than buying it from a local restaurant.
3. Pancakes with Syrup
Doesn't this sound delicious? Pancakes taste extremely well, but putting syrup on them is even better! You can use as much as you want as it has no nutritional value. However, you could encourage kids to eat it with fruit. By cutting up strawberries or bananas, you can make the pancake breakfast even more colorful and fun to eat! The syrup is often used by kids for dipping food because it's sweet. On the other hand, sometimes they want to cover their meal in syrup instead of using ketchup. Pancakes are a common choice for breakfast as it only takes a couple of minutes to cook them.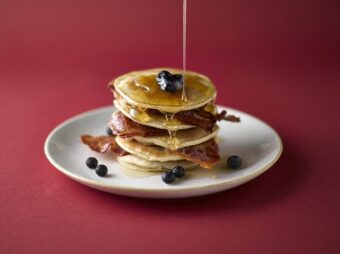 4. Peanut Butter and Jelly Sandwiches
Peanut butter and jelly is the ultimate sandwich that everyone loves! The main ingredients are bread, peanut butter, and jam. Peanut butter is a great source of protein, while jelly offers carbohydrates for energy. It's worth noting that peanut butter is also a great source of vitamin E, which works as an antioxidant in the body. In relation to jelly, it is quite high in sugar content and fairly low when it comes to its nutritional value. However, when it comes to kids, they might not care about this! This sandwich can be a quick snack or a savory meal for them to enjoy.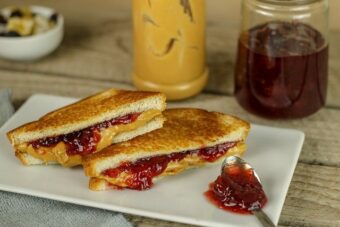 5. Rice Crispy Treats
Rice crispy treats are delicious and can be made in a variety of ways. All you need is cereal, marshmallows, butter, and vanilla extract. First, crush the cereal into very small pieces until it turns into power. Then, put the crushed mixture into a bowl with syrup and butter. When you make these fun foods for kids, an important thing to remember is that they might not want to eat them as a meal. In this case, it can be a great afternoon snack or after-school treat for them.
Important To Remember
It is important to remember that kids are picky, but it's better to try to come up with something they might want to eat. Parents should remember that it can be difficult to get them excited about eating. Understanding what they like is the first step while trying new recipes is always good too. Sometimes their taste changes each day, so you should always try new foods. Even if they don't like what you have made for them today, it doesn't mean that they won't appreciate it tomorrow.

Mini pizzas are a popular choice for a quick meal, and it's great that the kids can choose the toppings that they like. Spaghetti tacos are another example of how you can make their food more fun. Pancakes are great because they're quick to cook, and the kids can choose what goes inside them! Peanut butter and jelly is a popular sandwich that tastes delicious, but it's important to encourage them to eat it with fruit. Rice crispy treats are kid-friendly as they only contain a few ingredients. These 5 quick and easy foods are sure to be fun for your kids to eat!
UP NEXT: Old Fashioned Swiss Steak
Here are some of our favorites here on T2T