Texas Sheet Cake, Pioneer Woman
We may earn money or products from the companies mentioned in this post.
Texas Sheet Cake, Pioneer Woman
🎄Merry Christmas🎄Today I'm heading to Mindy and Fred's house to have Christmas lunch and exchange gifts with my grand-kids. I'll be making the trip solo, since pappa will be staying home to babysit for our new pug pup, June Bug aka Ju Ju Bean. She is roughly 2 1/2 lbs, give or take an ounce. We thought it would be better not to take her along and I didn't think she'd do well in her kennel all day so we compromised. Not that it took much arm twisting to convince the hubby to stay home. He wasn't thrilled that I took the Texas Sheet Cake, Pioneer Woman though. I had to promise to make a New York Style Cheesecake while he's on vacation.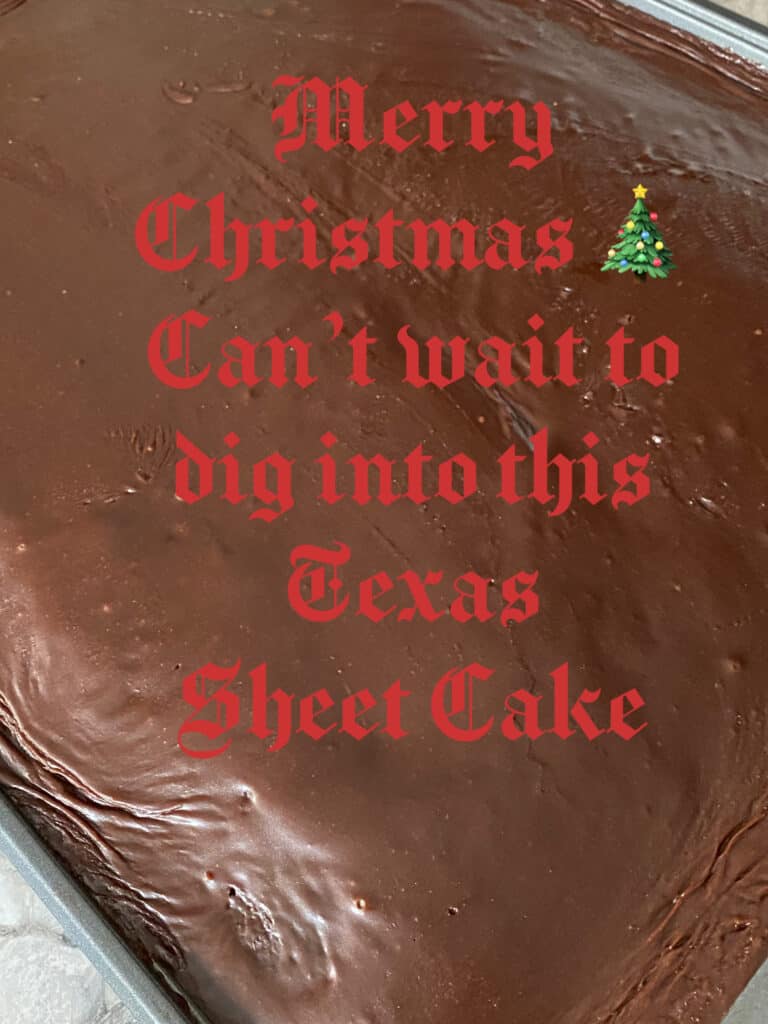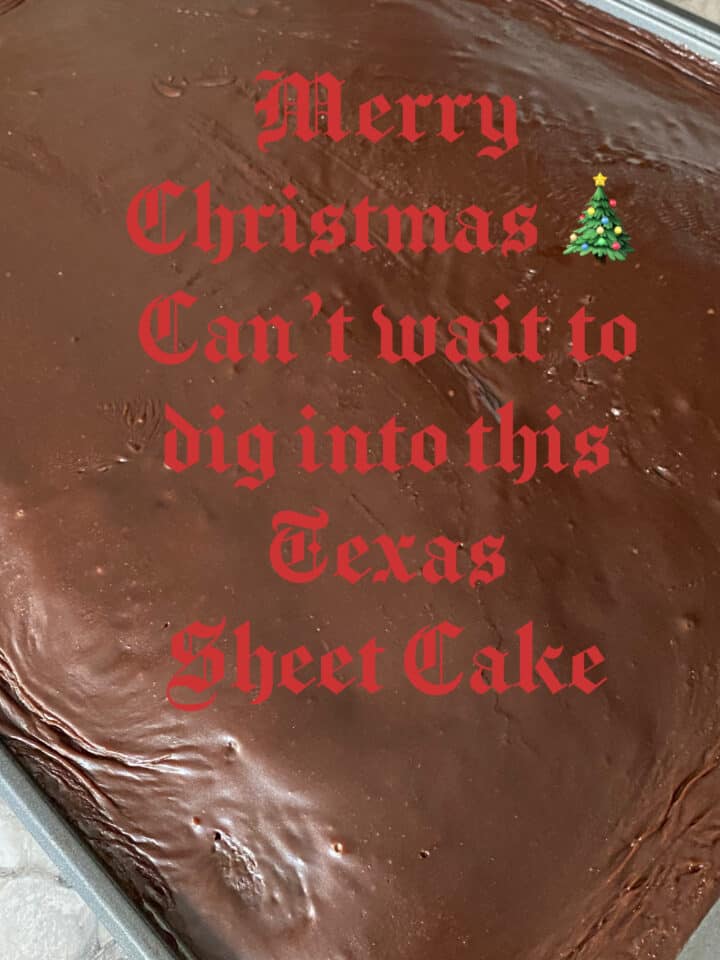 Make A Dessert
This year I was asked to bring a dessert, something I'm never asked to do, so I thought and thought. What universal sweet does everyone love and simply can't resist? Chocolate! Visions of my grandma's Chocolate Cake with Chocolate Walnut Frosting came flooding back to me. Delicious, Decadent, and Irresistible. My mind was made up, chocolate cake it was going to be. Now to find a recipe. I've made chocolate cakes before but I've never made an official Texas Sheet Cake.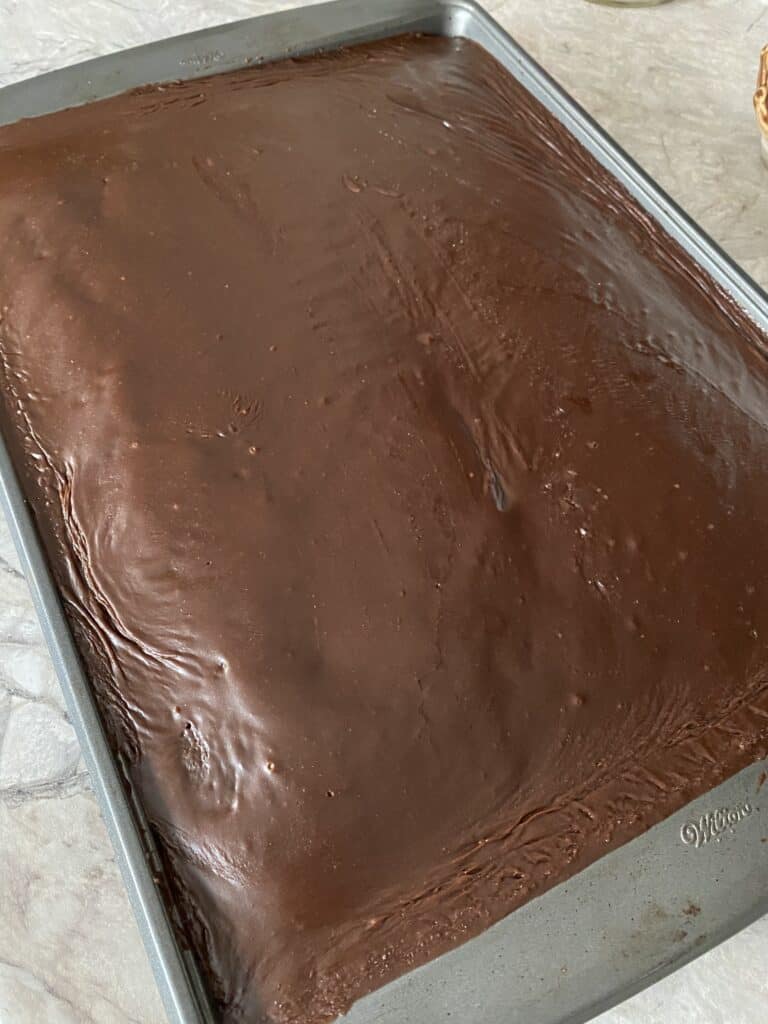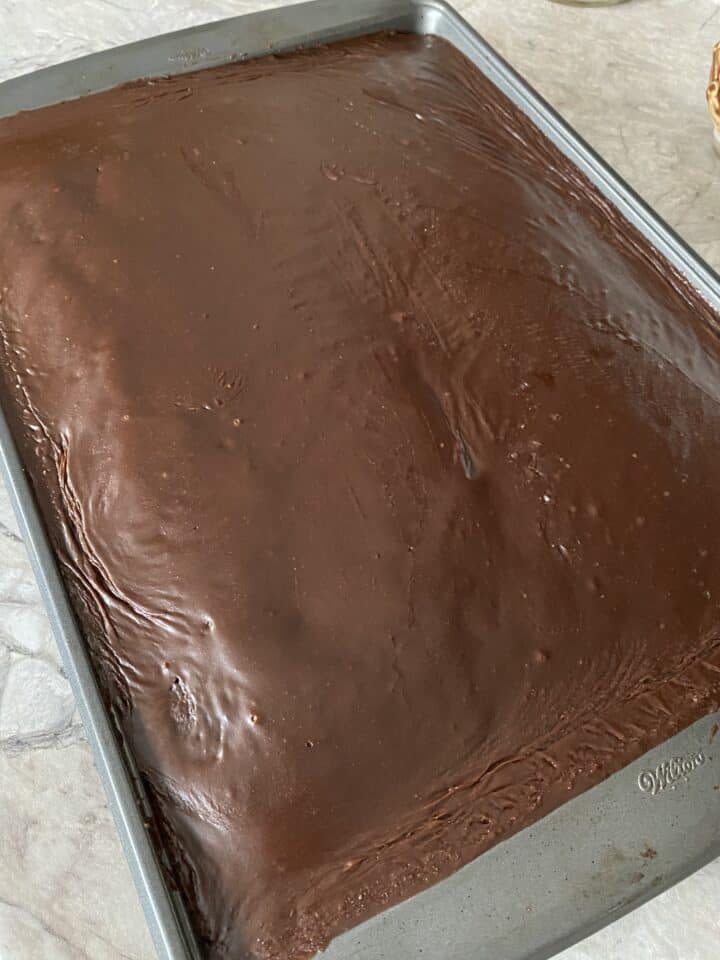 Pioneer Woman
When I came across this recipe from the Pioneer Woman, I was amazed at how similar it was to my grandma's recipe. (her original recipe, that is) Over the years I've tweaked her recipe a little due to the fact that the recipe she had given me many moons ago didn't make a lick of sense. Another plus, I had all the ingredients and total time from start to finish was under an hour. Perfect! You may have noticed that the frosting does not contain any chopped pecans or walnuts. The reason for this is twofold. My hubby can not have nuts anymore due to diverticulitis and my grand-kids don't like nuts.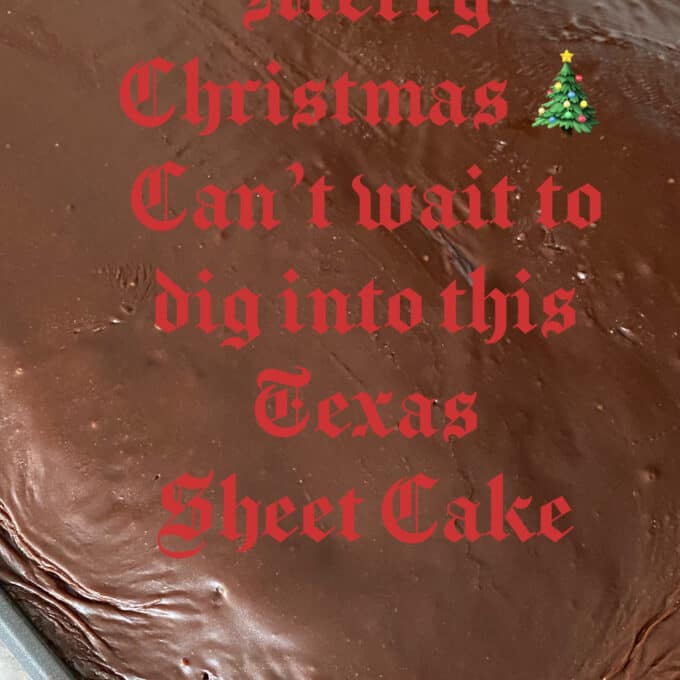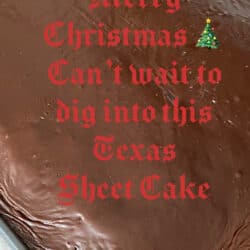 Texas Sheet Cake
Delicious!! The very best Texas Sheet Cake, Ever
Ingredients
For the Cake:

2

cups

flour

2

cups

sugar

1/4

teaspoon

salt

4

tablespoons

heaping cocoa

2

sticks

butter

1

cup

boiling water

1/2

cup

buttermilk

2

whole

beaten eggs

1

teaspoon

baking soda

1

teaspoon

vanilla extract

For the Frosting:

1/2

cup

finely chopped pecans or walnuts

1 3/4

sticks

butter

4

tablespoons

heaping cocoa

6

tablespoons

milk

1

teaspoon

vanilla extract

1

lb.

(minus 1/2 cup) powdered sugar
Instructions
In a mixing bowl, combine flour, sugar, and salt. In a saucepan, melt butter. Add cocoa. Stir together. Add boiling water, allow mixture to boil for 30 seconds, then turn off heat. Pour over flour mixture, and stir lightly to cool.

In a measuring cup, pour the buttermilk and add beaten eggs, baking soda, and vanilla. Stir buttermilk mixture into butter/chocolate mixture. Pour into sheet cake pan and bake at 350-degrees for 20 minutes.

While cake is baking, make the icing. Chop pecans finely. Melt butter in a saucepan. Add cocoa, stir to combine, then turn off heat. Add the milk, vanilla, and powdered sugar. Stir together. Add the pecans, stir together, and pour over warm cake.

Cut into squares.