We may earn money or products from the companies mentioned in this post.
Chocolate Coconut Marshmallow Cups 
Now that the holidays are here, it's Sweet Treats time! Chocolate Coconut Marshmallow Cups are made using products from a fantastic company called Chocoley. I was contacted by a wonderful gal back in November asking me if I'd be interested in trying their chocolate and coconut dough. Of course I answered with a loud, "Heck Yes!"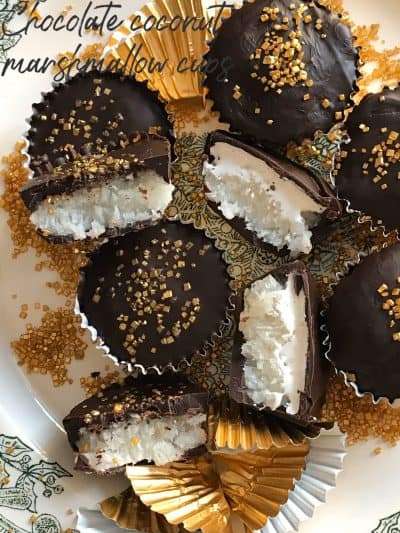 Chocoley
Chocoley sent me three of their super products; #1 Bada Bing Bada Doom Dipping Chocolate, since I'm a die-hard Sopranos fan, the name Bada Bing, Bada Boom, immediately caught my attention:) #2 Dark-Just Melt It! Fondue Chocolate and #3 Coconut Dough. Chocoley products are celiac safe, peanut free, tree nut free, egg free, and gluten free. If you are on a restricted diet and are a fan of chocolate then you're in luck. Now you can have your chocolate and eat it too.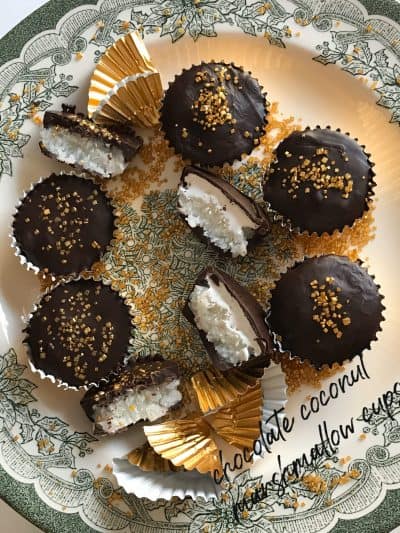 Mallo Cups
My inspiration for Chocolate Coconut Marshmallow Cups came from my hubby's two all time favorite candy; Boyer Mallo Cups and Mounds Candy Bars. He simply can't resist either one. Mallo cups are a cup made with milk chocolate and they have a creamy marshmallow center. A Mounds Bar has a chewy coconut center with dark chocolate covering the outside. I decided to combine the two and the end result? Chocolate Coconut Marshmallow Cups. My hubby's new fav!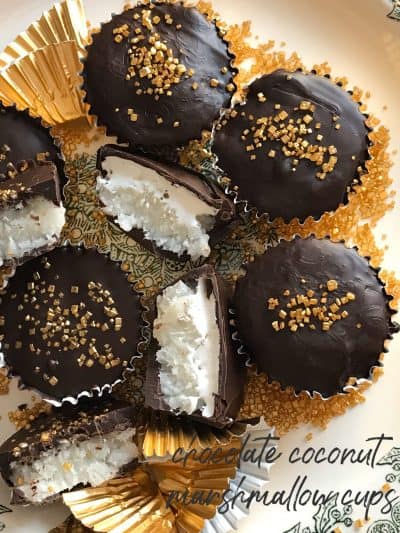 Dip a Buttery Cracker
After you have melted some Chocoley chocolate, coated your mini muffin liners with the melted chocolate and your waiting for the chocolate to  "set up," why not dip a few buttery crackers? Dip a few buttery crackers into some Dark- Just Melt It! Fondue Chocolate. Top each dipped cracker with some chopped pecans or peppermint mini marshmallows:) Make extra to pass around and make some friends.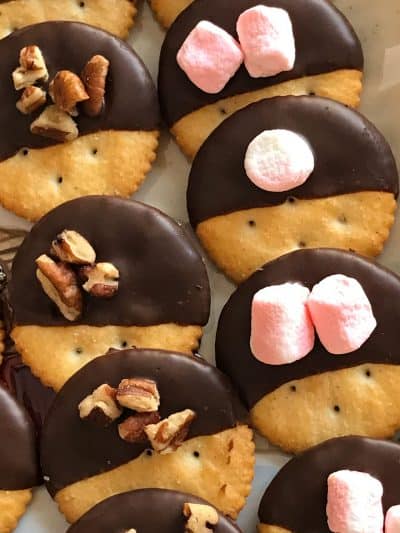 Chocolate Coconut Marshmallow Cups
A Mallo Cup and Mounds Bar rolled into one.
Keyword:
coconut, dark chocolate, Marshmallow Fluff
Ingredients
1

lb

Chocoley Dark Chocolate

1

lb

Chocoley Coconut Dough

7

oz

marshmallow fluff
Directions
Line a standard size muffin tin with foil muffin liners. (24)

Melt roughly half of the chocolate in the microwave in 30 second increments. Stir to prevent burning. With a small spoon add enough chocolate into the bottom of the muffin liners. Use a spoon or pastry brush to bring the chocolate up over the sides. Stick the chocolate in the fridge for 20 minutes, just so it sets up and becomes firm and forms a 'cup'

Roll about a teaspoon size amount of the coconut dough between the palms of your hands.

Place the coconut dough ball into the bottom of the chocolate cup.

Press the coconut dough down to form a layer.

Spoon about 1 teaspoon of the marshmallow fluff over the coconut dough layer.

Put the muffin tin back in the fridge so the marshmallow firms up, another 20 minutes or so.

Melt remaining chocolate in the microwave in 30 second increments.

Spoon melted chocolate over top of the cups.

Place the tin back in the fridge before serving.

Store Chocolate Coconut Marshmallow Cups in the refrigerator.
Looking for more Holiday Favorites? Try these; Peanut Butter Balls and More and Christmas candy Turtle Candy Topped with Sea Salt