Maple Chip Blondies #Choctoberfest
Welcome Back Everyone to #Choctoberfest! I hope you're enjoying all of the fantastic recipes that are being shared this week during #Choctoberfest. I have been busy myself visiting all of the other bloggers and there are so many yummy, chocolaty recipes! Choctoberfest is a great time to get you geared up for the holiday baking season that is already upon us. Here in Northern Wisconsin, our fall was filled with rain, rain and more rain, which has now turned into that dreaded dirty word, SNOW! (Just a light dusting, but snow is snow!)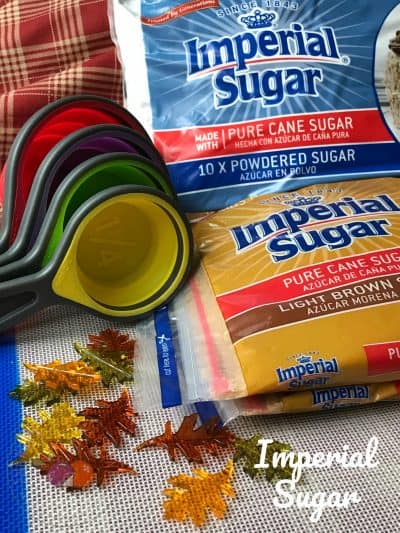 Imperial Sugar
This year Imperial Sugar, our Gold sponsor, was kind enough to supply us with their fantastic sugar. I received twelve 2 lb. bags of brown sugar and twelve 2 lb. bags of powdered sugar. How great is that! Even though this is #Choctoberfest and the likely ingredient to use this week would be of course chocolate, I thought what better way to use brown sugar than to make a pan of blondies. After all blondies are the cousin to their famous and chocolaty cousin, the brownie.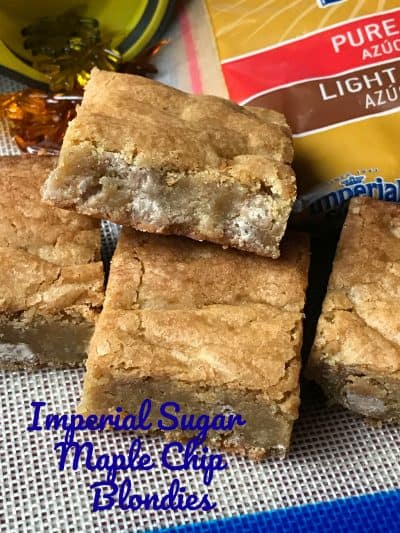 Maple Chips
Besides using Imperial Sugar for this recipe, I also used Nestle's 'Seasonal Batch' Maple Flavored Chips , a new seasonal flavor baking chips. Maple chips added a warm mapley flavor to  these already buttery blondies. Blondies get their great flavor from the butter and brown sugar used in all blondie recipes, turning them into a delicious pan of butterscotch, maple goodness. The best tasting blondies, in my humble culinary opinion, comes from using butter (no margarine please) and Imperial Sugar.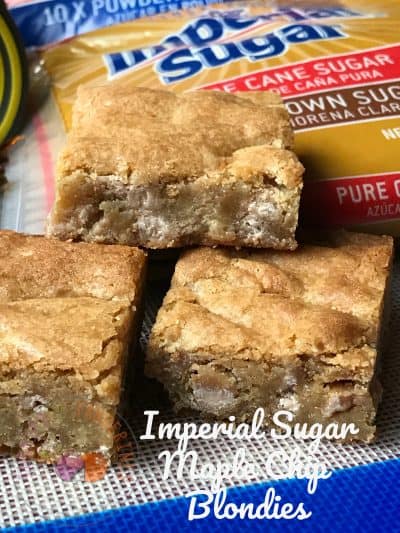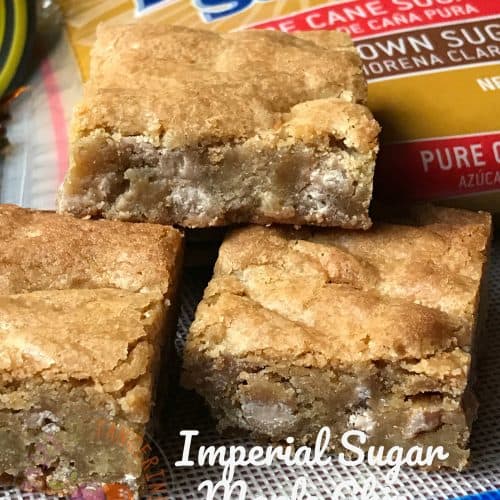 Maple Chip Blondies
These delicious maple flavored blondies made with maple flavored baking chips are simply delicious. Sweet, buttery with a super maple flavor.
Course:
Bar, Brownie, Dessert, Snack
Keyword:
bars, blondie, maple
Ingredients
3/4

cups

butter, room temperature

1 1/2

cups

packed light brown sugar

2

eggs

2

tsp

vanilla

1

Tbsp

pure maple syrup

1

tsp

baking powder

1

tsp

salt

1 1/2

cups

flour

1 1/2

cups

maple flavored baking chips
Directions
Preheat oven to 350°

Line a 9×9 pan with aluminum foil and spray with cooking spray. Set aside.

Cream butter and sugar together with mixer until light and fluffy 2-3 minutes.

Add eggs, vanilla, maple syrup, baking powder and salt until incorporated.

Turn mixer to low and add in flour until combined.

Stir in maple chocolate chips.

Spread batter into pan and bake 25-30 minutes.

Let cool before cutting into squares.
Recipe Notes
Recipe Note: This recipe is very buttery. To alleviate this somewhat, do not line your pan with aluminum foil and spray with cooking spray. Simply spread the batter into the pan and bake. Don't need to spray the pan first. Also, allow to cool in pan about 30 minutes, cut bars into squares and wrap squares in wax paper.   
Recipe adapted from Cookies and Cups
I want to Thank Imperial Sugar for Sponsoring #Choctoberfest 2018.
For more Maple goodness; Canadian Maple Syrup Pie and Maple Facts, Maple Syrup Cinnamon Rolls and Maple Nut Fudge.