Fun Fire Truck Cracker Cookies
We may earn money or products from the companies mentioned in this post.
Fun Fire Truck Cracker Cookies
Rainy Day Fun!  The hot and muggies have descended upon us here in Northern WI. Along with the hot, humid and muggy weather comes lots of mosquito's and rain. If your looking for a fun way to pass the time on a rainy summer afternoon, besides playing games and games and games of Go Fish, Checkers and Chutes and Ladders, why not let the kids make these fun fire truck cookies!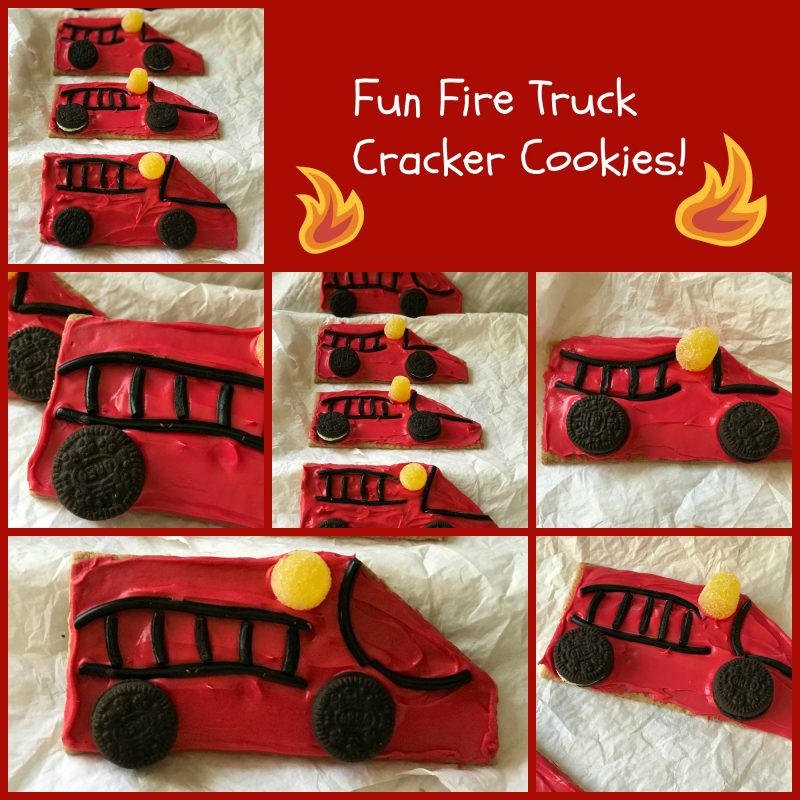 Fun to Make
Not only will your kids have fun making these cookie crackers, they'll have a blast eating them too. Made with just a few ingredients, these fun fire trucks won't break the bank either! You probably have the ingredients in your pantry as we speak. Go to your kitchen and see if you have a box of graham crackers, canned vanilla frosting, red food coloring, mini oreo cookies, gumdrops and black shoestring licorice?
Dollar Tree
Ok, you probably don't have gumdrops and black shoestring licorice in your pantry, but the next time your at the grocery store or at the Dollar Tree, pick up a bag of gumdrops, shoestring licorice and stock up on bags of mini oreos, they're great for fun projects like this one. Have I mentioned how much I love the Dollar Tree?? Seriously, I could spend hours in the Dollar Tree. *sigh* this is the part when I'm dreaming of the Dollar Tree…
[embedyt] https://www.youtube.com/watch?v=f3Rq2WRp-ic[/embedyt]
Fun To Eat!
Sorry about that…that's how much I love the Dollar Tree:) Back to making and eating fun fire truck cracker cookies. Making these fire trucks couldn't get any easier. Tint your frosting red, frost graham crackers with tinted frosting, decorate with black shoestring licorice and add a yellow gumdrop for the siren. I like to use the mini oreo's for the wheels. I love mini cookies, don't you?? They're great for decorating.
This is recipe is part of our "Play With Your Food, A Series for Kids" summer post.
Fun Fire Truck Cookies
Author:
Prep time: Total time: Serves:
16 cookies
Make these fun fire truck cookies for your kids next themed birthday party or just for fun!
16 whole graham crackers
1 cup vanilla frosting
red gel food coloring
32 chocolate cream-filled cookies (Oreo's)
black shoestring licorice
16 yellow gumdrops
With a serrated knife, cut the top left- or right-hand corner off of each graham cracker at a 45 degree angle. Tint the vanilla frosting red; frost crackers. Place two sandwich cookies on each for wheels.
For each truck, cut licorice into two 2 1/2 inch pieces, five 1/2 inch pieces and two 1 1/2 inch pieces. Place the large pieces parallel to each other above the wheel, with the small pieces between to form a ladder. Place the medium size pieces at the cut edges to form a windshield. Add a yellow gumdrop for the light.