Swedish Pancakes with Fresh Fruit
Today I'm making Swedish Pancakes. Swedish Pancakes are a very close relative to the French crepe. Thin, delicious and can be filled or served with just about anything. We served these light, thin and yummy pancakes with fresh blueberries and a sprinkling of powdered sugar. The more traditional way to serve Swedish pancakes, is with a couple spoonfuls of lingonberries or lingonberry preserves and a swirl of whipped cream.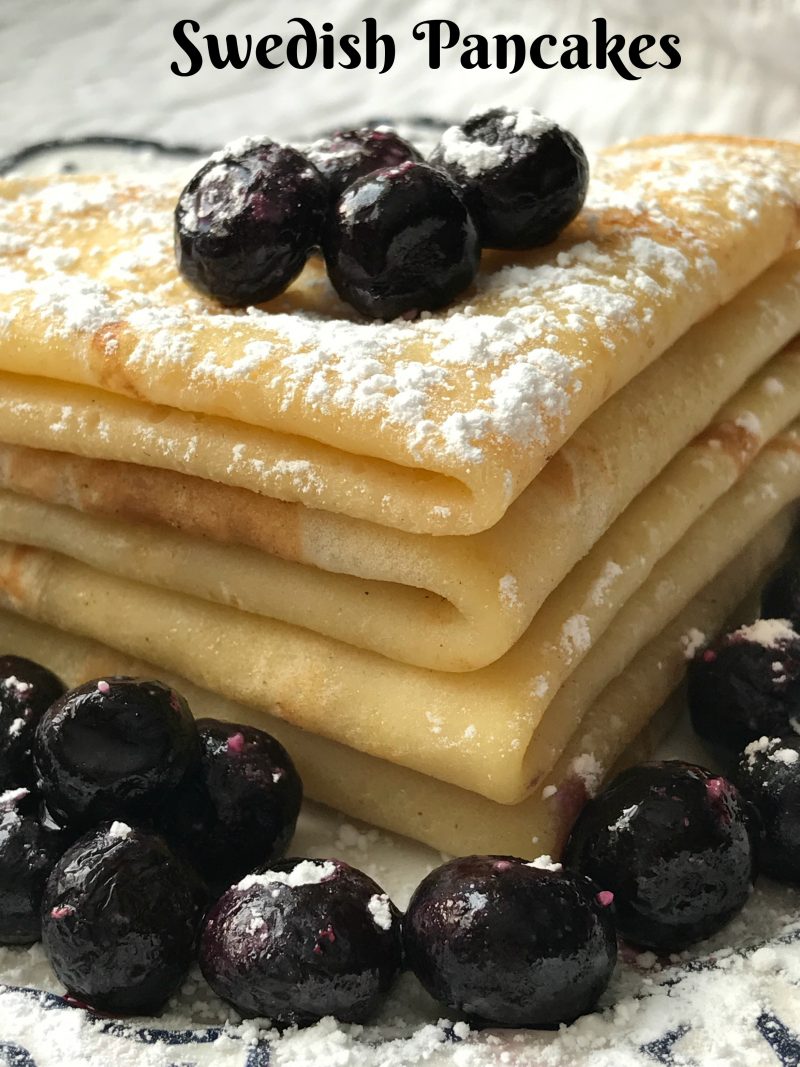 Pancake Mix
I used a pancake mix to make my Swedish pancakes. The ingredient list consists of only three ingredients; Swedish pancake mix, milk and eggs. The directions say to refrigerate the batter overnight. When I ordered the pancake mix, I bought two boxes. The first box I made I refrigerated the mix overnight and the second box, I did not. I preferred the "refrigerate" overnight method because the batter thicken up slightly. I guess that's why you should follow the directions:)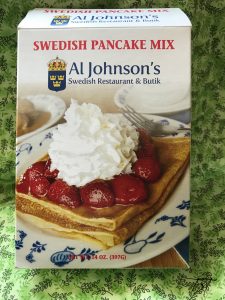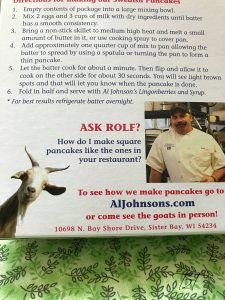 Crepe Magician
A few weeks ago, I stopped at a thrift store that I frequent in Wabeno WI. While there, I found a vintage 1975, Popeil's crepe magician. It appeared to be in it's original box and the only thing missing was the recipe booklet, I wasn't concerned about the recipe booklet because I already had my box of Swedish pancake mix and was going to follow the recipe on the box. I looked at the price, it read $1.00…that's a no brainier…I tossed the box into my cart.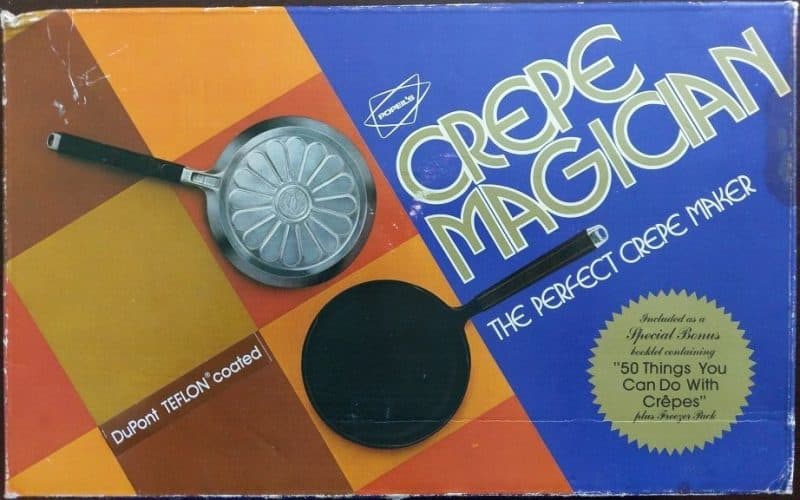 Al Johnson's Restaurant and Baitik
As I stated above, I made my Swedish pancakes with a boxed mix. Not just any old boxed pancake mix either. I purchased my Swedish pancake mix online from Al Johnson's. If you live in Wisconsin, you have undoubtedly heard of Al Johnson's restaurant located in the beautiful city of Sister Bay WI. Al Johnson's is known for their delicious Scandinavian style food and recognized for the goats that graze on the grass roof. Yes, you read that right…
Brief History of Al Johnson's
Al Johnson's is an authentic Swedish family owned restaurant where you can find goats grazing on the sod roof. It's quite a sight, and it's made this place one of the most famous restaurants in Door County. Inside the casual dinning room young ladies in Scandinavian outfits serve up a variety of Swedish fare, from pancakes with lingonberries to Swedish meatballs, whitefish, sandwiches, salads, and a variety of hot and cold plates.
Looking for More Swedish recipes? Try one of our all thyme favorites Swedish Meatballs and Rosettes
What are Lingonberries?
The Lingonberry is a small, ruby red berry is a member of the cranberry family. Also know as "cowberry," or as Newfoundlanders call it "partridge-berry" grows wild in the mountainous regions of Scandinavia, Russia, Canada and in Maine, US. These tart, red berries are available fresh, only in the regions where they are grown. They can be purchased as sauces or preserves and make excellent accompaniments to pancakes and crepes.