Spinach Artichoke Hummus with Home-made Pita Chips
It doesn't get much better than Spinach and Artichoke Hummus with Home-made Pita Chips. Both recipes are super easy to make but both taste like you've been in the kitchen for hours. If you have never made homemade pita chips before, you seriously don't know what your missing. Definitely not difficult to make but they certainly taste like you spent hours in the kitchen. So much better than the over-salted pita chips you buy in a bag.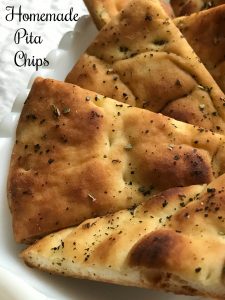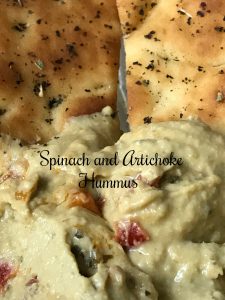 Pita Facts:
Pita [PEE-tah] Also called pocket bread, this Middle Eastern flatbread can be made of white or whole-wheat flour. Each pita round splits horizontally to form a pocket into which a wide variety of ingredients can be stuffed to make a sandwich. Throughout the Middle East, pitas are served with meals or cut into wedges and used as dippers for dishes such as Baba Ghanoush and Hummus. Pita bread is available in Middle Eastern markets and in most supermarkets.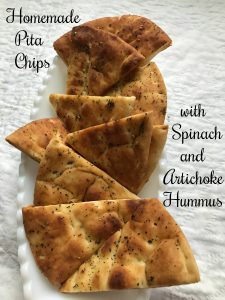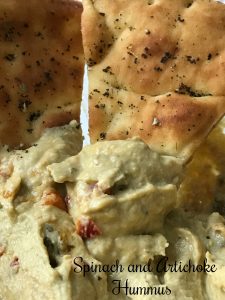 Spinach and Artichoke Hummus
Ingredients
1

can (15 oz)

chickpeas (garbanzo beans) rinsed

1

can (13.75 oz)

artichoke hearts, drained

1

package (10 oz)

frozen chopped spinach, thawed and squeezed dry

1/3

cup

tahini

1/4

cup

olive oil

6

Tbsp.

grated Parmesan cheese

3

Tbsp.

lemon juice

2

cloves

garlic

1

teaspoon

dried oregano

salt and pepper, to taste
Directions
Process all ingredients in food processor until smooth.
Home-made Pita Chips
Home-made Pita Chips
The perfect accompaniment to Spinach and Artichoke Hummus
Ingredients
3

pitas, cut into 8 wedges

4

tablespoons

olive oil

1

envelope (0.84 oz)

oven roasted vegetable bruschetta seasoning mix

McCormick
Directions
Preheat heat oven to 375 degrees F. Line a baking sheet with parchment paper

Cut pitas into 8 wedges. Pour olive oil into a small bowl. Carefully stir contents of seasoning mix into oil. Brush pita chips with oil and seasoning mixture. Arrange pita chips on baking sheet and bake for 12 to 15 minutes.