Tasty One Pan Huevos Rancheros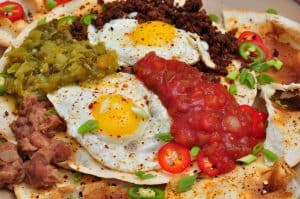 Huevos Rancheros
In the modern world, we are all so busy trying to get everything done, that cooking seems to fall by the wayside much of the time. The one solution to this is to get a handy portfolio of one pan dinners into your kitchen. Huevos rancheros is one of the greatest one pan dinners, it's full of taste and flavor, as well as it being a handy vegetarian and gluten-free meal! The great thing about huevos rancheros is that it can be done in almost any form, in casserole form, or you can just deconstruct the ingredients to make a beautiful family dinner, but here is how to do it in one pan, nice and quick.
Ingredients
1 tablespoon of oil (your choice of oil, either vegetable, olive, or canola)
1 small onion – chopped into chunky pieces
2 cups of chopped peppers (again, your choice of peppers)
1 (14 oz.) can of black beans
1 cup of salsa
4 eggs
8 small tortillas (floury or gluten-free)
1 tablespoon of chopped cilantro (also known as coriander)
Instructions
Get yourself a skillet, or one of those

stone frying pans

(nonstick, which is great for this recipe), and put the stove on a medium heat. As soon as the plan begins to simmer, add some of the oil. Throw in the peppers and onions, and sauté them until they are slightly brown.
Get the can of beans, and salsa. Add the beans and salsa into the pan. Turn the temperature of the stove down so that you can sauté this mixture until it thickens.
Using a spoon, make four small indentations in this mix. Crack your eggs into each indentation, and cover the skillet or frying pan with a bit of foil. Leave it to cook until the eggs are done as you like them.
Get your tortillas, and cover them with a dish towel, and heat them up in the microwave until they are warmed through, which can take about 2 minutes. Make sure that they are still covered with a dish towel until ready to serve.
Dish up your tortillas, and carefully spoon the huevos rancheros on to each tortilla, being careful not to break the egg. Add the cilantro, and enjoy!
The great thing about huevos rancheros is that you can change it as you see fit. If you want, you can add other toppings, such as cheese, or sour cream. And as you can see, it doesn't take long to make, meaning that you can get a very healthy dish done pretty quickly, and in Mexico, this is served as a traditional breakfast. Just get some sides, such as avocado, and some healthy kale chips, and you've got a great family meal.
The other great thing about these one pan dishes is that there is also much less washing up to do! So if you think that time is of the essence, especially when you are so busy in life, think about a few more one pan meals, and get cooking!