Chicken Curry with Spinach and Coconut Lime Rice
It's all the rage now, going gluten free. The amount of people that have a gluten sensitivity, as opposed to being a celiac, has risen a lot in the last few years, which can be evidenced by the amount of gluten free products on supermarket shelves, and a big interest in healthy living. For a lot of people, the wheat you find in many staples, like toast, form part of the perfect breakfast in the Western world. But the main thing about being gluten-free a lot of people can't get their heads around is that there are plenty of fantastic meals you can make that don't need to have flour or wheat, and here is one!
Chicken Curry with Spinach and Coconut Lime Rice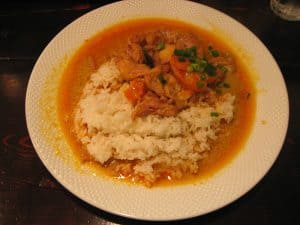 Great Curry is naturally gluten free
This can be prepared in 30 minutes and serves 8, of course, if you want it to go a long way you can double or triple the amount. Curry is a great way to get all the basic food groups in, and while there are many benefits of vegetables like spinach and healthy fats like coconut milk, which are one of the most calcium rich foods you can get, the garlic, ginger, and turmeric are all purported to have great health benefits. If there are vegetarians among you, you can simply leave the chicken out, and still get the fantastic flavor of this zingy curry dish.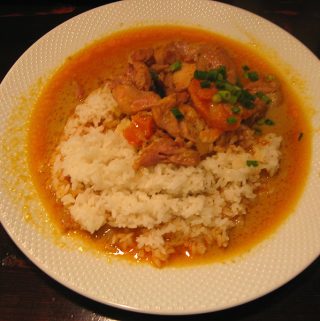 Chicken Curry with Spinach an Coconut Lime Rice
Delicious and Gluten Free!
Ingredients
For the curry:

2.5

lbs.

of diced chicken breast

1

chopped red onion

3

cups

of fresh spinach

1

garlic clove, minced

1

teaspoon

fresh ginger, minced

1

tablespoon

of curry paste

3

teaspoons

of turmeric

1

teaspoon

of ground ginger

2

large tomatoes, diced

14

oz.

can of coconut milk

3

tablespoon

tomato paste

1

teaspoon

sea salt

2

tablespoon

olive oil

handful

fresh cilantro and coriander leaves

For the rice:

2 ½

cups

of brown or white rice

3

lime, the juice of

1

cup

coconut milk

½

cup

frozen peas
Directions
Directions

In a saucepan, add all the rice ingredients (except for the peas and lime juice).

To cook the curry, add the oil and onions to a skillet or frying pan, and cook over a medium to high heat for around 2 to 3 minutes until the onions are nicely browned. Add garlic and ginger to the pan and cook for another minute.

Turn the heat down to medium, and add the spices and the salt. Stir until the mixture is nice and fragrant.

Stir the diced chicken and the fresh tomatoes into the mix. Add the coconut milk, tomato paste, and stir until the mixture sets in. Let it all cook for 8 to 10 minutes at medium-low heat to let it accrue flavor.

Turn the heat off when the chicken is cooked and add the spinach, sprinkle the cilantro over the curry.

Once the rice is cooked, add the frozen peas and lime juice. Stir it all in, put a lid on the saucepan and let it sit for 5 to 10 minutes.
You can also have a good look at https://www.glutenfreeliving.com/ to get a good idea about living without wheat if you're really interested, but every great curry is naturally gluten free!