Morello Cherry Cream Cheese Danish
A Puff Pastry Recipe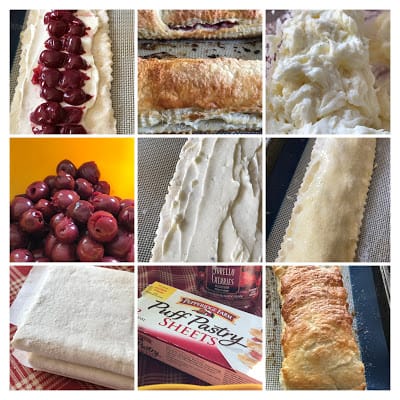 Treat your family with this delicious Morell Cherry Cream Cheese Danish! An added bonus, Morello Cherry Cream Cheese Danish can be made ahead and frozen. This Danish is the perfect way to start off your Saturday morning….one bite of this delicious, cherry filled Danish and you'll be ready to head out to the Farmer's Market. Don't forget to have a pot of coffee ready too!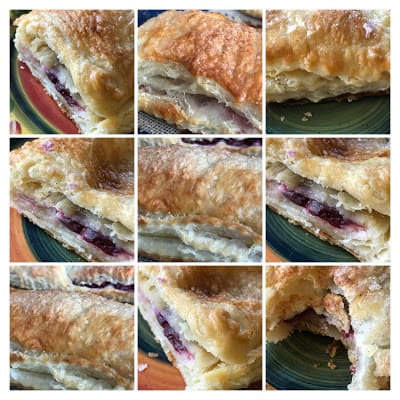 What is a Morello Cherry?
Morello Cherry [muh-REHL-oh] Seldom found fresh, this sour cherry has a dark red skin and flesh. Used in a variety of products. The blood-red juice is used in liqueurs and brandies. The cherries can be found canned, packed in syrup, dried, and in preserves. Morello cherries are perfect for cooking and/or baking. The Morello Cherry is most associated with the Classic German dessert; Black Forest Cake.
Don't like cherries? Can't find Morello cherries? No problem. Substitute your favorite fruit such as canned, drained peaches, crushed pineapple or sliced pears. If using canned fruit, just make sure that you drain the fruit well. You can even use lemon curd or your favorite jam or preserves. Let your imagination run wild! This recipe uses
Trader Joe's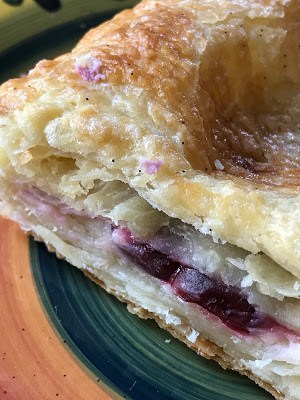 Morello Cherry Cream Cheese Danish
Want to make your own Vanilla Sugar?
Follow these easy directions: How to Make Vanilla Sugar
*Note:You can use regular white sugar instead of the vanilla sugar.*
Morello Cherry Cream Cheese Danish
Ingredients
1 box




puff pastry (2 sheets)

4 ounces




cream cheese, softened

1/4 cup vanilla




sugar

1/2 teaspoon

vanilla

extract

1 (24 oz) jar Morello Cherries, drained (save juice for another use)

1 egg,

for egg wash

1 tablespoon




water

1/4 cup vanilla sugar
Cooking Directions
Thaw puff pastry according to package directions, it should be pliable but still cold.
Flatten each sheet of pastry dough and cut in half lengthwise into 4 long rectangles. Set two rectangles aside. Place the other two rectangles on a baking sheet lined with parchment paper or a silicone baking mat.
Mix together cream cheese, sugar and vanilla extract. Divide cream cheese mixture evenly between the two rectangles. Spread cream cheese mixture over each rectangle, leaving 1/4 to 1/2 inch along each edge.
Divide cherries evenly between the cream cheese layers, leaving cherries whole or cutting each cherry in half, if desired. Lightly press cherries into cream cheese layer.
In a small bowl, whisk egg with 1 tablespoon of water to make an egg wash.
Lightly brush egg along exposed edges of filling-topped pastry dough rectangles. Set egg wash aside.
Gently lift remaining rectangles and place on bottom layers, pressing edges together firmly to seal. Crimp edges with a fork, or press with fingertips.
Brush egg wash over tops of danishes. Sprinkle vanilla sugar over the tops.
To freeze:
Place danishes into freezer on parchment lined try. Allow to freeze for several hours or overnight, until frozen solid. Carefully remove frozen danishes from tray, wrap loosely in parchment or wax paper and place into gallon-size freezer bags. Place back in freezer.
To bake:
Preheat oven to 375º.
Bake danish on baking sheet lined with parchment or silicone mat, for 20 to 25 minutes (30 to 35 minutes for frozen) until pastry is fully puffed and top is golden brown.
Note: Cooking times will vary due to oven temperatures.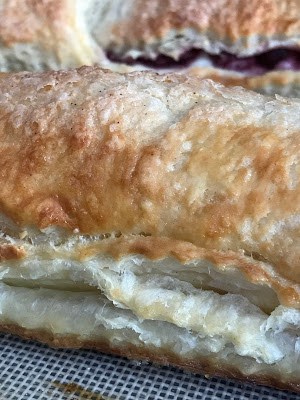 Morello Cherry Cream Cheese Danish
Blueberry, Danish, Pastry, Dessert, Cream Cheese, Cherry