We may earn money or products from the companies mentioned in this post.
Beef Enchilada Dinner
Beef Enchilada Dinner is the perfect meal to dine on, while enjoying a beautiful fall day. A hearty and satisfying meal, after a long afternoon of raking leaves and apple picking. Hearty enchiladas are paired with refried beans and spicy rice. Top off this dinner with a frosty Margarita.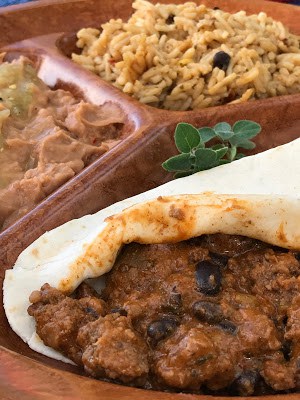 All the Fixings'
Beef Enchiladas are great served with a side dish of refried beans. You can make your own refried beans, it's easy and well worth it. Learn how here: Restaurant Style Refried Beans. You can doctor up a can of refried beans by adding chopped red onion, diced green chilies, taco sauce and sliced black olives. Make sure to have extra cotija cheese available.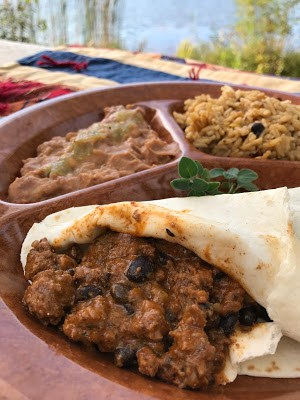 Some like it Hot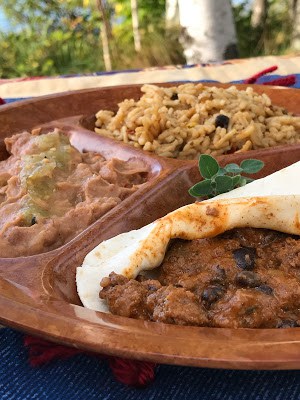 Ingredients
2 pounds




ground beef

1/2 cup




finely chopped onion

1 (4 oz) can




diced green chilies, drained

2 cloves garlic, minced

2 cups




shredded cheddar cheese, divided

1/2 cup




sour cream

1 tablespoon




dried parsley

1 tablespoon




taco seasoning, (Ortega)

1 teaspoon




dried oregano

1/2 teaspoon




ground black pepper

1/2 teaspoon salt

2 1/2 cups




enchilada sauce

1 1/2 teaspoons




chili powder

1 (15 oz) can




black beans, drained and rinsed

1 (4 oz.) can




sliced black olives, drained

1 package burrito size flour tortilla shells
Cooking Directions
Preheat oven to 350 degrees
Cook and stir ground beef with onion, drained diced green chilies and garlic in a skillet over medium heat until meat is crumbly and no longer pink, about 10 minutes. Drain grease.
Stir 1 cup cheddar cheese, sour cream, parsley, taco seasoning, oregano, black pepper, salt into the ground beef mixture until cheese has melted.
Mix in enchilada sauce, chili powder, drained black beans and drained sliced black olives; bring to a boil, reduce heat to low and simmer until meat sauce is slightly thickened, about 5-10 minutes.
Lay a tortilla onto a work surface and spoon about a 1/4 cup of meat sauce down the center of the tortilla. Roll the tortilla up, enclosing the filling. Lay seam-side down into a 13 x 9-inch baking dish. Repeat with remaining tortillas. Spoon any remaining meat sauce over the enchiladas. Sprinkle tortillas with remaining cheese. Bake in preheated oven until cheese is melted and enchiladas and sauce are bubbling, 15 to 20 minutes.