On the Menu Today~
How to Make Vanilla Sugar
Many European recipes I want to try call for Vanilla Sugar.
You can even purchase vanilla sugar on Amazon.
When I saw the price, I though, you have got to be kidding me….
For the price of one 2.5 oz bag of vanilla sugar plus the cost of shipping,
I can buy a bottle of Watkins Madagascar Vanilla Beans (under $10.00) which contain 2 beans,
5 lb. bag of sugar (under $2.00) and make my own vanilla sugar…..and then some!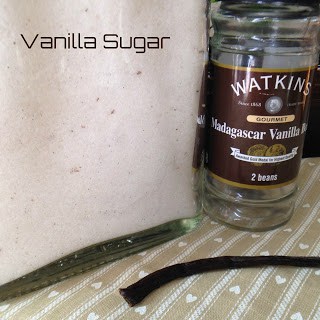 My hubby loves to drink Bird Dog Whiskey, which is great for me. Why?
Because Bird Dog whiskey comes in decorative bottles with a cork stopper….
perfect for storing my vanilla sugar.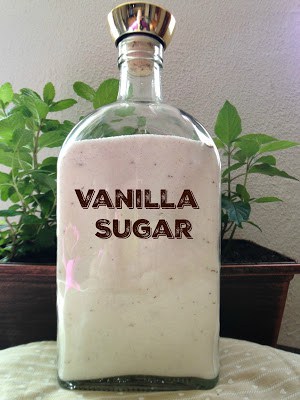 Vanilla sugar is wonderfully fragrant and flavorful sugar made by burying vanilla beans in granulated sugar or powdered sugar. The beans can also be scraped from the bean pod and the seeds are added to granulated sugar. The result is a delicious and perfumy sugar that can be used as an ingredient for baked goods, fruit and other desserts.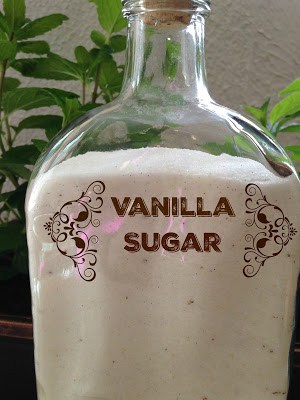 Vanilla sugar in a decorative bottle,
makes a great teacher gift, birthday gift or
even hostess gifts during the holidays.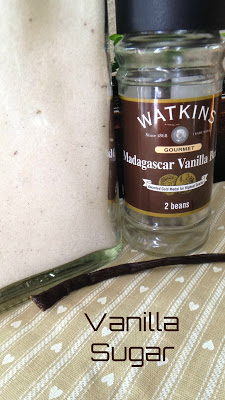 Ingredients
24 ounces




granulated sugar

4




Madagascar vanilla beans, split and scraped

decorative bottle with cork,




optional
Cooking Directions
Combine the sugar and vanilla bean scrapings in a medium bowl.
Using your hands, use disposable gloves, slowly rub together the sugar and the vanilla bean scrapings until all the scrapings have been dispersed well throughout the sugar. Pour sugar/bean mixture into a decorative bottle or container of your choice. Cork and set aside until needed. The vanilla sugar will age over time and become more fragrant and delicious.
Do Not Throw Your Vanilla Beans Away!
Once you have used your vanilla bean scrapings to add flavor to all of your delicious desserts,
add them to your sugar container to enhance all of your baked goods with vanilla flavor.
Place you used vanilla bean into your sugar container after using and cover with sugar.
Do this each time you use a bean. The vanilla flavor will intensify over time, this depends on how much baking you do and how often you add vanilla beans.
Vanilla, Sugar