Chicken Empanadas
Empanada [em-pah-NAH-dah;  em-pah-NAH-thah] Empanar is Spanish for "to bake in pastry." These Mexican and Spanish specialties are usually single-serving Turnovers, with a pasrty crust and savory meat and/or vegetable filling. They can also be filled with fruit and served as a dessert. Empanadas range in size from the huge empanada gallega, large enough to feed an entire family to empanaditas-tiny, ravioli-size pastries.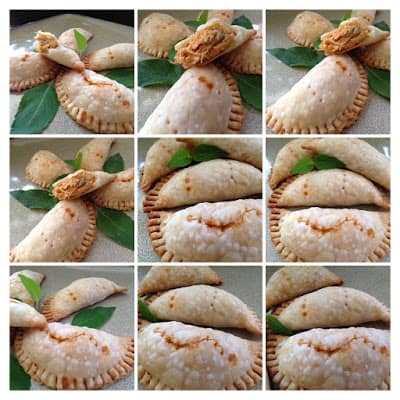 Stuffed Chicken Empanadas
Empanadas are a great way to use left-over meat and vegetables. The possibilities and combinations are endless. We used a package of refrigerated piecrusts for convenience but you can easily make your own crust. This chicken empanada recipe is fast, easy and affordable. Enjoy.
Chicken, Crust, Mexican, Spanish, Stuffed, Spice