We may earn money or products from the companies mentioned in this post.
Italian Meatball Sliders
Golden Girl Granola is a delicious and sweet tasting granola. Here at Turnips 2 Tangerines we are huge fans of Golden Girl Granola. In fact, we have tried every variety they make! That's a lot of granola. Golden Girl Granola is sweet and delicious with a real down-home flavor.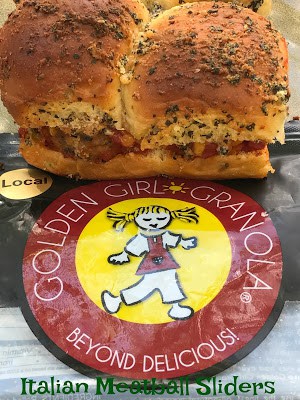 We are also huge football fans here at Turnips 2 Tangerines and with the football season right around the corner, it's never to early to start planning your menu. Appetizers are always number #1 on the menu, with grilled brats and beer coming in at #2 and a sweet treat close behind at #3.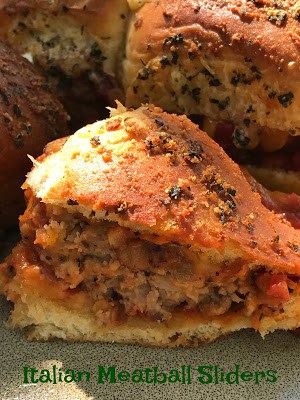 Appetizers, Appetizers, Appetizers
In my house, football season and appetizers, go together like salt and pepper. From pre-season games, all the way to the Super Bowl, every football game deserves an appetizer…Not sure what to make? Turnips 2 Tangerines has an extensive list of  appetizer recipes to choose from. Check out our Recipe Box🙂 Look under the labels; Football Friday, Game Day Recipes and Appetizers.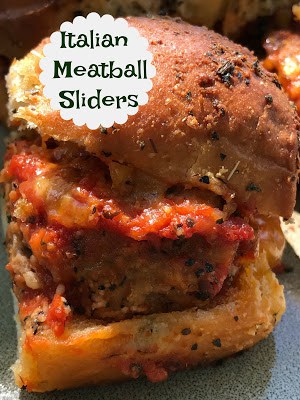 This football season we wanted to change things up a bit. We decided to make appetizers with different ingredients or ingredients that we've never used before. When Golden Girl Granola was looking for food bloggers to come up with an appetizer recipe using Golden Girl Granola, we jumped at the idea or should I say, we "tackled" the idea.
We Love Meatballs
The first thing that came to mind was meatballs. Meatballs are always a hit at football parties and sliders, meatball or otherwise, are fantastic~
Over the years I've made every variation possible of grape jelly meatballs. The meatball recipe usually stays the same, only the sauce changes. The grape jelly is replaced with; jellied cranberry sauce, barbecue sauce, orange marmalade, raspberry, boysenberry or currant jelly. I have eaten my fair share of grape jelly meatballs too. Don't get me wrong, I love grape jelly meatballs but let's face it, been there…did that….now it's time to move on and experience "Sliders!" Yeah!!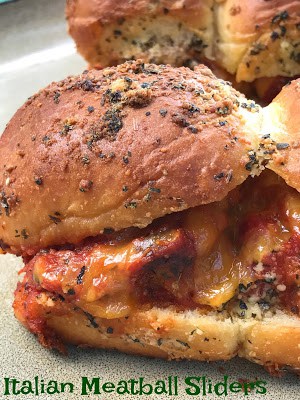 My love affair with meatballs started many years ago…when my sister Joan gave me a recipe for Italian meatballs. She found the recipe on the back of a jar of Prego spaghetti sauce. I've been making that recipe ever since, changing the type of ground meat called for in the original recipe, when I want to change things up a bit.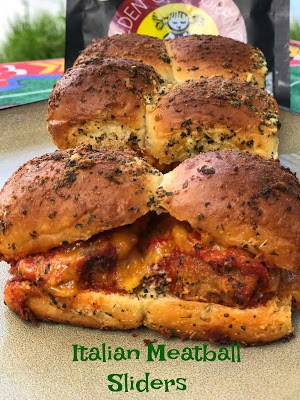 I have made meatballs using ground beef, ground bison, ground chicken, ground turkey and ground sausage. Another reason why I love making meatballs is that you can use ground meats you might not normally use, as with these tasty and different meatballs. No matter what ground meats I use, I always use the same formula…one part ground pork to one part other ground meat.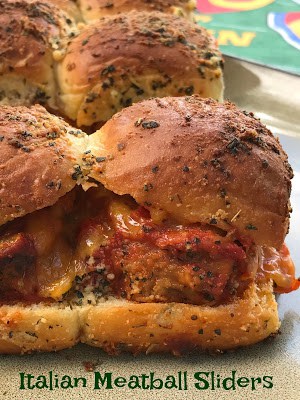 Granola in Meatballs?
This recipe calls for one pound ground pork and one pound ground duck. Plus the star of the show,  Creative Cranberry Granola. Golden Girl Creative Cranberry Granola is packed full of deliciousness. Dried cranberries, coconut, sliced almonds, rolled oats, pure maple syrup, brown sugar, vanilla, cinnamon, sea salt and canola oil. Creative Cranberry works really well with ground duck and a mild tomato basil pasta sauce brings all the flavors together. Adding granola to meatballs or meatloaf really isn't all that strange, is it? We add oatmeal to meatloaf or meatballs, we sometimes add brown sugar or maple syrup to meatballs, we've add dried fruit to meatloaf, so why not add it all at once and use granola!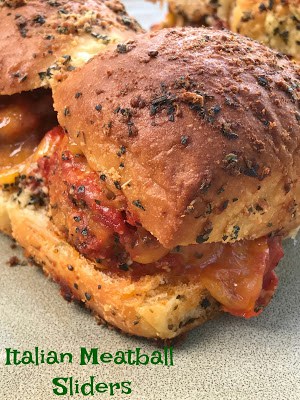 Cheese? Sweet Rolls?
You can use any cheese you prefer….Gouda, mozzarella, provolone, white cheddar and cheddar cheese are all good choices. Either sliced or shredded cheese can be used but we had shredded cheddar cheese on hand, so that's what we went with. A smoky variety of any of the above mentioned cheese would add a nice layer of flavor too.
To make these yummy meatballs into 'sliders', we used those famous Hawaiian Sweet Rolls that everyone is familiar with. However, we could only find Hawaiian Sweet rolls in our area, which actually was a blessing in disguise because they worked out great. The jalapeno in the rolls added an extra layer of zip to the sliders. If you can't find Hawaiian Sweet Jalapeno Rolls, use whatever kind you can find…after all, any and all Hawaiian Sweet Rolls are delicious!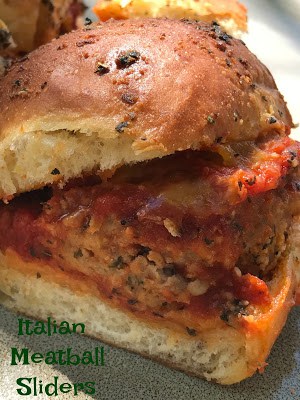 Garlic Butter
Last but not least is the garlic butter. The garlic butter adds yet another layer of flavor to these already delicious sliders. Melted butter, minced garlic, dried basil and Parmesan cheese is mixed together, then brushed on the tops of the sweet rolls. Talk about yum!!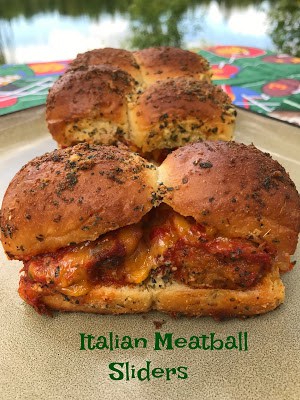 Flavor upon flavor, Italian Meatballs Sliders are delicious. At your next football party, set out a pan of these tasty Italian Meatball Sliders, you will definitely score a touchdown! Go Pack Go!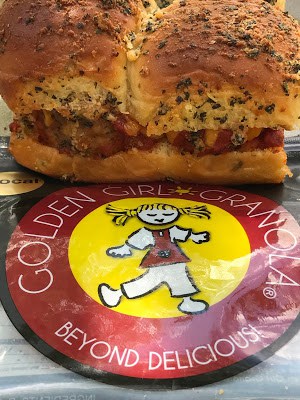 Italian Meatball Sliders #GoldenGirlGranola
Delicious yet different appetizer~
Course:
Appetizer, Dinner
Ingredients
16

ounces

ground duck

16

ounces

ground pork

2

cups

Golden Girl Creative Cranberry Granola

1

egg, lightly beaten

1/4

cup

finely chopped onion

1/4

cup

grated Parmesan cheese

2

garlic cloves,minced

2

or 3 tablespoons minced flat-leaf parsley

1/8

teaspoon

salt and pepper

2

tablespoons

olive oil

2

cups

plus 1/4 cup tomato basil pasta sauce

2

packages Hawaiian Sweet Jalapeno Rolls

16

oz

package shredded mozzarella cheese or cheese of choice

Garlic Butter:

4

tablespoons

unsalted butter, melted

2

tablespoons

minced garlic

1

teaspoon

dried basil

2

tablespoons

grated parmesan cheese
Directions
Preheat the oven to 350 degrees.

Spray a 13 x 9-inch baking dish with cooking spray, set aside.

Place granola in a food processor, blender or mini chopper. Pulse granola about 5 times. Granola should still be somewhat chunky. Set aside.

Using a serrated knife, slice the rolls in half so you have a slab of top rolls and a slab of bottom rolls. Don't pull the rolls apart, you want to keep them intact. Place the bottoms in the prepared baking dish.

In a large bowl, combine ground duck, ground pork, granola, egg, onion, Parmesan cheese, garlic, parsley, salt, pepper and 1/4 cup marinara sauce. Mix until all ingredients are well blended. (as you would for making a meatloaf) Shape mixture firmly into 1-inch size or golf ball size meatballs; set aside until all the mixture is formed into meatballs. (you will need 24 meatballs. I had a total of 32 meatballs)

Heat oil in large skillet until hot, add meatballs and cook until meatballs are browned on all sides. Brown meatballs in batches and don't over crowd pan. I was able to brown 16 meatballs at once. Remove meatballs to a paper plate to drain excess fat. Continue with remaining meatballs. Cooking times will vary, due to thickness of meatballs and type of ground meat used. Roughly 15 minutes per batch of meatballs.

Spoon off fat in pan, wipe out pan with paper towels to remove all excess fat. Pour remaining sauce into pan and place meatballs back into sauce. Simmer on low, covered for about 1 hour. Remove from heat, cool slightly.

Place meatballs on top of bottom roll, top each meatball with one teaspoon of sauce. Top meatballs with shredded mozzarella cheese or cheese of your choice. Cover with dinner roll top.

For garlic butter:

In a small bowl, combine butter, garlic, basil, and Parmesan cheese, stirring until evenly mixed. Pour garlic butter mixture over top of the sliders. Bake for 15 to 20 minutes or until the rolls are golden brown and cheese is melted. Cut into individual sandwiches. Serve.