We may earn money or products from the companies mentioned in this post.
Southwestern Seasoning Mix
Seasoning mixes are so nice to have on hand but sometimes the pre-made blends are loaded full of salt and lack that fresh flavor. That's why I like to make my own blends. I know exactly what is in the blends and can make them to suit my family's taste. Southwestern Seasoning Mix is fast, easy and affordable. Another reason why I like to make my own seasoning blends is I can make as much as I need or will use. That way the seasoning blend won't sit in my spice drawer until it loses it's flavor.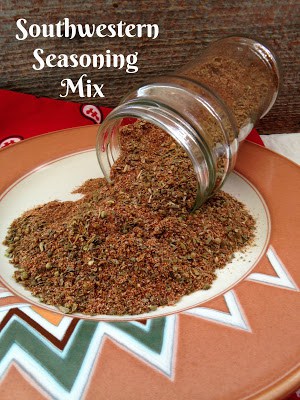 No Salt Added
Southwestern Seasoning blend is a perfect example. This seasoning blend contains no salt or sugar and can be used in place of packaged taco seasoning blend. Use 2 or 3 tablespoons of southwestern seasoning blend and 3/4 cup water per pound of ground beef.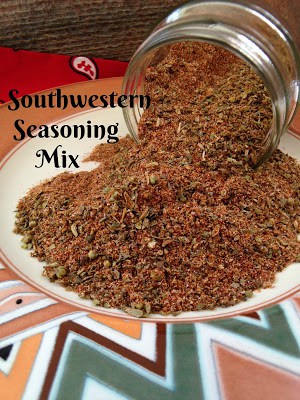 Taco Seasoning
Basically you can use southwestern seasoning blend in any recipe that calls for taco seasoning mix. It's also delicious mixed into ground beef,
sprinkled on chicken, pork ribs or steak. Southwestern Seasoning Mix is great on anything! You can even use this seasoning mix as a chip dip. Combine 1 tablespoon mix with 1 cup sour cream. Chill for 1 hour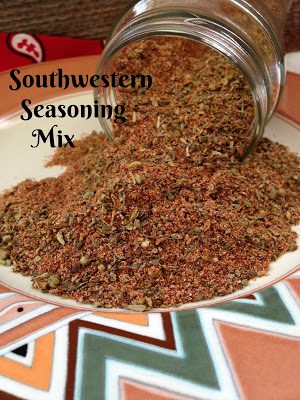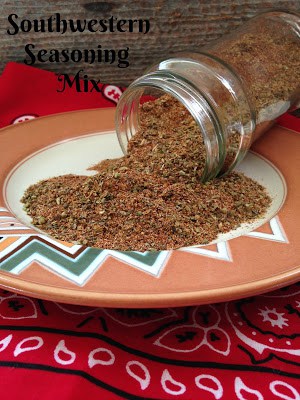 Southwestern Seasoning Mix
Prep time: 5 minutes
Yield: 1 cup
Ingredients
1/4 cup




chili powder

1/4 cup




onion powder

2 tablespoons




ground cumin

2 tablespoons




ground coriander

2 tablespoons




dried oregano

2 tablespoons




dried basil

1 tablespoon




dried thyme or herbes de provence

1 tablespoon




garlic powder
Cooking Directions
Combine all ingredients.
Store in an air-tight container.
Use as a seasoning for vegetables, grilled meats or in a chip dip.
Use as a substitute for taco seasoning