How to Make Easy Coconut Shrimp with Garlic Aioli Sauce~
This is a guest post by Susan Conley. Susan is from the fantastic blog
Cook the Stone
. Cook the Stone has delicious recipes and useful cooking tips. It's packed full of facts information too. Cook the Stone has everything and anything you'll ever need to know from A to Z. Stop by
Cook the Stone
today and say
Hello
to Susan.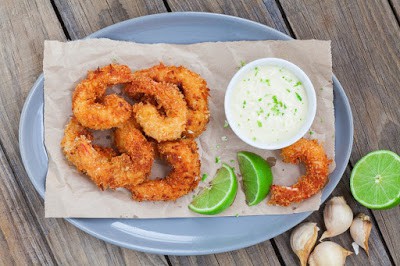 How to Make Easy Coconut Shrimp with Garlic Aioli Sauce Recipe
Do you want to know how to cook coconut shrimp? Read this recipe to learn how.
Coconut shrimp is one of those few appetizers like
spring rolls
that can also serve as your lunch or dinner. It's so delicious that you won't be thinking twice about serving this to your family or guests. And as you would learn after reading this recipe, coconut shrimp is quite easy to prepare, too.
I have fond memories of coconut shrimp. It reminds me of my numerous visits to Florida, where there's an amazing restaurant that serves mouthwatering coconut shrimp. My friends and I would always see that we have coconut shrimp first before eating the other dishes.
And shrimp will always be dear to me because as a chef, it makes my life in the kitchen so easy. You can cook shrimp in countless ways. You can roast it. You can sauté it. Or you can broil and toss it with pesto sauce.
In this recipe, we will fry shrimp after it has been coated with coconut. This will result in a yummy and nutritious dish.
Health benefits of shrimp
You might know by now that shrimp is an
excellent source of protein
. In fact, there is about as much protein in three ounces of baked shrimp as there is in three ounces of chicken breast.
But what makes shrimp different from other protein sources like chicken and pork is that it has very little fat. This makes shrimp a good food to eat for those who want to maintain their slim bodies.
It also contains a lot of nutrients like selenium, phosphorus, vitamin B12, copper, choline, and iodine. Selenium is a very important antioxidant as it fights off free radicals that can damage the cell membranes. Another antioxidant found in shrimp is astaxanthin that can reduce inflammation.
Health benefits of coconut
Coconut shrimp with garlic aioli sauce is a nutrition powerhouse not just due to shrimp but also for coconut as well.
Coconut is a super food that is popular for its numerous health benefits. In fact, it is used in countless of products like shampoo, body wash, face wash and oil. Coconut meat is delicious while its juice is refreshing.
Coconut is a very good source of fiber. It is also rich in vitamins and minerals. Coconut also has lots of magnesium and calcium.
The two minerals support the development of strong bones and teeth. Calcium and magnesium can help in preventing osteoporosis, a condition that affects millions of old women around the world. It's a good alternative to milk, especially for those who are lactose intolerant.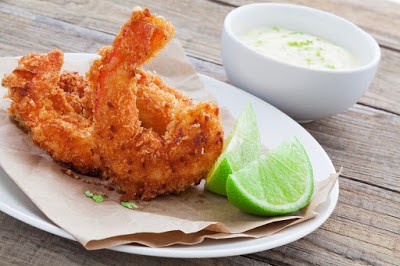 You'll also notice that the recipe that I am sharing with you calls for the use of coconut oil instead of cooking oil. While you can also use cooking oil if you want to, I recommend that you go for coconut oil because it will make the shrimp taste better.
Aside from shrimp and coconut, another ingredient that we will be using for this recipe is garlic. The garlic will not only improve and enrich the flavor of the sauce but also give many health benefits such as lower blood pressure, improve athletic performance and detoxify the body.
How to make coconut shrimp with garlic aioli sauce
One-third cup of whole wheat flour

Three-fourth cups of Panko bread crumbs

1 cup of shredded coconut
Peel and devein the shrimp.

In one medium sized bowl, combine the flour, salt, and pepper.

Beat the two eggs in another bowl. In the third bowl, combine the Panko and the coconut.

Immerse the shrimp into the bowl containing the flour then transfer it to the bowl with eggs. Finally, dip the shrimp into the coconut mixing. Press it gently so that the coconut will adhere.

Put coconut oil in a large skillet placed over medium heat. Fry the shrimp in batches. I think you can fry six shrimps in one sitting.
Tip: It should not take you more than 2 minutes to cook one side of the shrimp. Another indicator that the shrimp is cooked is the color—it should be golden brown.
Put the cooked coconut shrimp on a plate.

For the sauce, mix garlic with a quarter of a teaspoon of salt. Whisk olive oil, lemon juice, and mayonnaise. Add salt and pepper to taste.
That's it. You now have a delicious coconut shrimp recipe.