Apple Walnut Sourdough Muffins are absolutely delicious! Made with sourdough starter, chopped walnuts and the best part, shredded apples. I love the fact that this recipe uses shredded apples instead of the usual diced apples. Shredded apples give the muffins extra moisture, while adding that classic apple flavor. If you don't care for walnuts, raisins or even dates would be great substitutes. Of course, Apple Walnut Sourdough Muffins have that distinctive 'sourdough' tang that all sourdough lovers love.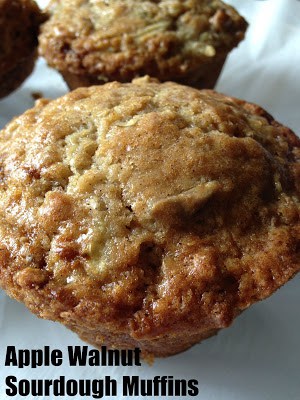 I like to make Apple Walnut Sourdough Muffins in my super, duper, jumbo muffin tin. One muffin will be all that you'll need to eat for breakfast, that's for sure. These babies are huge and packed full of flavor. All you'll need is a cuppa hot coffee or tea to wash it down.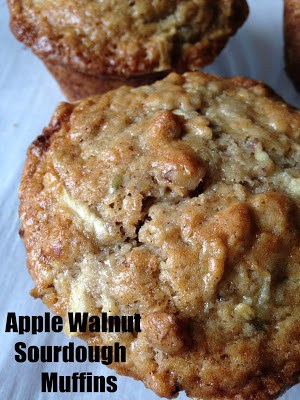 Enjoy one of these jumbo muffins in the car on your way to work, with coffee while sitting at your kitchen counter before you start your day or on your way to the farms market on an early Saturday morning.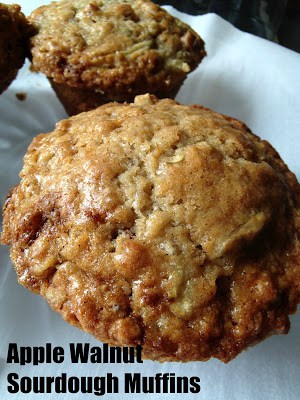 Apple Walnut Sourdough Muffins
Ingredients
1/4 cup

butter, room temperature

1/2 cup

sugar and brown sugar

1

egg

1/4 cup

milk

1 cup

active sourdough starter

1 1/2 cups

flour

2 teaspoons

baking powder

1 teaspoon baking soda

1/2 teaspoon

ground cinnamon

1/4 teaspoon

ground nutmeg

1/4 teaspoon

ground allspice

1/4 teaspoon

salt

1 cup finely grated

apples

1/2 cup

chopped walnuts
Cooking Directions
Preheat the oven to 350º
Spray a jumbo (6) muffin tin with non-stick spray or lightly grease using solid shortening.
In a large bowl, cream butter and sugars together until it becomes pale. This will take several minutes. Add egg and milk, mix well. Add the starter, flour, baking soda, spices and salt. Stir just until combined. Do not over mix the batter. Gently stir in the apples and walnuts. Half fill your muffin cups with batter. Bake for 20 to 25 minutes or until toothpick inserted in the center comes out clean.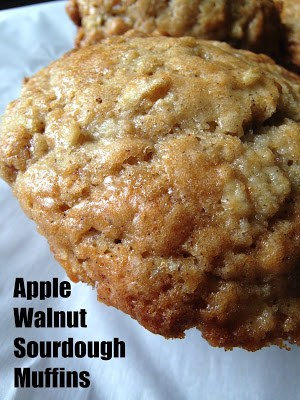 Apple, Walnut, Nuts, Sourdough, Muffins