On the Menu Today~
Tuscan Beans
Serve chilled Tuscan Beans as a side dish.

With the grilling season sneaking up on us,
it's time to switch gears from heavier, warm you up,
comfort-mood foods to lighter, easy to prepare,
picnic-table foods.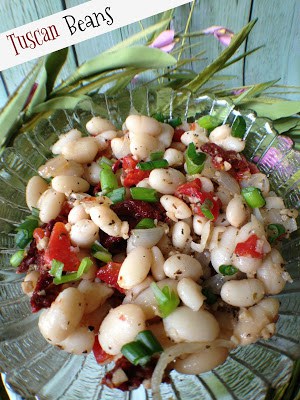 This recipe is perfect for the coming summer months.
Easy to prepare, can be made ahead of time,
delicious and best of all,
can be eaten at any picnic.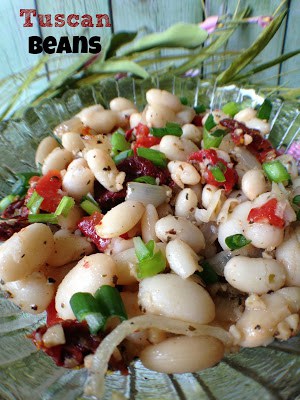 Tuscan Beans can hold their own next to grilled meats,
potato salad, fruit salads, and any other backyard barbecue favorite.
Try these delicious beans at your next families get together.
We love our baked beans here on Turnips 2 Tangerines,
but Tuscan Beans have definitely have become a fast favorite.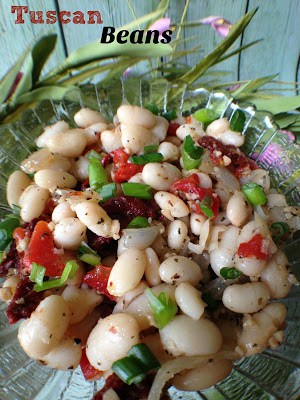 Ingredients
1 1/2 cups




dried white beans

3/4 cup extra virgin




olive oil

2 cups




sliced onions

4 cloves




garlic, minced

1 1/2 teaspoons




salt

1/2 teaspoon




freshly ground pepper

2 teaspoons dried Italian seasoning

1 teaspoon Mrs. Dash original seasoning blend

2 tablespoons




minced fresh Italian parsley or sliced green onions

1/4 cup




sun-dried tomatoes in olive oil, diced

1/4 cup roasted red pepper strips. diced
Cooking Directions
Wash beans, cover with water. Bring to a boil.
Turn heat off and allow to soak for 1 hour.
Drain beans, cover with fresh water and bring to a boil.
Cover and cook over low heat for 1 1/2 hours or until tender. Drain.
Heat the oil in a skillet; saute the onions and garlic until tender, about 5-8 minutes.
Remove from the heat and combine with the beans.
Season with salt, pepper, Italian seasoning, Mrs. Dash and parsley or green onions.
Stir in diced sun-dried tomatoes and diced roasted red pepper strips. Serve.