Sticky Legs
Sticky What? Sticky Legs. This recipe will make some of the stickiest, sweetest and tastiest legs you have ever eaten. I can tell you from experience, you can't stop at one leg…before you know it, you've eaten half a dozen! My sister gave me this recipe years and years ago. When she first gave me this recipe, I looked at the piece of paper and then back at her. I remember saying, "Is that it?" and she said, "That's it." I replied, "Okay then." I needed to bring something to my then in-laws family Christmas party the next day, so I had to make these sticky legs. They were a huge, huge hit and I've been making them since
My favorite grocery store recently ran a special on chicken drumsticks. Drumsticks were on sale for .99¢ per pound..not bad. I picked up two packages, both packages were slightly under 4 lbs. each. One package was $3.84¢ and the second package was $3.70¢. For $7.54¢, that's a whole lotta legs. What can you make with almost 8 lbs. of legs….and has only 2 other ingredients? Hmm..that recipe would be this recipe for…Sticky Legs.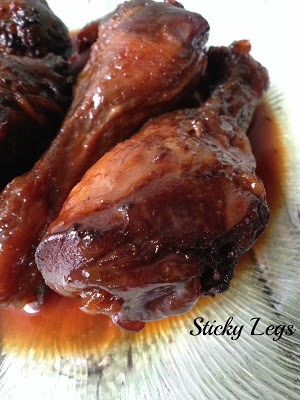 Good Anytime
Sticky Legs are great served as an appetizer or served with a loaf of buttered French bread for a great, late night dinner. Don't forget to have plenty of damp towelettes on hand, you'll need them! Another slight change I have made to this recipe in the past is I've added a couple tablespoons of butter and added 1/3 cup of hot sauce, such as Texas Pete.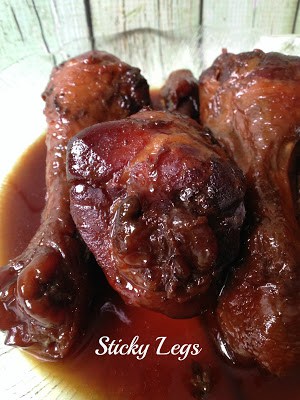 Sticky Legs
Ingredients
4 pounds




chicken drumsticks

1 (15 oz) bottle




soy sauce

1 (16 oz) package




dark brown sugar
Cooking Directions
Preheat oven to 325º
Clean drumsticks, place in the bottom of a roasting pan.
In a medium bowl, stir together soy sauce and brown sugar.
Pour brown sugar mixture over chicken drumsticks.
Cover pan tightly with aluminum foil.
Bake for 3 to 4 hours.