Saucy Cod Fillets Florentine
Saucy Cod Fillets Florentine is a different and delicious way to enjoy fresh cod fillets. Not only is this recipe fairly inexpensive to make, it's a great low-cal meal option. Fresh cod fillets are wrapped around slices of Fontina cheese and fresh asparagus spears, then topped with a simple, yet delicious tomato sauce. The cod fillets are nestled on blanched fresh baby spinach and all is served on top of a bed of hot cooked angel hair pasta.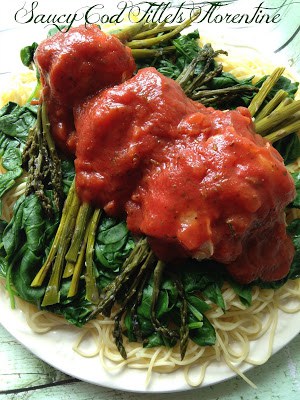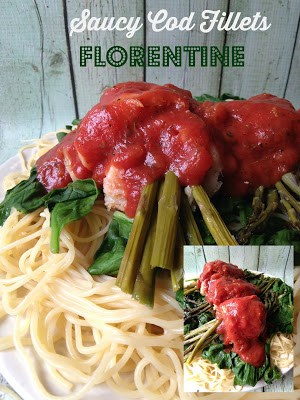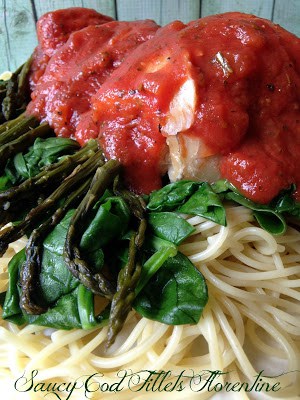 Make it your own…
If you and your family aren't big fans of asparagus, not to worry, use scallions, haricots verts or baby rainbow carrots instead. I have also made this recipe with the same excellent results simply by replacing the fresh cod fillets with turkey or veal cutlets. Keep in mind that cooking times will vary when substituting cutlets for the cod fillets and also when replacing the asparagus spears with different vegetables.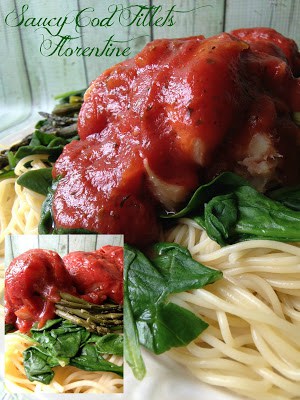 Saucy Cod Fillets Florentine
Recipe by Lynn Huntley @ Turnips 2 Tangerines
Prep time: 10 minutes
Cook time: 15
Total time: 30 minutes
Ingredients
1/2 cup




chopped onion

1 crushed




garlic clove

1 tablespoon




olive oil

2 (8 oz) cans




tomato sauce

2 teaspoons




chopped fresh rosemary

1/2 teaspoon




Italian seasoning

1/2 teaspoon




salt

1/8 teaspoon




pepper

1 pound (4 large)




cod fillets

4




thin slices fontina cheese

16 thin




fresh asparagus spears (use 3 asparagus spears instead of 4 if spears are large)*

2 tablespoons




butter

1/4 cup




dry white wine or water

2 bunches




fresh spinach

1 quart




boiling water

1 pound




hot cooked angel hair pasta
Cooking Directions
Saute' onion and garlic in olive oil in a small saucepan.
Stir in tomato sauce, rosemary, Italian seasoning, salt and pepper.
Simmer gently for 15 minutes.
Lay cod fillets out flat on work surface. Place one slice of fontina cheese on each cod fillet, top cheese with 4 asparagus spears. Roll up and secure with toothpicks if necessary.
Lightly brown cod fillets on all sides in butter in medium skillet. Pour wine over rolls; reduce heat. Cover and simmer 10 to 15 minutes. Clean spinach; place spinach in a heat proof bowl, pour boiling water over spinach; allow to sit 1 or 2 minutes. Drain well.
Arrange pasta on a serving platter. Place spinach on pasta. Place cod rolls on spinach. Keep warm. Bring butter/wine mixture to a boil. Pour into tomato sauce mixture; stir. Pour tomato sauce over rolls, spinach and pasta.
*Note: scallions, haricot verts or baby rainbow carrots can be substituted for the asparagus spears.