We may earn money or products from the companies mentioned in this post.
Sticky Legs
Sticky What? Sticky Legs. This recipe will make some of the stickiest, sweetest and tastiest legs you have ever eaten. I can tell you from experience, you can't stop at one leg…before you know it, you've eaten half a dozen! My sister gave me this recipe years and years ago. When she first gave me this recipe, I looked at the piece of paper and then back at her. I remember saying, "Is that it?" and she said, "That's it." I replied, "Okay then." I needed to bring something to my then in-laws family Christmas party the next day, so I had to make these sticky legs. They were a huge, huge hit and I've been making them since
My favorite grocery store recently ran a special on chicken drumsticks. Drumsticks were on sale for .99¢ per pound..not bad. I picked up two packages, both packages were slightly under 4 lbs. each. One package was $3.84¢ and the second package was $3.70¢. For $7.54¢, that's a whole lotta legs. What can you make with almost 8 lbs. of legs….and has only 2 other ingredients? Hmm..that recipe would be this recipe for…Sticky Legs.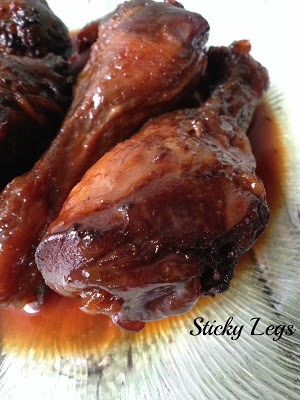 Good Anytime
Sticky Legs are great served as an appetizer or served with a loaf of buttered French bread for a great, late night dinner. Don't forget to have plenty of damp towelettes on hand, you'll need them! Another slight change I have made to this recipe in the past is I've added a couple tablespoons of butter and added 1/3 cup of hot sauce, such as Texas Pete.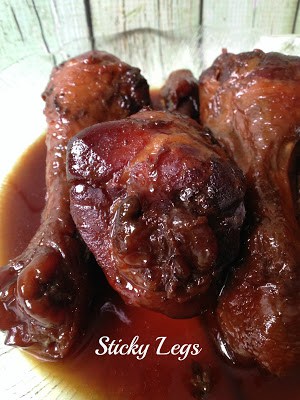 Sticky Legs
Sticky Legs sometimes called Asian Sticky Legs are fantastic:)
Cuisine:
All-American, Asian
Keyword:
brown sugar, Chicken, chicken legs, soy sauce
Ingredients
4

pounds

chicken drumsticks

1

15 oz bottle

soy sauce

1

16 oz package

dark brown sugar
Directions
Preheat oven to 325º

Clean drumsticks, place in the bottom of a roasting pan.

In a medium bowl, stir together soy sauce and brown sugar.

Pour brown sugar mixture over chicken drumsticks.

Cover pan tightly with aluminum foil.

Bake for 3 to 4 hours.
Recent Recipes: