We may earn money or products from the companies mentioned in this post.
Tomato Soup with Grilled Cheese Croutons
Tomato Soup with Grilled Cheese Croutons is a recipe that's worth repeating, again and again. I made this recipe about 5 years ago and fell in love.  You're probably thinking, what's the big deal, it's tomato soup with a grilled cheese sandwich. Everyone has been eating that combination since kindergarten. That might be true, but have you ever eaten homemade tomato soup? It's delicious!
Classic Combo
One of my favorite lunch-time meals, hands down, is a bowl of tomato soup and a grilled cheese sandwich. Making grilled cheese 'croutons' is easy. The grilled cheese croutons are really just a grilled cheese sandwich cut into small cubes. Different name (croutons), different shape (cubes) with the same great classic tomato soup and grilled cheese combination. If using canned tomatoes, we like 
Hunts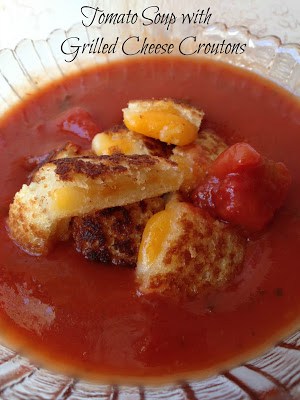 Fresh is Best
When making homemade tomato soup, fresh of course, is always best. When tomatoes are in season (July-Sept) here in Wisconsin, it really isn't 'soup' season. Needless to say I still make a batch of tomato soup using fresh picked tomatoes. I have yet to tackle the job of canning tomatoes, so more times than not, I make fresh tomato soup with store-bought tomatoes. Either way the taste is much better than canned soup.
How to Ripen Store Bought Tomatoes
Here is a little trick to try; set store-bought tomatoes stem end down on a sunny window. After a few days, even up to a week later the tomatoes should have ripen nicely. Some of that 'store-bought' taste should now be gone. I've even used canned tomatoes with 'good' results. Fresh is best but when it's cold outside and you have a hankering for a bowl of tomato soup with grilled cheese croutons, make do with the store bought kind or canned.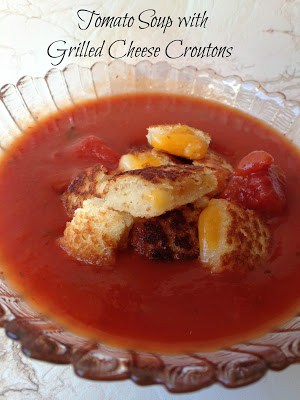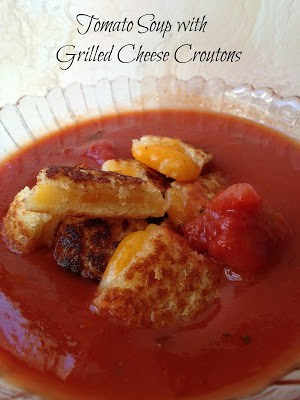 Tomato Soup with Grilled Cheese Croutons
Nothing better than this classic combination
Keyword:
Bread, cheese, grilled cheese, Soup, tomatoes
Ingredients
3

medium tomatoes, peeled, seeded and quartered

1 1/2

cups

chicken stock

1/2

cup

chopped onion

1/2

cup

chopped celery

1

garlic clove minced

1/3

cup

tomato paste

2

teaspoons

dried parsely

2

teaspoons

instant chicken bouillon granules

2

teaspoons

lemon juice

few dashes bottled hot sauce

1

teaspoon

sugar

salt and pepper, to taste

Grilled

Cheese

Croutons

1 to 2

tablespoons

butter, room temperature

2

slices

white bread

3 oz

cheese slices of your choice
Directions
In a large saucepan, combine tomatoes, water, onion, celery, garlic, tomato paste, parsley, bouillon granules, lemon juice, hot sauce, sugar, salt and pepper. Bring to a boil and reduce heat. Cover and simmer about 20 minutes or until celery and onion are tender. Cool slightly, place half of the tomato mixture into a blender, blend well. return mixture back to the saucepan and heat 5 to 10 minutes longer. Serve with grilled cheese croutons.

Make grilled cheese croutons. Heat a pan over medium heat.

Completely butter one side of each slice of bread.

Place one slice of bread in the pan, buttered side down, sprinkle on the cheese and top with the remaining slice of bread, buttered side up

Cook until golden brown, about 2 to 4 minutes.

Flip and cook until golden brown on the other side, about 2 to 4 minutes.

Cut the crust from the grilled cheese, cut into 1 inch squares.
Nutrition Facts
Tomato Soup with Grilled Cheese Croutons
Amount Per Serving (1 g)
Calories 194
Calories from Fat 90
% Daily Value*
Fat 10g15%
Cholesterol 25mg8%
Sodium 692mg30%
Potassium 611mg17%
Carbohydrates 21g7%
Protein 6g12%
Vitamin A 1420IU28%
Vitamin C 20.5mg25%
Calcium 64mg6%
Iron 1.5mg8%
* Percent Daily Values are based on a 2000 calorie diet.
Recipes on Tap
Terrific and Tempting Tomato Recipes, Fresh Tomato Radish Salad, and Cheese Curd Grilled Cheese.