On the Menu Today~
Smoky Gouda Cheese Soup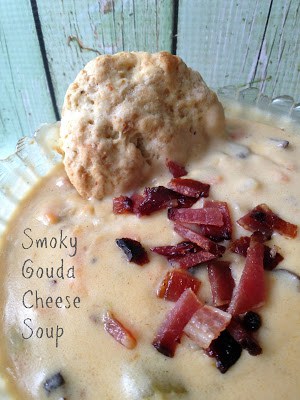 Smoky Gouda Cheese Soup is delicious.
Cheesy with a wonderful but subtle smoky flavor.
The smokiness comes not only from the cheese but also from the bacon.
If you can't find smoked gouda cheese, use regular gouda.
Serve Smoky Gouda Cheese Soup with
Cheese and Chive Sourdough Biscuits
Nothing tastes better on a sourdough biscuit than
cheesy, smoky, hot soup.
Perfection~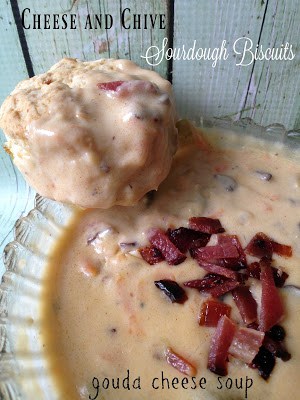 Gouda Cheese is often used when making fondue. Why?
Because it melts beautifully, making it the perfect cheese to use in soups.
Gouda cheese has a mild flavor,
which is another reason why gouda works so well in soup.
With it's mild flavor, all of the ingredients blend together well and
the vegetables and bacon seem to shine through.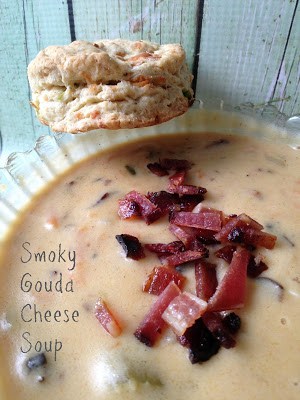 We hope you try Smoky Gouda Cheese Soup and
Enjoy it as much as we do~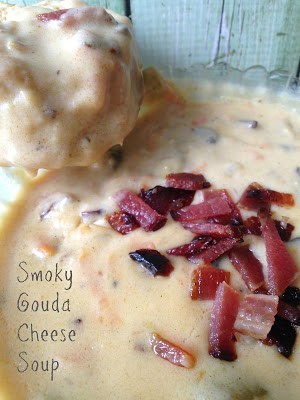 Ingredients
1/2 pound




bacon, chopped into 1/2 inch pieces, set aside a few tablespoons for garnish

1 medium

onion, finely chopped

3 garlic cloves, minced

3




celery ribs, finely chopped

1 green pepper, chopped

1 cup fresh mushrooms, chopped

2 carrots, peeled and shredded

4 tablespoons

vegetable oil
3/4 cup

all-purpose flour

3 cups




chicken stock

4 cups half and half

1 cup warm beer

1 pound




grated smoked gouda cheese

1 tablespoon




hot sauce

1 tablespoon




Worcestershire sauce

coarse salt,




to taste

freshly ground pepper,




to taste

sliced




green onions, garnish
Cooking Directions
In a 4 to 5 quart Dutch oven, cook bacon over medium heat until crispy. Remove bacon from pan, drain on paper towels, set aside. Drain off bacon fat, leaving 1 tablespoon fat in pan.
Add onion, garlic, celery, green pepper, fresh mushrooms, carrots and oil. Saute until vegetables are soften, about 10 minutes.
Add flour, and stir constantly for about 4 minutes.
Whisk in chicken stock, half & half and beer. Bring to a boil, boil for 1 minute.
Reduce heat to a simmer and cook for 10 minutes, stirring constantly.
Stir in cheese, Tabasco sauce, Worcestershire sauce, salt and pepper, until cheese is melted and soup is smooth. If soup is to thick, stir in a small amount of warm milk.
Garnish with chopped chives and crumbled bacon.