Special Shrimp Bake
Your family will love this delicious Shrimp Bake. Serve with a small tossed salad and slices of warm buttered French bread for a hearty and comforting meal. This dish is simple yet elegant enough to serve guests. Serve Special Shrimp Bake with a light, crisp white wine such as a Zinfandel.
This recipe calls for 2 cups cooked rice. I have made this recipe using extra long grain rice, wild rice and a wild rice/white rice medley. All have been super great in this recipe so feel free to use your favorite rice, rice blend or any left-over rice you might have in your refrigerator. Special Shrimp Bake is our version of a recipe we found in a Taste of Home Cookbook, The Best of Country Cooking, 2000.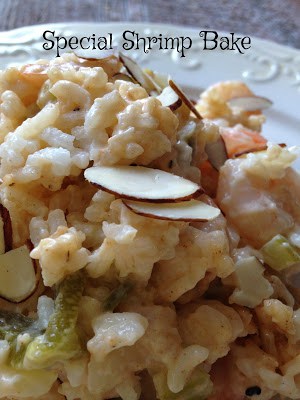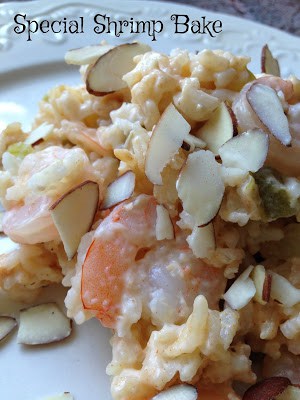 Ingredients
3 quarts




water

2 teaspoons




salt, divided

2 1/2 pounds uncooked




medium shrimp, peeled and deveined

2 tablespoons




vegetable oil

2 tablespoons




lemon juice, plus 1 teaspoon lemon zest

1/4 cup




finely chopped green pepper

1/4 cup




finely chopped onion

1/4 cup




finely chopped celery

2 tablespoons




butter

1 (10 3/4 oz) can




condensed cream of shrimp soup, undiluted

1 cup




half and half

2 cups




cooked rice

1/2 teaspoon lemon-pepper seasoning

1/2 teaspoon seafood seasoning (Old Bay)

1/2 cup




slivered almonds
Cooking Directions
In a Dutch oven, bring water and 1 teaspoon salt to a boil. Add shrimp; cook for 3 minutes or until pink. Drain. Sprinkle shrimp with oil, lemon juice and lemon zest; set aside. In a small skillet saute green pepper, onion, and celery in butter for 5 minutes or until tender.
In a large bowl, stir together green pepper mixture, soup, half and half, cooked rice, lemon-pepper seasoning, old bay seasoning and remaining salt. Add shrimp to the rice mixture. Transfer to a greased 2-quart baking dish. Bake, uncovered, at 350º for 30 minutes. Top with slivered almonds; bake 10 minutes longer.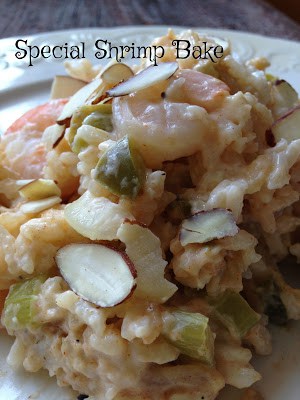 Shrimp, Rice, Green Pepper, Onion , Celery, Almonds