We may earn money or products from the companies mentioned in this post.
Banana Mango Smoothie
This smoothie is so delicious. It makes a great breakfast or mid-afternoon pick me up. Freeze banana and mango chunks so you can make this fast and easy smoothie anytime. I don't seem to make enough smoothies. Smoothies are a great way to add fruits and vegetables into your diet. They're filling, refreshing and if your watching your weight, smoothies can curb your craving for ice cream.
A Word About Bananas
Grown in the warm, humid tropics, bananas are picked and shipped green. Contrary to nature's norm, bananas are one fruit that develops better flavor when ripened off the bush. Banana bushes mature in about 15 months and produce one 50- pound bunch of bananas apiece. Each bunch includes several "hands" of a dozen or so bananas or fingers. There are hundreds of  banana species but the yellow, arched Cavendish or common banana is America's favorite.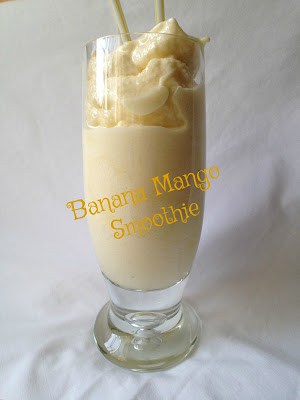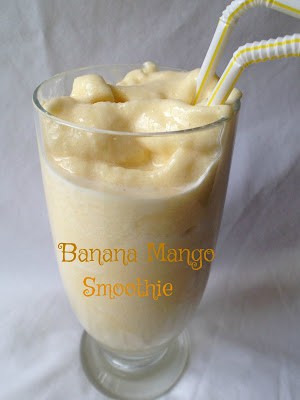 A Word About Mangoes
The mango tree is considered sacred in 🇮🇳 India, the land of the fruit's origin. Now this delectable fruit is cultivated in temperate climates around the world, including California and Florida. There are many species of mango, which come in a wide variety of shapes. Depending on the variety, their skin color can range from yellow-orange to yellow-green to yellow with red blushing. The fragrant flesh is a golden orange, super juicy and exotically sweet and tart.
Prep time: 5 minutes
Ingredients
2




mangoes, pitted, peeled and diced

2




bananas

1 cup




milk

2 tablespoons




honey

1 cup




ice
Cooking Directions
Combine all ingredients in a blender and blend until smooth.
Serve.