We may earn money or products from the companies mentioned in this post.
Tropical Grilled Shrimp
The secret to making these delicious tropical grilled shrimp is the sauce. Pineapple Coconut Mango Tequila Sauce is made by Robert Rothschild Farm. We have used many different sauces by Robert Rothschild Farm and we have never been disappointed. They all have been wonderful, with a fantastic fresh flavor. If you have never tried any Robert Rothschild Farm products before, pick a jar or two. You won't be disappointed.
Light Lunch or Appetizer
Tropical Grilled Shrimp is delicious served on a bed of coconut rice with your favorite steamed vegetables for a light and satisfying meal. Tropical Grilled Shrimp can also be served as an appetizer. Grill, baste with sauce and serve. serve chilled with pineapple coconut mango tequila sauce as a dipping sauce. Anyway you serve Tropical Grilled Shrimp, they will disappear fast.
Serve Sauce
Pineapple Coconut Mango Tequila Sauce is delicious on grilled chicken breast, salmon or pork tenderloin. Here is a quick recipe tip: Add about 1/4 cup sauce into a pound of ground beef, shape ground beef into patties and grill burgers. Serve grilled burgers with a small amount of warmed sauce to dunk burgers into. Wonderfully delicious. You can pick up Robert Rothschild Farm products at specialty stores or any large supermarkets.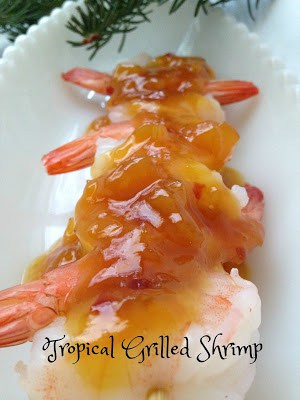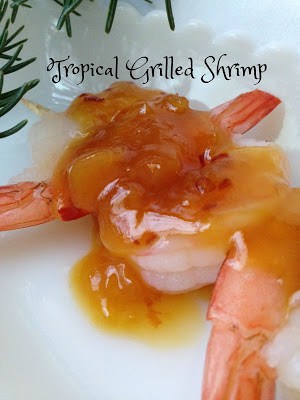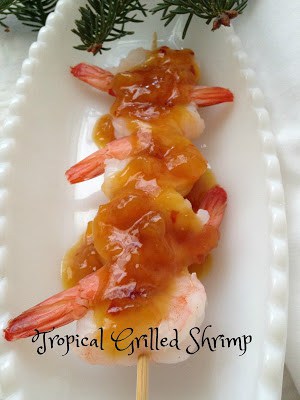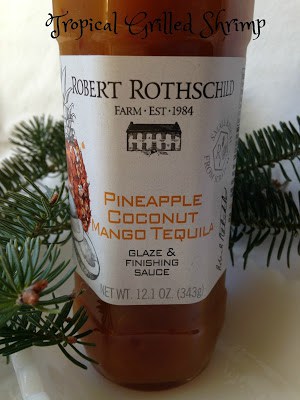 Wasabi Stuffed Shrimp is another shrimp recipe that's super easy and tasty. A great appetizer to serve at your holiday party.

Tropical Grilled Shrimp
Ingredients
1 pound large




shrimp, raw, peeled, deveined, tail left on

3/4 cup


Robert Rothschild Farm

 Pineapple Coconut Mango Tequila Sauce

4 to 6




long, wooden skewers
Cooking Directions
Soak skewers in a shallow pan of water for 10 minutes to avoid burning. Pre-heat grill or broiler. Thread shrimp on skewers. Using 1/2 cup of sauce, brush over the skewers. Place on a preheated grill, brushed with oil, on medium heat or on a broiler pan coated with non-stick spray. Cook and turn after 2 minutes. Baste again and cook 2 to 4 minutes longer or until shrimp is cooked through.
Serve with reserved 1/4 cup sauce.