We may earn money or products from the companies mentioned in this post.
Olive and Cheese Bread
A hefty slice of this gooey bread is a perfect accompaniment to a dinner salad or a bowl of creamy soup. Heck, Olive and Cheese Bread is hearty enough to eat all by itself. Store bought specialty bread is piled high with black olives, green onions and mozzarella cheese, turning this into a work of art…just kidding! The word delicious doesn't even cover it. Wonderfully delicious is much better. If you don't have access to specialty bread hey don't sweat it! This recipe can also be made with  homemade specialty bread.
A Word About Olives
Ripe  black olives, essential in Mediterranean cooking, are too bitter to be eaten fresh. A curing process used before canning them, mellows their flavor enough to nicely accent mild foods. If you don't like black olives, substitute your favorite olives or try one of these: Kalamata, Alfonso, Mission, Manzanilla, or Niçoise. Greek Kalamata Olives and French Niçoise Olives, are two of the most popular imported ripe olives available. Here are a few olives you might want to try also Olive Snacks
Olive Facts:
Native to the Mediterranean area, the olive is a small, oily fruit that contains a pit. It's grown both for its fruit and its oil in subtropical zones including the United States, (Arizona, California and New Mexico), Latin America and throughout the Mediterranean. Olive varieties number in the dozens and vary in size and flavor. All fresh olives are bitter and the final flavor of the fruit greatly depends on how ripe it is when picked and the processing it receives.
Spanish Olives
Spanish Olives are picked young, soaked in lye, then fermented in brine for 6 to 12 months. When bottled, they're packed in a weak brine and sold in a variety of forms including pitted, unpitted or stuffed with foods such as: pimientos, almonds, onions, jalapenos and so on. Mission Olives or black olives are a ripe green olive that obtains its characteristic color and flavor from lye curing and oxygenation. Olives that are tree ripened turn dark brown or black naturally.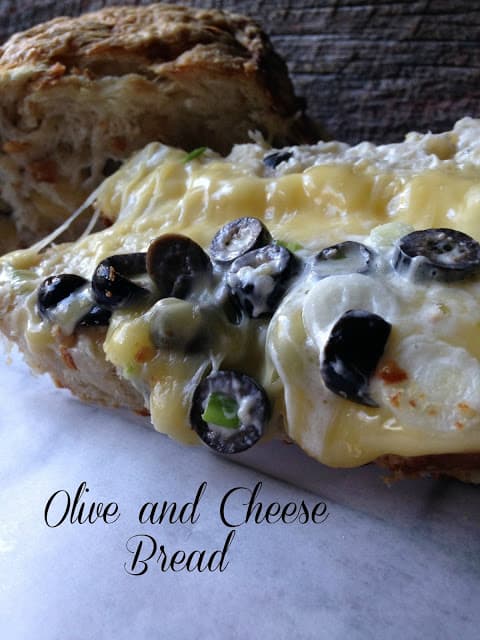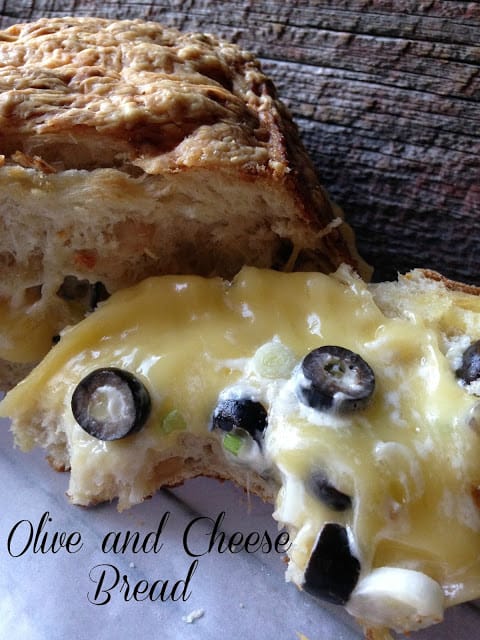 Specialty Bread
This recipe is made with Roasted Garlic Parmesan Bread that I bought at Costco.  If you have never tried this amazing bread you need to get in your car right now, head to the nearest Costco and pick up a few loaves. This bread is that amazing! Each package contains two loaves, so stock up!
At around $3.25 per loaf, this bread is not only delicious, it's a steal….plus this bread freezes great too. You'll need a loaf to make this sensational bread but if you can't get to Costco, most grocery stores now make specialty breads.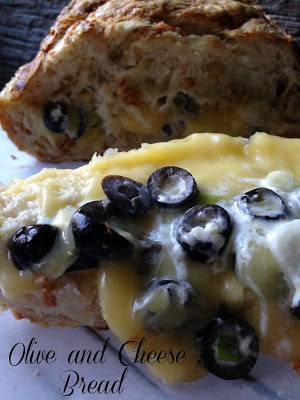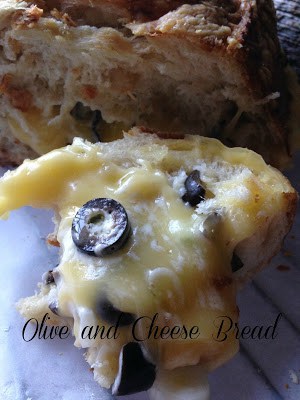 Ingredients
1/4 cup




butter, softened

2 tablespoons




mayonnaise

6




green onions, thinly sliced

2 tablespoons Parmesan cheese

1 (2-1/4 oz) can




sliced black olives, drained*

1/4 teaspoon




garlic powder

6 to 8 slices mozzarella or butterkase cheese

1 (1 lb.) loaf Roasted Garlic Parmesan Bread (Costco) or Italian Bread
Cooking Directions
Preheat oven to 400º F.
Stir together first 6 ingredients until well blended.
Cut bread in half lengthwise. Spread butter mixture on bread. Top butter mixture with cheese slices, cutting cheese to fit if necessary. Carefully place top half of bread onto bottom half. Wrap bread loosely in sheets of aluminum foil.
Bake for 30 minutes or until cheese is melted and bubbly. Remove bread from foil, cool slightly and cut bread into thick pieces.
*Or use 1/4 cup of your favorite olives, sliced*