We may earn money or products from the companies mentioned in this post.
Red, White and Blueberry Salad
The Olympics are winding down but there is still time to celebrate. What a better way to celebrate than with a refreshing Red, White and Blueberry Salad. I love the Olympics, always have. The opening and closing ceremonies, the different countries, the flags and of course the Athletes. I can remember watching the Olympics when I was a child on our big black and white TV and then every 4 years after that on our Zenith color TV.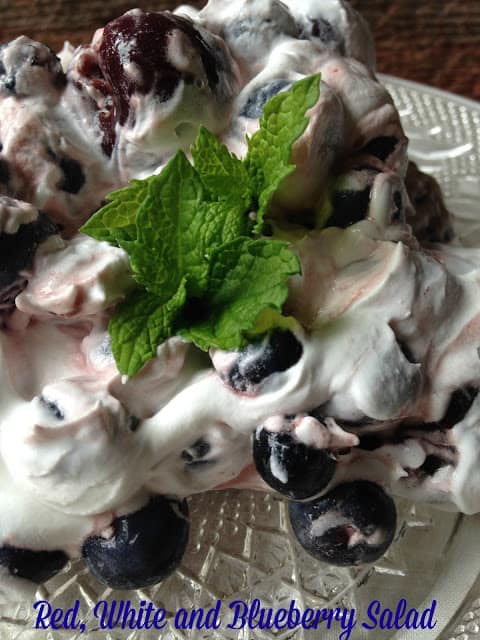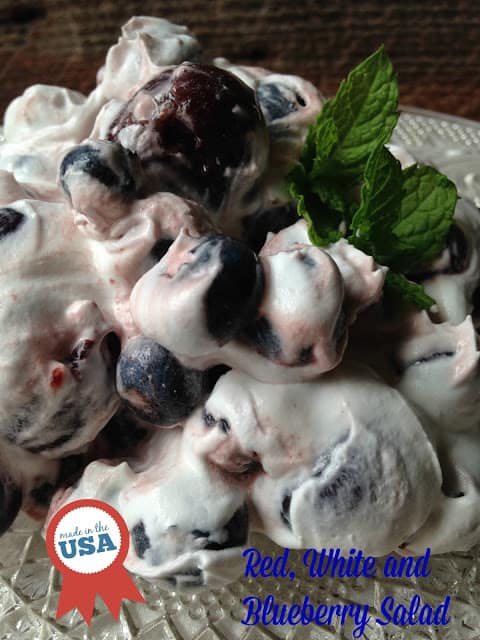 Summer Olympics
My grandson who is 5,  has spent time with us this summer. We've been watching the Olympics together and I've been explaining to him the ins and outs of the Olympic games. What it means to win a Gold, Silver and Bronze metal. Hopefully, this will start him on a path to watching the Olympics.
Who knows, maybe someday he'll even participate in the Olympics.
Winter Olympics
Even though the Olympics are not as popular as they once were in the US, I think it's a great way to teach kids about different countries and to watch people of all age groups and race compete in a competition. My favorite is the Winter Olympics. The figure skating, down-hill skiing, bob-sledding, curling…all of it. I'm looking forward to 2018 when the Winter Olympics will be held in South Korea.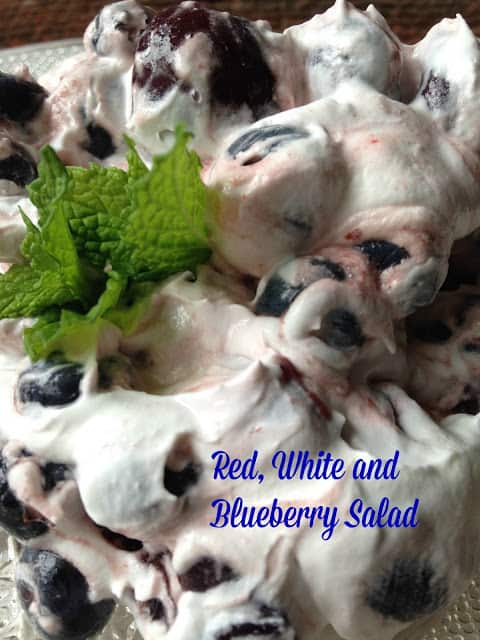 Red, White and Blueberry Salad
Perfect for the 4th of July or anytime!
Course:
Fruit, Salad, Side Dish
Keyword:
Blueberry, Cherry, coconut, cool-whip, pudding
Ingredients
1

3.4 oz box

instant coconut cream pudding mix

2

cups

milk

1

8 oz package

cream cheese, soften

1

cup

powdered sugar

8

ounces

cool-whip

2

pints

blueberries, rinsed and patted dry

1

12 oz package

frozen dark-sweet cherries, thawed

1/2

cup

sweetened flaked coconut

4

mint leaves, thinly sliced for garnish
Directions
In a small bowl, combine the coconut cream coconut pudding mix with the milk, whisk for two minutes; set aside.

In a large bowl, beat the cream cheese on medium speed until smooth and creamy, 2 to 3 minutes. Reduce the speed to low and gradually add the powdered sugar. Once all of the sugar is incorporated increase the speed to medium and beat for 1 minute or until thoroughly combined and smooth.

Add the prepared pudding to the cream cheese mixture and gently fold and stir with a rubber spatula until completely combined. Add the cool-whip and gently fold into cream cheese mixture.

Fold in the cherries, blueberries and flaked coconut.

Garnish with mint leaves, cover. Refrigerate at least 2 hours before serving.