Sweet Onion and Bacon Pasta Salad
Pasta Salads….Summertime Comfort Food. Pasta Salads are always a welcomed sight on any picnic table. Fast and easy to prepare, with the added bonus ….you don't have to heat up the kitchen to enjoy a tasty meal. Pasta salads can be as easy or complex as you want them to be. This fast and easy pasta salad is made with only a few ingredients and a delicious vinaigrette from Trader Joe's
Make it your own.
One nice thing about pasta salads is you can take just about any ingredients you like, add some cooked pasta and toss everything together with a fantastic dressing and you have meal fit for a king. This recipe calls for a bottle of Sweet Onion and Bacon vinaigrette from Trader Joe's. A delightful and snappy vinaigrette, I might add. As with all pasta salads, if you aren't able to get to Trader Joe's you can certainly make your won vinaigrette or use any of the many vinaigrette's available at your local grocery store.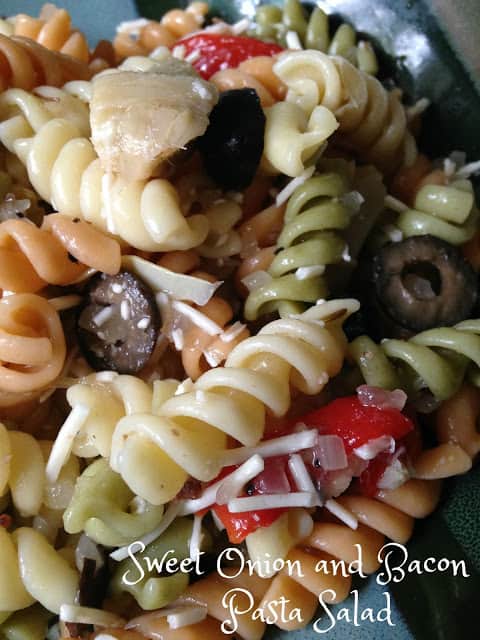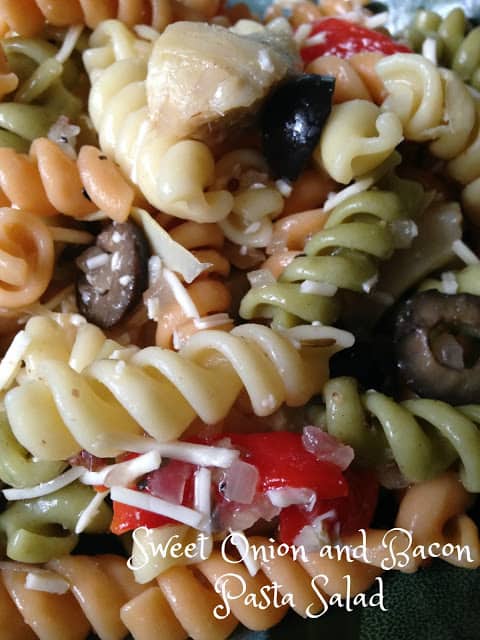 Recipe Featured On..
Recipe for Sweet Onion and Bacon Pasta Salad is featured on: The Daily Meal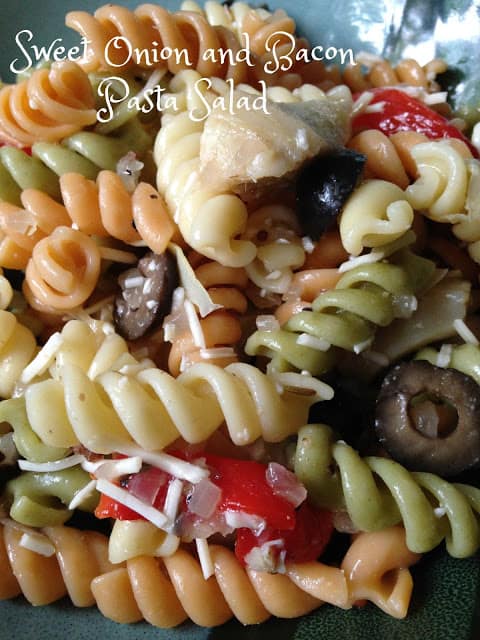 Sweet Onion and Bacon Pasta Salad


Ingredients
1 (12 oz) package




tri-colored rotini

1 (12 oz) jar




quartered artichoke hearts, drained

1/2 cup




sliced black olives

6 ounce jar

 

sweet red pepper strips, drained

1/3 cup




shredded Parmesan cheese

2 tablespoons




minced sweet onion

1/4 cup




crispy bacon, crumbled

1 (12 oz) bottle




sweet onion and bacon vinaigrette, (Trader Joe's)
Cooking Directions
Bring 6 to 10 cups water to a boil. Stir in rotini and boil for 6 to 8 minutes, rinse under cold water or follow directions on package.
In a large bowl, combine rotini, artichoke hearts, black olives, sweet red pepper strips, Parmesan cheese, onion and bacon.
Stir in vinaigrette and lightly toss together.
Refrigerate 2 hours before serving.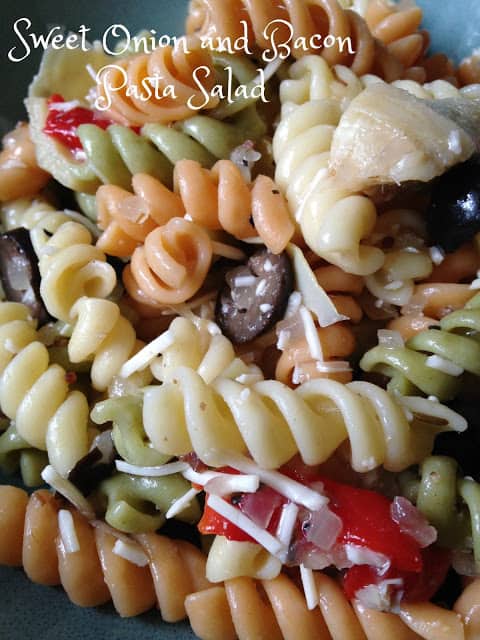 Bacon, Pasta, Salad, Onion, Dressing, Artichoke
*This is not a sponsored post. Here at Turnips 2 Tangerines we are dedicated to passing along to our readers quality "Food Finds"