We may earn money or products from the companies mentioned in this post.
Mini Quiche à la Florentine
Mini Quiche Florentine are perfect to serve as an appetizer, for breakfast or brunch, or to serve alongside a salad as a light lunch option. Fast and easy to make, give Mini Quiche Florentine a try next time you're looking for something new to make.
What is a Quiche?
Quiche [KEESH] This dish originated in northeastern France in the region of Alsace-Lorraine. It consists of a pastry shell filled with a savory custard made of eggs, cream, seasonings, and various other ingredient such as onions, mushrooms, ham, shellfish of herbs.
What does à la Florentine mean?
French for "in the style of Florence (Italy)," and referring to dishes (usually eggs and fish) that are presented on a bed of spinach and topped with Mornay Sauce. A "Florentine" dish is sometimes sprinkled with cheese and browned lightly in the oven. The Italian term is alla Fiorentina.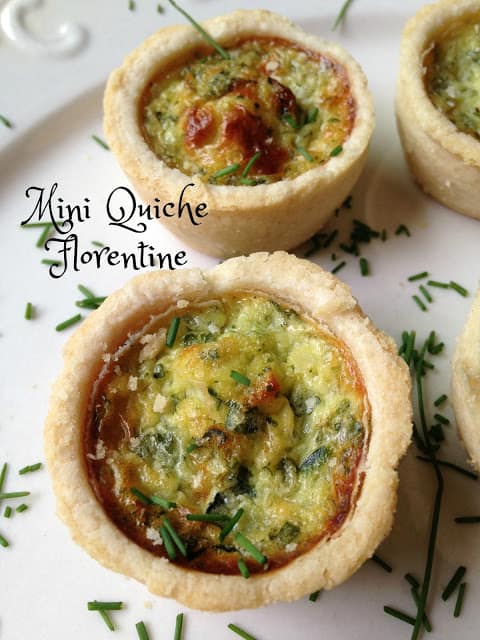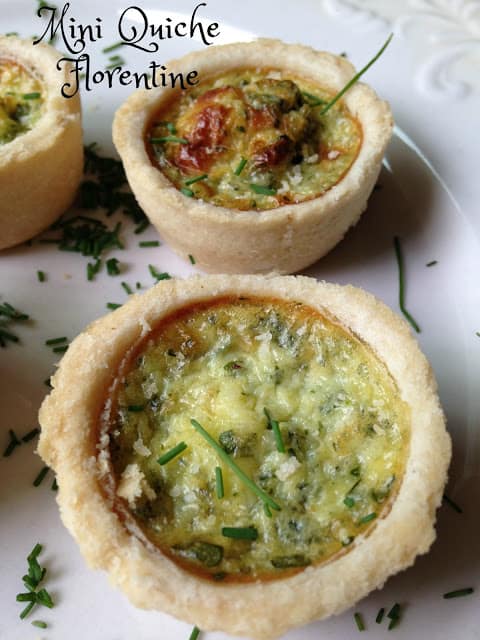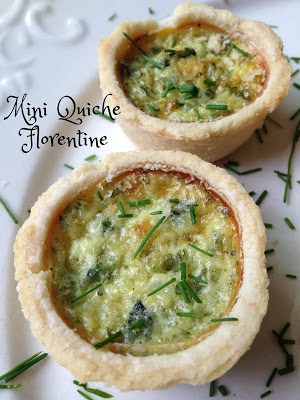 Mini Quiche Florentine
Ingredients
4




eggs

1 1/2 cups




heavy cream

1 cup frozen




chopped spinach, thawed and drained

1/2 cup




grated Parmesan cheese

1 1/2 cups




shredded Swiss cheese

2/3 cup




bacon, cooked and finely chopped

3/4 teaspoon




salt

1 tablespoon




fresh thyme leaves, finely chopped

2 packages




refrigerated pie crust
Cooking Directions
Preheat oven to 350 degrees.
Place eggs and cream in a large mixing bowl and whisk until well combined.
Add spinach, cheeses, bacon, salt and thyme; mix well.
On a lightly floured surface, roll out each pie crust to about 1/4-inch thickness.
With a circular 3 "cookie cutter, cut out circles from the pie crust dough.
To keep your cookie cutter from sticking to the pie crust dough, dip it occasionally in flour.
Press each pie crust circle into the mini muffin pan.
Use a fork to flute the edges at the top or take a sharp knife and level it off.
Fill each mini pie with the quiche filling to just below the top of the pie crust.
Bake for 20 to 25 minutes.
Remove from oven and allow to cool slightly.
Garnish with a shaving of Parmesan cheese and snipped chives.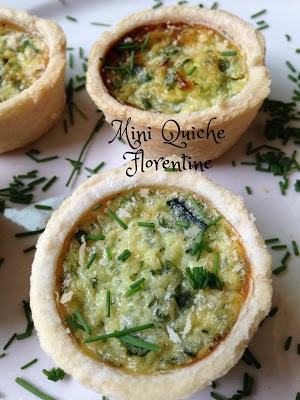 *Looking for more quiche recipes? Try this recipe for: Bacon and Cheese Quiche
Egg, Cheese, Quiche, Spinach, French, Bacon