On the Menu Today~
Apricot-Lavender Jam
Sweet, fruity apricots,
are paired with delicate lavender,
resulting in a delicious jam.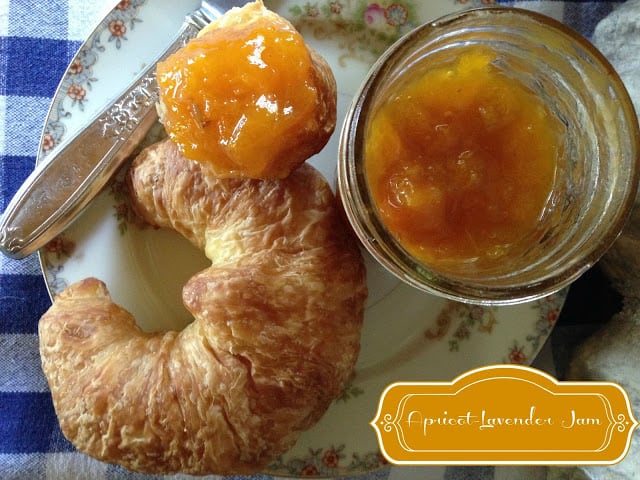 This is a delicious jam with
a delicate lavender taste.
The perfect accompaniment to
scones and croissants.
Apricots and Lavender were meant for each other..
add a splash of Bourbon or Honey….
You'll just have to make this jam and
taste for yourself.

Fruity and sweet,
with a hint of honey and
a slight floral taste from the lavender.
Wonderful~
Ingredients
2 pounds




ripe, fresh apricots, pitted

2 1/2 cups




sugar

4 teaspoons




dried lavender buds

3 tablespoons




honey bourbon or honey

2 teaspoons




lemon juice
Cooking Directions
Remove the apricot pits, cut the fruit in half, sprinkle the fruit with sugar, stir to combine.
Tie 3 to 4 teaspoons dried lavender buds in a small cheesecloth bundle. Sink in the middle of the fruit, stir in bourbon or honey. Let macerate overnight in the refrigerate.
After 24 hours~
Prepare water bath canner and sterilized jars.
Bring the apricot mixture to a boil in a wide pan, adding 1/4 teaspoon butter to diminish the foam. Continue to cook, stirring to keep mixture from scorching. Cook until gel point is reached. Remove the bundle of lavender. Stir in the reserved 1 teaspoon lavender buds.
Ladle the jam into prepared jars. Seal and process in a water bath canner for 10 minutes.
Remove the canner lid, turn off the heat and let sit for 5 minutes.
Remove the jars, let sit undisturbed until the jars are thoroughly cooled, 24 hours.
Check seals before storing