We may earn money or products from the companies mentioned in this post.
Baked Stuffed Clams
If clams aren't on your menu very often, give this recipe a try. You'll be surprised at how easy clams are to prepare and how delicious they taste. The only "big" expense in this recipe comes from the clams, everything else you probably already have in your pantry. When clams go on sale, pick some up and make this recipe for Baked Stuffed Clams. You'll be so glad you did, plus you'll have a great addition to your menu options.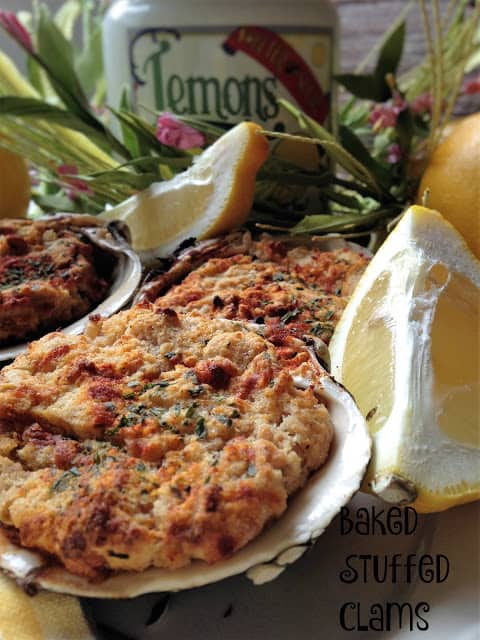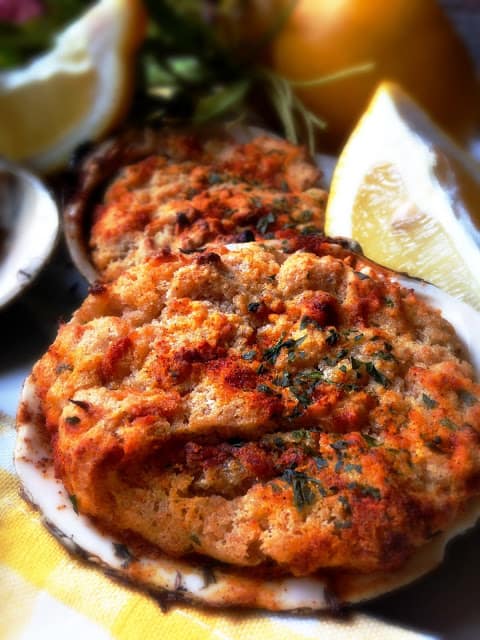 Light Meal Option
While this recipe wouldn't be considered a main course, to some people, Baked Stuffed Clams can be great served as an appetizer or served alongside a simple house salad and a baked potato for a light lunch. Add a light fruity dessert and that's a complete meal option to me! There seems to be as many ways to prepare clams, as there are clam varieties.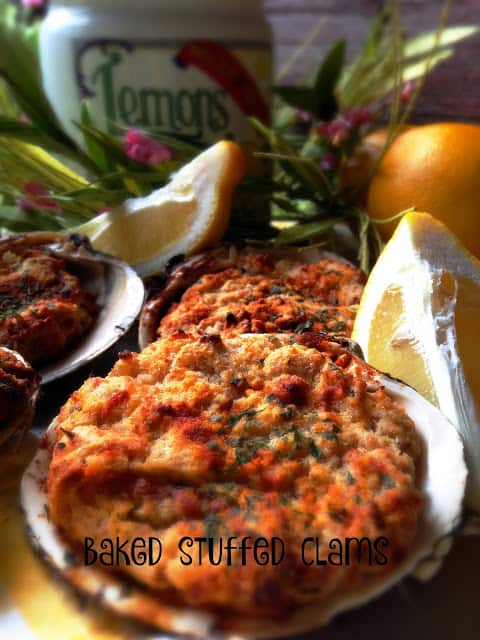 Word About Clams
Hard-Shell
The two main varieties of clams are hard-shelled and soft-shell. The Hard-Shell clams found on the East Coast, where they're also called by the Native American name, Quahog, come in three sizes; Littleneck Clam, Cherrystone Clam, and Chowder Clam. Among the West Coast hard-shell varieties are the Pacific Littleneck Clam, the Pismo and the small, sweet Butter Clams from Puget Sound.
Soft-Shell
The most common East Coast soft-shell is the Steamer Clam. The most famous West Coast soft-shells are the Razor Clam and the Geoduck Clam,(pronounced GOO-ee-duck) On the East Coast and in the Pacific Northwest, clams are available year 'round.  
A Fun Clambake
A clambake is an informal beachfront meal where clams, corn-on-the-cob and other foods including lobsters, mussels, potatoes and onions are cooked in a pit of hot rocks topped with seaweed, all of which is covered with a wet canvas. Clambakes are sometimes replicated indoors by simply steaming all the ingredients in a large pot complete with seaweed.
Ingredients
1 cup




chopped littleneck (quahog) clams and liquid

1/2 cup




finely chopped onion

1/2 cup




finely chopped celery

1/4 cup




finely chopped green pepper

4 tablespoons




butter

2 tablespoons




flour

1 tablespoon




grated Parmesan cheese

1/4 teaspoon




salt

dash of




pepper

dash of




Worcestershire sauce

12




Ritz crackers, crushed

1 tablespoon




butter, melted

1 tablespoon




smokey paprika

lemon




wedges
Cooking Directions
Remove stomachs from clams and grind clams in a food mill or chop them by hand until you have 1 cup of clams and liquid. Set aside.
Cook onion, celery, and green pepper in 4 tablespoons butter until vegetables are tender, but not brown. Stir in flour, cheese, and seasonings. Add 1/4 cup of crushed crackers, and mix well. Stir in clams with their liquid, and cook and stir until mixture is thick and bubbly.
Divide mixture among 15 to 18 littleneck clam shells. Combine remaining crumbs and 1 tablespoon melted butter and sprinkle over filled shells. Sprinkle lightly with paprika.
Bake at 350 degrees F for 10 to 15 minutes. Squeeze lemon juice over clams. Serve hot.
Recipe Note:
For this recipe we purchased clams from out local grocery store. You may need to call your seafood department located in your favorite grocery store so they can order them for you. This will also ensure you get the freshest clams available. Festival Foods
Recipes On Tap
Special Shrimp Bake, Baked Haddock Dinner and Smoked Salmon Alfredo .