We may earn money or products from the companies mentioned in this post.
Spicy Cajun Shrimp Dip
Spicy Cajun Shrimp Dip is made with Diplicious Mardi Gras Cajun Dip Mix and Served with Garlic Toasts. You can serve this deliciously spicy, cheesy dip with homemade garlic toasts or for convenience sake you can purchase garlic toasts at your local grocery store. Garlic toasts can usually be found in the bakery department and are relatively inexpensive. If you do want to make your own garlic toasts, a recipe for homemade garlic toast follows.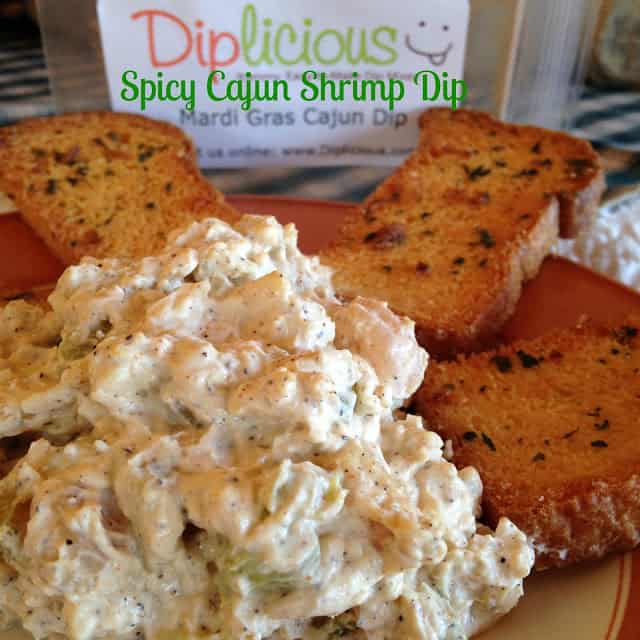 Dip Mixes
If you decide to purchase Mardi Gras Cajun Dip mix from Diplicious or any other of the excellent dip mixes, don't forget to add my name in the comment section of the order form so I receive credit for the sale:) Thank-you in advance for your support. Lynn Huntley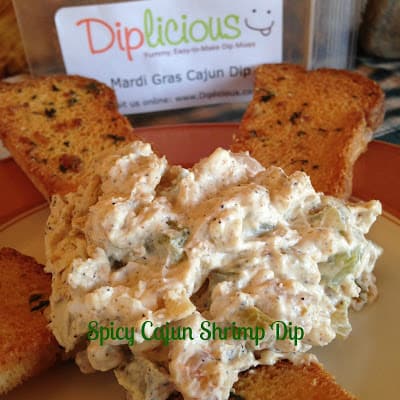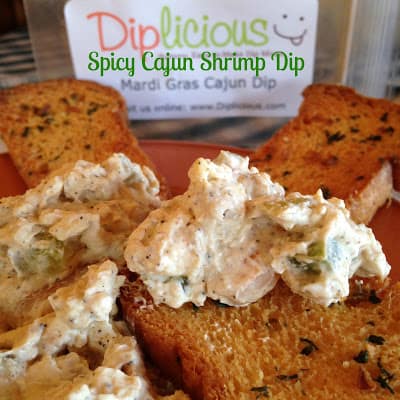 Ingredients
1 pound




shrimp

2 tablespoons




olive oil

1 stalk




celery, diced

1




shallot, minced

1/2




green pepper, diced

1 clove




garlic, minced

2 tablespoons




sliced pickled jalapenos, minced (from a jar)

1 package




Diplicious Mardi Gras Cajun Dip Mix*

1/2 cup




sour cream

1/2 cup




mayonnaise

1 (8 oz) package




cream cheese, room temperature

2 cups




pepper jack cheese, shredded

juice from one




lemon
Cooking Directions
Preheat oven to 375º Peel, devein, rinse and pat shrimp dry.
Chop shrimp into 3 pieces. Set aside
In a small skillet over medium heat, heat olive oil until hot. Add celery, shallot, green pepper, garlic and jalapenos. Saute' for 5 minutes, season with 1 teaspoon of Diplicious seasoning mix. Add shrimp and cook for 3 minutes only. Remove from heat, place mixture in a large bowl.
Add sour cream, mayonnaise, cream cheese, 1 cup shredded pepper jack cheese, lemon juice and remaining seasoning package. Mix well.
Place mixture into a lightly greased oven proof casserole dish, top with remaining shredded pepper jack cheese.
Bake for 25 to 35 minutes or until hot and bubbly.
*Substitute 1 to 2 tablespoons Cajun or Creole seasoning for the dip mix*
Serve with Garlic Toasts, recipe follows.
Garlic Toasts
Ingredients
1




baguette

2 cloves




garlic

2 teaspoons




dried parsley

1/2 cup




butter, softened
Cooking Directions
Preheat oven to 350º
Wrap garlic cloves in aluminum foil. Roast garlic in oven for 15 to 20 minutes. Remove garlic from oven, unwrap, place garlic in a small bowl. Let cool.
Place softened butter in a medium bowl. With a fork, mash garlic, add to butter and mix well. Sprinkle parsley over butter and mix in. Set aside.
Cut baguette diagonally. Spread butter mixture evenly on both sides of bread slices. Place slices on a baking sheet in a single layer.
Bake at 350º for 10 minutes or until golden brown.
*Recipe Tip: Left-over garlic toasts are great crumbled over salads for croutons, crumbled over the top of soup, chili or stew or used as a crumb topping for mac n cheese or any casserole that needs a crunchy topping.