Cinnamon-Sugar Pecans
Cinnamon Sugar Pecans are so good…you'll want to make a double batch. Not only are Cinnamon-Sugar Pecans delicious to snack on they are also great tossed into a lettuce salad or folded into a creamy-style fruit salads, such as: Ambrosia Fruit Salad You'll be amazed at how fast they'll disappear and how many different ways you can use them; sprinkle them on baked sweet potatoes, muffins, yogurt, the list goes on and on.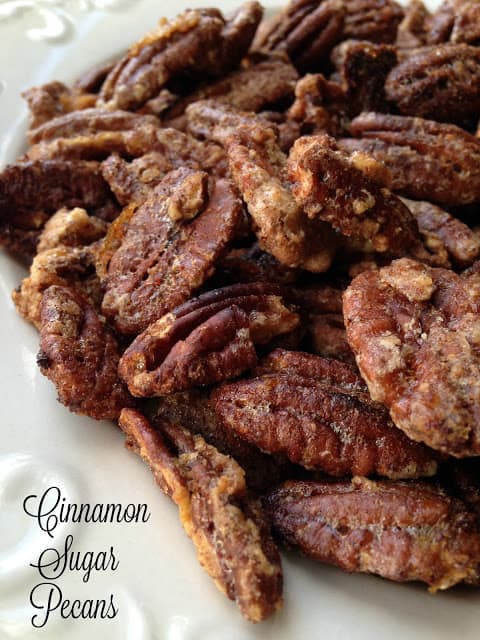 Fast and Easy
Cinnamon Sugar Pecans are made with only six ingredients but they certainly don't taste like it. Made with an egg white, a tiny bit of water, sugar, salt, cinnamon and of course pecans halves. These few ingredients and one hour spent in the oven will turn pecan halves into irresistible morsels. Keep this recipe in mind when the holidays roll around and give Cinnamon Sugar Pecans away as gifts.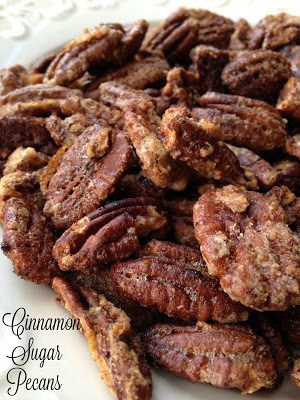 Top Ambrosia Fruit Salad with Cinnamon Sugar Pecans to add a delightful crunch.
Ingredients
1




egg white

1 teaspoon




water

1/2 cup




sugar

1/2 teaspoon




ground cinnamon

1/4 teaspoon




salt

4 cups (1 pound) pecan halves
Cooking Directions
In a large mixing bowl, lightly beat the egg white. Add the water; beat until frothy but not stiff. Add pecans; stir until well coated. Combine the sugar, cinnamon and salt. Sprinkle over pecans; toss to coat.
Spread in a greased 15-inch x 10-inch x 1-inch baking pan. Bake at 350º for 1 hour, stirring every 15 minutes. Cool. Store in an air-tight container.