Chocolate Covered Bananas Rolled in Coconut
While I was peeling the bananas to make this recipe, I thought of that old double-dutch jump roping song, it went something like this…"Peel a banana upside down, see if you can touch the ground" "If you spell your name correct, you may have another chance" "Capitol L-Y-N-N, Capitol H-U" and so on…I remember jump roping to that song….Do you? Chocolate Covered Bananas Rolled in Coconut are delicious!
Do kids even jump rope anymore?? Do kids even know what double-dutch is?? Well, it's definitely not a double shot of Dutch chocolate you'd order in your grande coffee at Starbucks!! Well, I'm pretty sure that "song" has dated me…so enough reminiscing and on to the recipe…Even though chocolate covered bananas have been around forever I've never made them or eaten one. I have no idea why I waited so long to make these tasty treats because
Chocolate Covered Bananas rolled in Coconut are delicious and what a great way to eat a banana….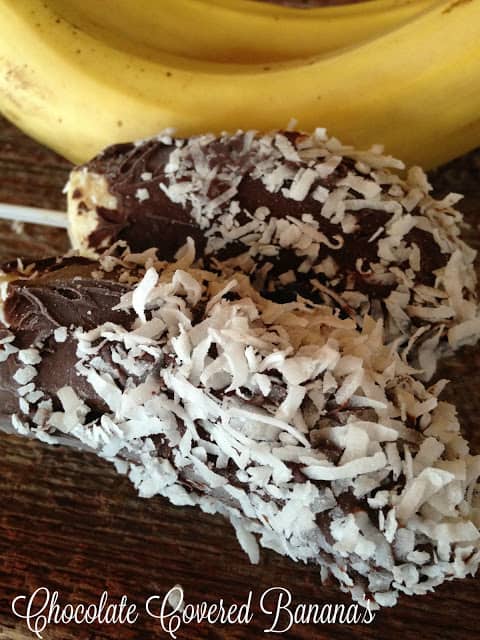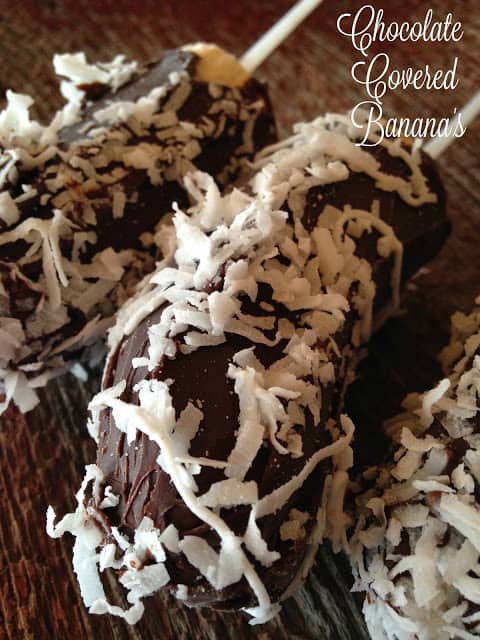 Easy and Fun to Make
You can cover these chocolate covered bananas in just about anything you like. My favorites are coconut, mini chocolate chips and Heath Bits O' Brickle Toffee Bits, yum! For this recipe I used " plastic sticks" from a bouquet my daughter received from "Edible Arrangements. I don't recommend using the plastic sticks due to the fact they were much to flimsy and the bananas became "top heavy" stick with wooden popsicle sticks for this recipe.
You can buy popsicle sticks at any hobby or craft stores. Otherwise you can do what I do, buy a couple boxes of popsicles, invite your grandkids over for the day, let them eat some popsicles, wash the sticks and proceed with the recipe!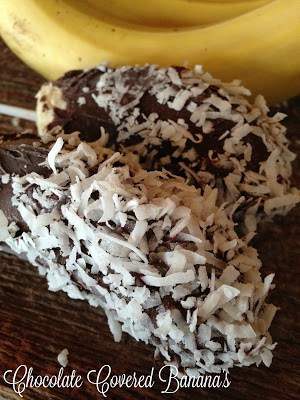 Chocolate Covered Bananas
Ingredients
4 medium




ripe but firm bananas, peeled and cut in half crosswise

2 cups




semi-sweet or milk chocolate chips, melted or use a good quality dipping chocolate

1/2 cup




sweetened flaked coconut

8




popsicle sticks

2 cups




chopped toffee bars
Cooking Directions
Line a baking sheet with parchment or wax paper.
Peel, then cut each banana in half crosswise.
Insert a popsicle or wooden stick into each banana half.
Cover each banana piece with melted chocolate using a large spoon.
Sprinkle or roll in shredded coconut and/or chopped toffee bars.
Place bananas on lined baking sheet and freeze until frozen, about 2 hours.
Store banana "pops" in a ziplock storage baggie, laying flat in your freezer.