We may earn money or products from the companies mentioned in this post.
Chocolate Chip Panettone French Toast Bake
Chocolate Chip Panettone French Toast Bake is made using a packaged panettone, so it couldn't get any easier to make. This is a delicious make a-head French toast bake, great to make on a leisurely week-end morning. This time of year, you'll most likely find panettone on clearance….an even better reason to make Chocolate Chip Panettone French Toast Bake
What is Panettone?
Panettone [pan-uh-TOH-nee] A sweet yeast bread made with raisins, citron, pine nuts, anise and/or chocolate chips. It's baked in a tall, cylindrical, straight-sided mold called a Panettone mold. Panettone originated in Milan Italy, and is traditional served at Christmastime, but also for celebrations such as weddings and christenings. It can be served as a bread, coffeecake or dessert.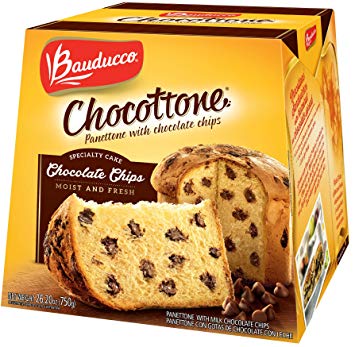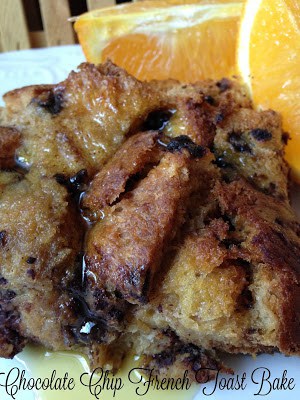 Chocolate Chip Panettone French Toast Bake
Ingredients
1 (1 pound 10.5 ounce) box




chocolate chip panettone

6 large




eggs

1/3 cup




milk

1/4 teaspoon




ground cinnamon

1 teaspoon




vanilla extract
Cooking Directions
Lightly greased a 11 x 8 x 2- inch baking dish or 2-quart baking dish.
Cut panettone into large cubes. Place panettone cubes into prepared baking dish.
In medium bowl beat together eggs, milk, ground cinnamon and vanilla extract.
Pour egg mixture over panettone cubes, with the back of a large spoon, lightly press panettone cubes into egg mixture. Cover with clear plastic wrap. Refrigerate overnight.
Take baking dish out of refrigerator 45 minutes before baking.
Preheat oven to 350º remove plastic wrap from baking dish and replace with a sheet of foil.
Bake for 45 minutes, remove foil, bake 15 to 20 longer or until light brown and puffed.
Recipes On Tap
For this recipe we used Bauducco Chocolate Chip Panettone