On the Menu Today~
How to use a Ravioli Plate~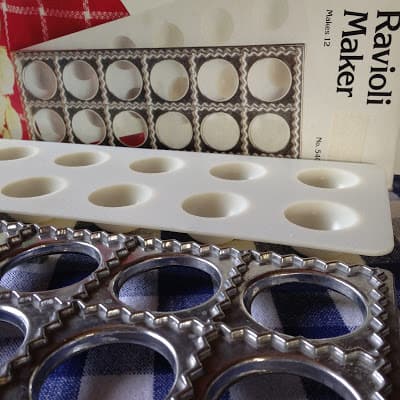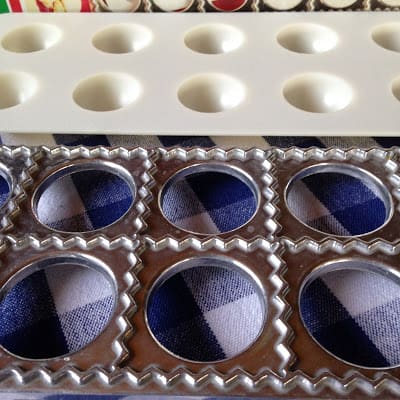 Making homemade ravioli is really not as difficult as it seems and
the results are delicious!
Once you master a few techniques,
you'll never go back to frozen ravioli again..
From sweet to savory,
the filling possibilities are endless….
You can literally use any filling you want…
Such as: beef, sausage, mushroom, pear & gorgonzola,
mascarpone & thyme, goat cheese, ricotta cheese,
butternut squash, pumpkin, and lobster.
A few added ingredients to the dough
such as: spinach, tomato paste, saffron, beets, herbs, wine, lemon, and
dried porcini will add color and flavor.
You can even make Tri-Color Ravioli.
This year for Christmas I hope to "upgrade" my pasta maker and
then I will definitely try my hand at making tri-color ravioli.
Let's start making Ravioli!
Ingredients
3 cups




unsifted all-purpose flour

4




eggs

3 to 4 tablespoons




water
Cooking Directions
Measure flour into a medium bowl, make a well in center, add eggs and water. Beat with a wooden spoon until dough forms a ball and leaves the side of bowl.
Turn out onto floured surface, knead until smooth and elastic, 6 to 8 minutes.
Divide into quarters, on a lightly floured surface roll one quarter, (keep remaining dough covered with plastic wrap) into a 17 by 13 inch rectangle. Cover with plastic wrap. Roll a second quarter into a 17 by 13 inch rectangle. Cover with plastic wrap.
Follow directions below that can be found on the ravioli maker box.
It's Easy To Use The Ravioli Maker
(per directions on ravioli maker box)
Lay a sheet of dough over the metal "cut-and-seal" plate.
Gently press the 2nd "form plate" on top to create pockets.
Fill pockets with your homemade filling.
Cover with a second sheet of dough, roll with a rolling pin to separate.