Bacon Wrapped Shrimp with Plums
Welcome to Football Friday and the Game Day Recipe. Today's recipe is Bacon Wrapped Shrimp with Plums. Sounds a bit "odd" but it's really quite delicious. The smokiness from the bacon and the sweetness from the plums pairs remarkable well with the shrimp. If you aren't a fan of plums or if  plums aren't in season in your area, you can substitute fresh or canned pineapple chunks.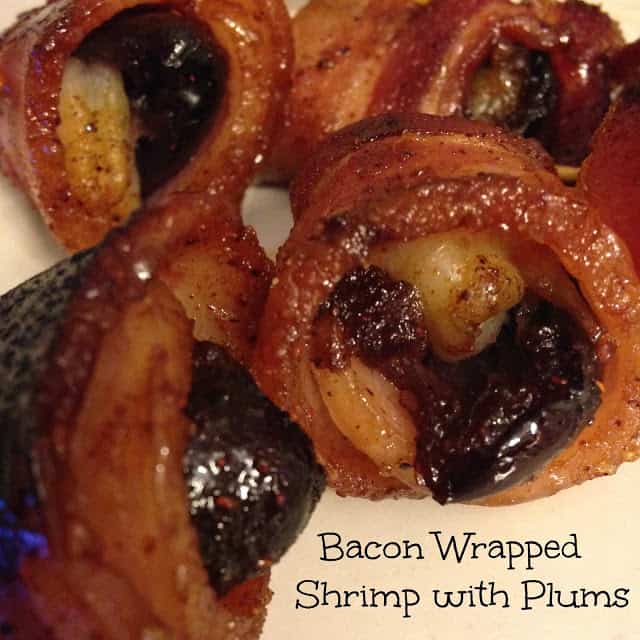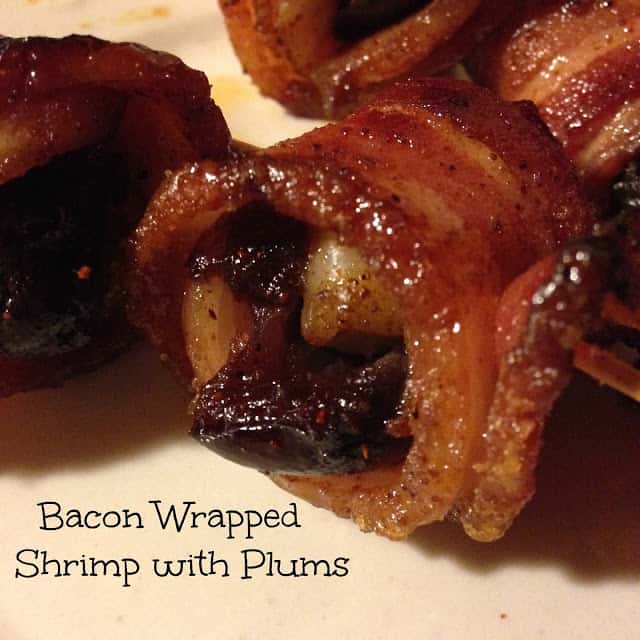 Final Touch
Give these sweet and spicy snacks a try at your next party! Easy, different and so tasty. Plus any recipe that involves wrapping something in bacon scores a touchdown in my book! Another reason why these appetizers will disappear fast…after the plums are pitted, a shrimp is nestled inside the plum and then the whole thing is wrapped in bacon, these yummy bites are coated in a mixture of brown sugar and chili powder, then baked in the oven.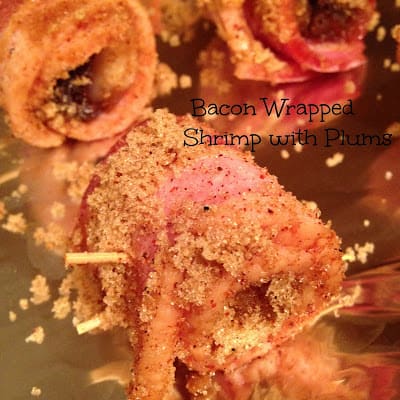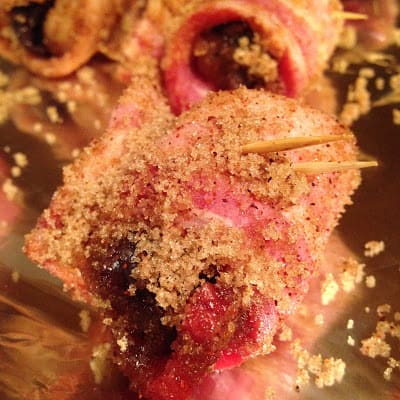 Bacon Wrapped Shrimp with Plums
Ingredients
12




jumbo shrimp, deveined and tail removed

6 (from a 14 oz can) whole purple




plums OR

12




pineapple chunks (from a can)

6 slices




center cut bacon, cut in half crosswise

12




wooden toothpicks

1 cup




firmly packed brown sugar

2 to 3 teaspoons




chili powder
Cooking Directions
Preheat oven to 350º Line a rimmed baking sheet with foil. Set aside.
Drain purple plums, reserve juice for another use. Remove pits from plums, discard. Cut plums in half, pat excess juice from plums with paper towels. Set plums aside.
Holding a shrimp, nest one plum (pineapple chunk) in the natural curve of the shrimp, then wrap bacon around the shrimp and plum (pineapple chunk), secure with a toothpick. Wrap and secure all 12 shrimp.
In a large resealable bag, mix together brown sugar and chili powder. Add bacon wrapped shrimp to bag with brown sugar mixture. Seal bag, shake gently to coat each bacon wrapped shrimp.
Arrange bacon wrapped shrimp on foil lined baking sheet, arrange so they aren't touching each other. Bake at 350 for 30 to 45 minutes or until browned and crisp-