Hot and Spicy Roasted Pumpkin Seeds
Welcome Back to Football Friday and the Game Day Recipe. Today's Recipe is an adult version of that childhood classic roasted pumpkin seeds. I'm not sure about you, but half the fun of carving a jack-o-lantern was knowing that the seeds would be dried overnight and then roasted the next day with lots and lots of salt:) Hot and Spicy Roasted Pumpkin Seeds aren't for the faint of heart!
Hot, Hot, Hot
This recipe is for hot and spicy roasted pumpkin seeds is HOT. I mean Hot. Made with pumpkin seeds, oil, chili powder and three Thai hot chili peppers. If you can't find Thai hot peppers or you don't grow them, you can use extra hot, hot sauce instead. Anyway you look at it, these pumpkin seeds are HOT.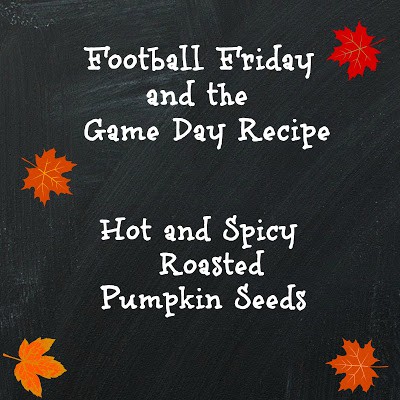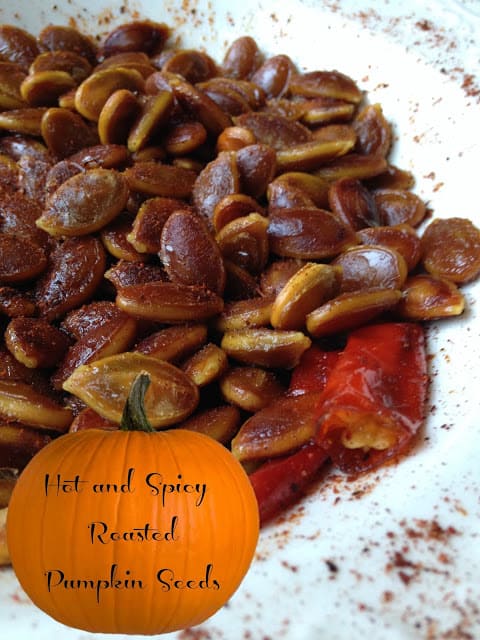 Recipe Note:
I've included a recipe for "regular" roasted pumpkin seeds, just in case you don't like super hot and spicy food. Heck, why not make two batches…one hot and spicy batch and one not-so hot and spicy:)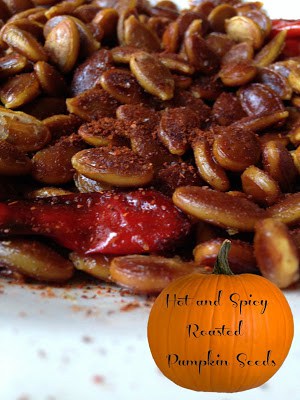 Hot and Spicy Roasted Pumpkin Seeds
Ingredients
2 cups




pumpkin seeds

3 hot (Thai)




chili peppers

sea salt,




to taste

1/4 cup




vegetable oil

1/2 teaspoon




chili powder
Cooking Directions
Preheat oven to 425º
In a 10″ cast-iron skillet, add pumpkin seeds and hot chili peppers.
Sprinkle with salt and drizzle with oil.
Place skillet in oven and bake for 10 to 15 minutes, stirring often. (watch carefully, pumpkin seeds will burn quickly)
Remove from oven, remove pumpkin seeds with a slotted spoon and drain on paper towels.
Sprinkle with chili powder, serve.
*recipe can be doubled*substitute extra hot, hot sauce for the three hot Thai chili peppers*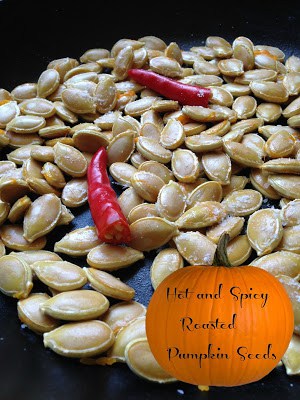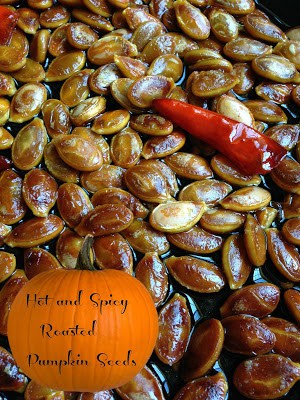 Toasted Fresh Pumpkin Seeds
Remove the seeds from a pumpkin, leaving behind as much of the fiber as you can.
Immediately place the seeds in a large bowl of water to avoid any fiber drying on the seeds.
Transfer the pumpkin seeds to a colander.
Thoroughly rinse the pumpkin seeds under cold running water, rubbing the seeds between your fingers until the pulp and stings are washed off. Pat seeds dry between sheets of paper towels.
Preheat oven to 300º F.
In a medium size mixing bowl, combine: 3 cups of the pumpkin seeds, 2 tablespoons vegetable oil and 1 teaspoon salt, stir to coat well.
Spread the seeds onto a baking sheet.
Bake for 65 to 70 minutes or until lightly browned and crisp, stirring often to brown the seeds evenly. Cool to room temperature.