We may earn money or products from the companies mentioned in this post.
Chocolate Covered Stuffed Dates
Chocolate Covered Stuffed Dates Dipped in Chocolate. You might be think, "What are these dates stuffed with?" Good question! Medjool dates are slit open and the pit is removed. They are then stuffed or filled with a cream cheese, pumpkin puree and pumpkin pie spice mixture. Semi-sweet chocolate chips are melted. One half of the filled dates are dipped into the melted chocolate.
Bug Anyone?
The combination of flavors might sound strange to you and maybe somewhat scary to eat but they are really delicious. The cream cheese/pumpkin combination goes perfectly with the sweetness of the dates/bugs. The fact that they are dipped into chocolate is a star on top of the Christmas to me and the mini chocolate chips eye make them just plain cute.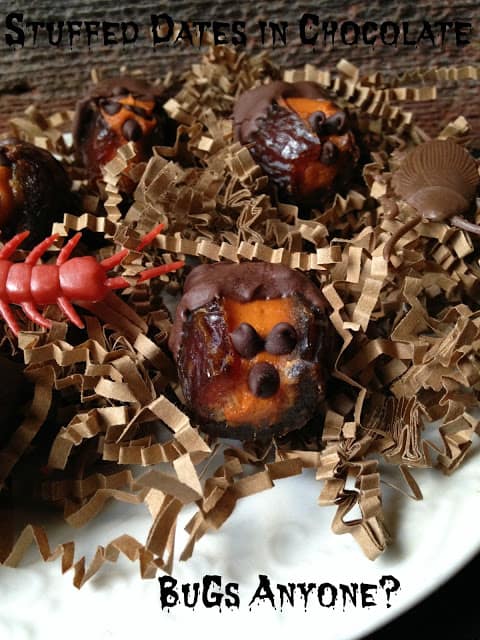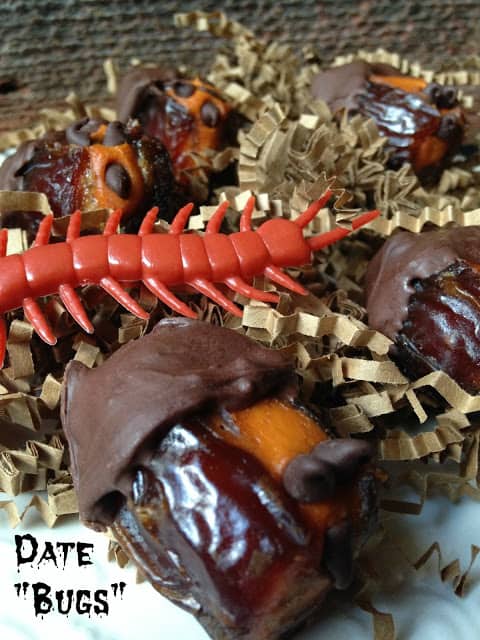 Bug Dates
Give a Date/Bug a try today! You might be surprised how delicious they are! (I've had a few "dates" in my life that resembled "bugs")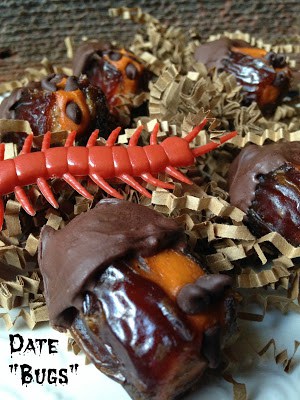 Chocolate Covered Stuffed Dates
Ingredients
12




medjool dates

4 oz tub pumpkin spice 




cream cheese 

4 ounces




semi-sweet chocolate chips, melted

24 to 36




mini chocolate chips
Cooking Directions
Carefully slice dates in half lengthwise. Remove date pit, discard.
Spoon cream cheese mixture into a gallon size baggie. Snip off one small corner of the baggie.
Pipe cream cheese into each date, slightly squeeze sides of dates together, wipe off excess cream cheese. Set aside.
Melt chocolate chips in a microwave-safe bowl at 100% powder for 25 seconds, stir. Repeat until chocolate is melted.
Dip one corner of the stuffed date into the melted chocolate, set date on waxed paper or foil. Place mini chocolate chips on the cream cheese filling, (two mini chips for eyes, one mini chip for the nose) press in slightly. Set aside to cool and to allow the melted chocolate to set up.